Tropicana Field | Tampa Bay Rays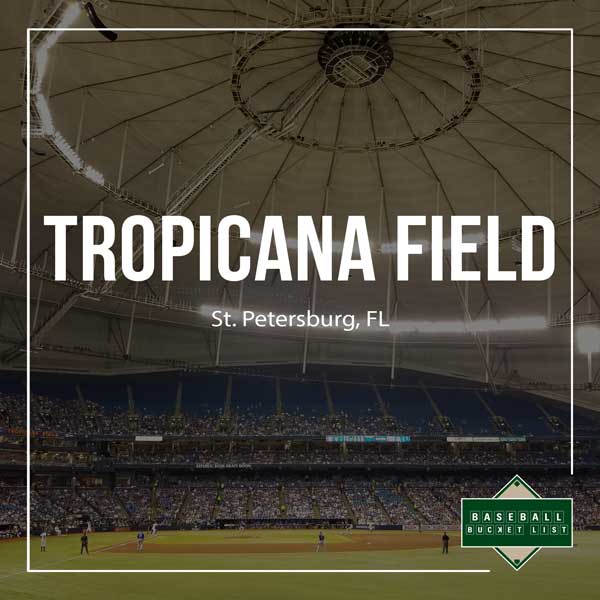 Quick Facts About Tropicana Field
Year Opened
1990
Capacity
Full capacity is 42,735
With seats tarped the capacity is 25,025
Home Club
Tampa Bay Rays (1998)
Team Colors
Navy Blue, Light Blue, Yellow, White
Ballpark Nicknames
"The Trop"
Upcoming Homestands at Tropicana Field
April 2022
| S | M | T | W | T | F | S |
| --- | --- | --- | --- | --- | --- | --- |
| | | | | | | |
| | | | | | | |
| | | | | | | |
| | | | | | | |
| | | | | | | |
May 2022
S
M
T
W
T
F
S
June 2022
| S | M | T | W | T | F | S |
| --- | --- | --- | --- | --- | --- | --- |
| | | | | | | |
| | | | | | | |
| | | | | | | |
| | | | | | | |
| | | | | | | |
July 2022
| S | M | T | W | T | F | S |
| --- | --- | --- | --- | --- | --- | --- |
| | | | | | | |
| | | | | | | |
| | | | | | | |
| | | | | | | |
| | | | | | | |
| | | | | | | |
August 2022
| S | M | T | W | T | F | S |
| --- | --- | --- | --- | --- | --- | --- |
| | | | | | | |
| | | | | | | |
| | | | | | | |
| | | | | | | |
| | | | | | | |
September 2022
| S | M | T | W | T | F | S |
| --- | --- | --- | --- | --- | --- | --- |
| | | | | | | |
| | | | | | | |
| | | | | | | |
| | | | | | | |
| | | | | | | |
October 2022
| S | M | T | W | T | F | S |
| --- | --- | --- | --- | --- | --- | --- |
| | | | | | | |
| | | | | | | |
| | | | | | | |
| | | | | | | |
| | | | | | | |
| | | | | | | |
No events.
November 2022
| S | M | T | W | T | F | S |
| --- | --- | --- | --- | --- | --- | --- |
| | | | | | | |
| | | | | | | |
| | | | | | | |
| | | | | | | |
| | | | | | | |
No events.
December 2022
| S | M | T | W | T | F | S |
| --- | --- | --- | --- | --- | --- | --- |
| | | | | | | |
| | | | | | | |
| | | | | | | |
| | | | | | | |
| | | | | | | |
No events.
January 2023
S
M
T
W
T
F
S
No events.
February 2023
| S | M | T | W | T | F | S |
| --- | --- | --- | --- | --- | --- | --- |
| | | | | | | |
| | | | | | | |
| | | | | | | |
| | | | | | | |
| | | | | | | |
No events.
March 2023
| S | M | T | W | T | F | S |
| --- | --- | --- | --- | --- | --- | --- |
| | | | | | | |
| | | | | | | |
| | | | | | | |
| | | | | | | |
| | | | | | | |
No events.
Tropicana Field | Ballpark Info
Accommodations for Disabilities
Handicap accessible parking sports can be found in lots 1 and 7.
Handicap accessible seats can be found in the following sections: 105, 106, 117, 120, 125, 126, 129, 130, 135, 136, 140, 141, 224, 341, 345, 349, 353. (The 300 level seats are all located in the Party Deck. All other 300 level seats have been tarped off for regular season games.)
For specific questions regarding accommodations, we recommend that you reach out to the Rays prior to your ballpark visit at 727-825-3444 during business hours. You can also call 1-888-FAN-RAYS.
Bags
Can you bring backs into Tropicana Field?
Backpacks are now restricted at Tropicana Field. The prohibition covers all backpacks with the exception of those carried for medical reasons, and backpack diaper bags that accompany infants and young children. As with all MLB parks, bags and purses that exceed 16″ x 16″ x 8″ in size are also restricted.
Batting Practice
What time is batting practice at Tropicana Field?
Fans can enter Tropicana Field through any gate 90 minutes prior to game time to watch the visiting team's batting practice. You'll be asked to find your seat once BP ends, or 40 minutes before first pitch if there is no BP. Keep in mind that the visitors can elect not to take batting practice, and that there is typically no batting practice on Sundays.
Bring Your Own Food
The Trop does allow you to bring in your own food. Just make sure your items are individual servings, wrapped, bagged or contained within a soft-sided container that meets the bag requirements. You can bring bottled water if it is sealed and less than a liter. If you're traveling with a family, you can also bring one sealed juice box for each kid.
Cash Free
The Trop does not accept cash! You'll need a debit or credit card to pay for parking and concessions. The Rays have pointed to a few studies and experiments that show a significant decrease in wait times for customers when cash doesn't need to be handled by employees, so make sure you bring your card!
Guest Services
If you have any issues or questions while at the ballpark, please utilize Guest Services. Each MLB team has this department, and they are solely focused on making sure each fan has a safe and memorable time at the ballpark.
Call 1-888-FAN-RAYS or visit Guest Services at gates 1 and 3.
Gates
What time do the gates open at Tropicana Field?
Parking gates open 4 hours prior to the start of the game. Ballpark gates open approximately 90minutes prior to the first pitch.
You cannot purchase parking with Cash! In fact, the Trop is MLB's first ballpark to go completely cashless.
Promos
Every Sunday gameday at the Trop is Family Fun Day. Get to the ballpark early for entertainment and promotions for the kids. After the game, kids under 14 can run the bases. You'll see the Rays in their alternate light blue jerseys!
Restrooms
You can find women's restrooms in the following sections:
Lower Level, Infield Seating Bowl: 101-103, 104-110, 107-109, 121-123, 122-124
Outfield:137-139, 140-144, 143-147, 148-150
200 Level: 206-208, 207-209, 214-216, 215-217
GTE Financial Party Deck: 345-347
You can find men's restrooms in the following sections:
Lower Level Infield Seating Bowl: 111-113, 112-114, 125-127, 126-128
Outfield: 135-137, 136-138, 140-142, 145-147, 146-148, 149
200 Level: 206-208, 207-209, 214-216, 215-217
GTE Financial Party Deck: 345-347
You can find family restrooms in the following sections:
Lower Level: 102-104, 116-118, 119-121
Tailgating
Can you tailgate at Tropicana Field?
The Rays open gates 4 hours prior to first pitch and encourage fans to tailgate! Bring your grill, but be sure it's not charcoal. Finish your beers before you walk to the ballpark!
Tours
Tropicana Field offers walking tours that include visits to the press box, dugout, and rays touch tank! Tickets are $10, and can be reserved here.
Tropicana Field | Must Do
Visit the Rays Tank
In center field, you'll find a 10,000 gallon touch tank full of cownose sting rays — the same species of ray that might encounter in the local water. It's free to touch the rays after a few moments of safety instructions. Just be sure to get to the tank before it closes approximately two hours after first pitch.
You'll also have a chance to visit the rays tank if you take a tour of the Trop during the season. The tank is emptied and the rays are sent to The Florida Aquarium during the off season.
Fun fact: Marlin's Park and Oracle Park also have aquariums featuring local sea life.
Stop By Ballpark & Rec
Three hours before first pitch, Ballpark & Rec opens behind centerfield. It's a great place to hang out before the ballgame and includes arcade games, lawn games, and skyline views of downtown St. Pete. Ballpark & Rec is open before and after each game at the Trop and has some really great food and drink deals. When you're ready to enter the ballpark, you'll find yourself near the centerfield gate and the Budweiser outfield porch.
Enjoy the Ted Williams Museum
You'll definitely want to leave yourself some time to visit the Ted Williams Museum located above the team store found near gate 1. Inside, you'll not only find Ted Williams artifacts, but a wide range of exhibits from the games' best, the Negro Leagues, the All-American Girls Baseball League and so much more.
Of course, there are plenty of Rays focused exhibits too, including the bats used by Dan Johnson and Evan Longoria in the famous game 162, and a collection of Rays Gold Gloves.
Admission is free to all fans on game day. It closes at the completion of the 6th inning. If you choose to tour the Trop, the museum is the last stop, and you'll get a few moments to look around.
Check out the Yellow and White Seats
Most of the seats in the Trop are blue, but if you look in right field, you'll find three different colored seats commemorating Rays history. In right-center, you'll see a yellow chair marking the first home run hit by the Devil Rays in 1998 (Wade Boggs of course). You'll also find a yellow seat marking Boggs' 3000th hit — a home run in 1999. Down the right foul line you'll find a white seat where Dan Johnson's magical pinch hit home run tied the game in the 9th inning of game 162 in 2011. You can purchase a ticket for each of these seats, or visit them before or after the game, as long as the seat holder isn't there yet.
Visit 162 Landing
On the last day of the 2011 regular season, the Rays mounted an amazing comeback against the Yankees after being down 7 runs in the 8th inning. A Red Sox loss would help them punch their most improbable ticket to the postseason. Evan Longoria hit a game winning walk off home run just over the left field line. There, you'll find a floor marker where the historic home run landed, as well as a wall display recapping the craziness of that night. 162 Landing is open to the public, and can be found in the tunnel between sections 137 & 139.
Swipe to view images from Tropicana Field.
Did we forget something?
Baseball Bucket List relies on information from Bucketheads to keep our guides and resources up to date.
Tropicana Field | Transportation and Parking
Just like any major city, St. Pete has a heavy rush hour. If you're trying to get downtown before a 7:00pm ballgame, you'll want to be sure you leave yourself plenty of time. Remember that the Trop's parking gates open 4 hours prior to first pitch, and that tailgating is encouraged. You can even park, then leave your car and head to one of the nearby bars or restaurants to pass the time before the game starts.
If you plan to use one of the official Rays lots, be sure to bring a credit card. Remember that the whole ballpark has gone cashfree. This includes the parking lots.
Official Tropicana Field Parking Lots
The Trop has 7 official lots, but only 3 of them are considered general parking. If you're coming from I-175, your best bet will be to follow the signage towards the ballpark, turn north on either MLK or 8th, then turn west down 3rd Ave. This will bring you right into the main entrance of the park, where you can park in lot 6 or 7. This is the easiest way into the park, and will lead you right to the ticket window and gate 1. The only other general lot, lot 2, is on the opposite side of the park and can be a little more difficult to get to.
Parking in the general lots is $15-$20 depending on the game, but the first 100 cars carrying 4 or more passengers park for free!
Off-Site / Free Parking Options
There are plenty of discounted, unofficial lots near the ballpark that might save you a few bucks. You'll see them driving in on 3rd, with prices ranging from $5-$10. You can also park in the parking lot of the grocery store down 3rd Ave for around $5. Just keep in mind that if you have 4 or more people in your car, you can park in the official lots for free.
Uber & Lyft
If you'd rather not drive, Uber and Lyft are great options for getting to and from Tropicana Field.
Drivers know to pick up up in the official rideshare spot, near gate 5. This is the opposite side of the park from the major parking lots, so traffic flows pretty well. If you're not in a rush after the game, consider heading over to a nearby bar to wait out the post-game rush.
If you're new to Uber, you can use this link to get a discount on your first few rides.
Join the Baseball Bucket List community
Create your own bucket list, track ballpark visits, and connect with other fans.
Tropicana Field | Best Seats
Best Seats for Rays History
As mentioned in the must do section, there are several historic seats at the Trop. In section 144 you'll find a yellow seat marking the first franchise home run hit by Wade Boggs. Not too far off in section 148 you'll find another marking his 3,000th hit, also a home run. In section 140, Row T, Seat 10, you'll find a white seat marking Dan Johnson's pinch-hit home run in 2011's game 162. All of these seats are sold for each game.
Down the left field line, you'll find an on-field, group area that can 75 – 150 people. This is 162 Landing, where Evan Longoria's walk-off home run landed, sending the Rays to the 2011 postseason.
Best Seats for Game Views
The Trop is a huge park, but since it was built without the idea of a baseball team playing there, there are several obstructed seats behind catwalks. Don't worry though, because these seats are tarped off and won't be sold except for postseason games. During the regular season, the upper deck has been almost completely shut down, bringing the crowd down to the lower two levels of the park. With the 300 level shut down, the Trop only holds about 26,000. Views are great from any available seat you can purchase, so no need to worry about not being able to see the action.
You can still purchase tickets for the Party Deck, which is in the 300 level, down the left field line. These are typically the cheapest seats, have craft beer nearby, and are the only bleacher seats in the entire park. The view is still great from up there, though, so give it a try.
In addition to great seats, you can walk the entire ballpark on the 360 walkway, and stand right over top of the Rays tank on the outfield wall.
Best Seats for Foul Balls
Looking to catch a foul ball at Tropicana Field? According to foulballz.com, your best chances are in sections 109-117 on the third base side and 112-120 on the first base side.
Tropicana Field | Ballpark Food
The Must Have: The Short Rib Grilled Cheese
This ultimate comfort food has racked up plenty of awards (both locally and via the MLB food fest) since debuting a few years ago. You'll find three different kinds of cheese, caramelized onions, horseradish, and Budweiser Braised Short Rib. Served with a side of kettle chips. Find it at "Melted" which has two locations – the 3B food hall, and the Budweiser Porch in center field.
Something Special: Fried Grouper Sandwich
Get a little taste of Tampa Bay's seafood scene while you're at the Trop. You can find the fried grouper sandwich (made by local favorite, the Hunger Thirst Group) at the Budweiser Porch in centerfield.
The Challenge: BBQ Pulled Pork Nachos
These BBQ Pulled Pork Nachos can easily feed a couple people, but YOLO (is that still a thing?). You can find this huge tray of deliciousness at Southern Fried (Field Level in Center Field between sections 149 and150), Budweiser Smoke & Pour ( 3B Food Hall) and Sizzle (1B Food Hall).
Vegetarian and Vegan Options at Tropicana Field
The Impossible Burger can be found at Central Burger (in both the 1B and 3B food halls), and Ballpark & Rec. (Centerfield between sections 149 & 150). Pacific Counter (1B food hall) also has rice bowls with vegan sauce options. Of course, if you're vegetarian, Melted (1B food fall and Right Field section 144) can make a mean meat-free grilled cheese!
Gluten Free Options at Tropicana Field
Ballpark & Rec and all the concession stands in the First & Third Base Food Halls offer Udi's Gluten-Free Hamburger & Hotdog Rolls upon request. Tropicana Field now also serves gluten-free fries. Angry Orchard, a gluten-free alcoholic beverage option, is available at Uncle Charlie's, Grab & Go, Ballpark & Rec, Draft Room, Vinfielder, and Thirst & Second.
Did we forget something?
Baseball Bucket List relies on information from Bucketheads to keep our guides and resources up to date.
Tropicana Field | Surrounding Area
Ferg's Sports Bar & Grill
Huge sports bar with an outdoor patio, games, and even a dog park.
No Vacancy
A restaurant bar known for its old-Florida vibe and festive patio.
The Mill
Nice sit down restaurant with something for everyone.
Is something missing from our Guide to Tropicana Field?
Baseball Bucket List relies on information from Bucketheads to keep our guides and resources up to date.
Have some insight about this ballpark that you'd like to share with the community? Let us know! We try to visit each park often, but changes can happen quickly. We're always looking for updated information about ballparks, the cities they're located in, and attractions nearby. If we include your tip in a guide, we'll give you credit whenever possible.