Marlins Park | Miami Marlins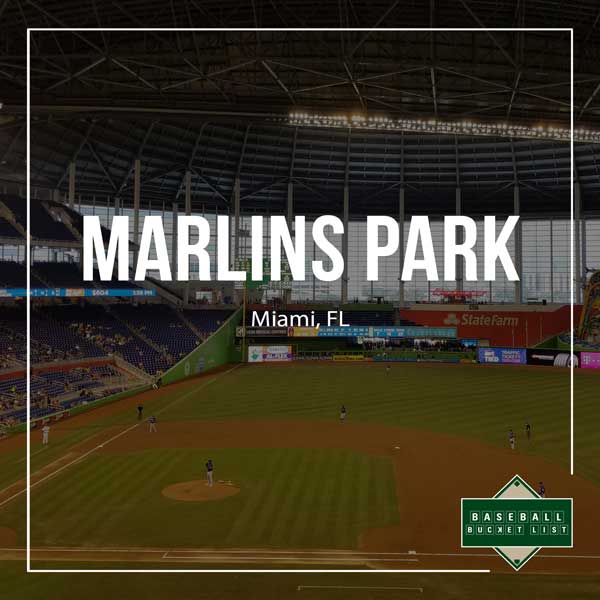 Quick Facts About Marlins Park
Year Opened
2012
Capacity
36,742
Home Club
Miami Marlins (1991)
Team Colors
Midnight Black, Miami Blue, Caliente Red, Slate Gray
Upcoming Homestands at Marlins Park
March 2023
| S | M | T | W | T | F | S |
| --- | --- | --- | --- | --- | --- | --- |
| | | | | | | |
| | | | | | | |
| | | | | | | |
| | | | | | | |
| | | | | | | |
April 2023
| S | M | T | W | T | F | S |
| --- | --- | --- | --- | --- | --- | --- |
| | | | | | | |
| | | | | | | |
| | | | | | | |
| | | | | | | |
| | | | | | | |
| | | | | | | |
May 2023
| S | M | T | W | T | F | S |
| --- | --- | --- | --- | --- | --- | --- |
| | | | | | | |
| | | | | | | |
| | | | | | | |
| | | | | | | |
| | | | | | | |
June 2023
| S | M | T | W | T | F | S |
| --- | --- | --- | --- | --- | --- | --- |
| | | | | | | |
| | | | | | | |
| | | | | | | |
| | | | | | | |
| | | | | | | |
July 2023
| S | M | T | W | T | F | S |
| --- | --- | --- | --- | --- | --- | --- |
| | | | | | | |
| | | | | | | |
| | | | | | | |
| | | | | | | |
| | | | | | | |
| | | | | | | |
August 2023
| S | M | T | W | T | F | S |
| --- | --- | --- | --- | --- | --- | --- |
| | | | | | | |
| | | | | | | |
| | | | | | | |
| | | | | | | |
| | | | | | | |
September 2023
| S | M | T | W | T | F | S |
| --- | --- | --- | --- | --- | --- | --- |
| | | | | | | |
| | | | | | | |
| | | | | | | |
| | | | | | | |
| | | | | | | |
October 2023
| S | M | T | W | T | F | S |
| --- | --- | --- | --- | --- | --- | --- |
| | | | | | | |
| | | | | | | |
| | | | | | | |
| | | | | | | |
| | | | | | | |
No events.
November 2023
| S | M | T | W | T | F | S |
| --- | --- | --- | --- | --- | --- | --- |
| | | | | | | |
| | | | | | | |
| | | | | | | |
| | | | | | | |
| | | | | | | |
No events.
December 2023
| S | M | T | W | T | F | S |
| --- | --- | --- | --- | --- | --- | --- |
| | | | | | | |
| | | | | | | |
| | | | | | | |
| | | | | | | |
| | | | | | | |
| | | | | | | |
No events.
January 2024
| S | M | T | W | T | F | S |
| --- | --- | --- | --- | --- | --- | --- |
| | | | | | | |
| | | | | | | |
| | | | | | | |
| | | | | | | |
| | | | | | | |
No events.
February 2024
| S | M | T | W | T | F | S |
| --- | --- | --- | --- | --- | --- | --- |
| | | | | | | |
| | | | | | | |
| | | | | | | |
| | | | | | | |
| | | | | | | |
No events.
March 2024
| S | M | T | W | T | F | S |
| --- | --- | --- | --- | --- | --- | --- |
| | | | | | | |
| | | | | | | |
| | | | | | | |
| | | | | | | |
| | | | | | | |
| | | | | | | |
No events.
April 2024
| S | M | T | W | T | F | S |
| --- | --- | --- | --- | --- | --- | --- |
| | | | | | | |
| | | | | | | |
| | | | | | | |
| | | | | | | |
| | | | | | | |
No events.
May 2024
| S | M | T | W | T | F | S |
| --- | --- | --- | --- | --- | --- | --- |
| | | | | | | |
| | | | | | | |
| | | | | | | |
| | | | | | | |
| | | | | | | |
No events.
Marlins Park | Ballpark Info
Accommodations for Disabilities
Parking: You can find accessible parking in all 4 garages, and most of the surface parking lots. Surface lots West 3 (W3) and East 2 (E2) are the only lots where there are no accessible spaces. Spaces are first come first serve.
Gates: There are 3 accessible entrances to Marlins Park: 1B Entrance, 3B Entrance, and Center Field Entrance.
Elevator: You can find elevators in the following locations:
Near the 3B entrance lobby – only provides access to the Promenade level
The Club DEX Imaging lobby
Near the 1B Dugout Club lobby – access to Promenade, Legends, and Vista levels.
Near the Bobby Madura lobby – access to Promenade level.
Near the center field entrance – access to Promenade level and Home Run Porch
Noise Cancelling Headphones & Assistive Listening Devices: You can check out a pair of noise cancelling headphones or hearing amplification devices from the Guest Services desks near section 15 and 318. You'll need an ID to check them out.
Ramps: There are two ramps at Marlins Park. One is located near the 3B entrance, and the other near the 1B entrance.
Restrooms: There are wheelchair accessible stalls in all of the bathrooms located throughout Marlins Park. You can find family and companion restrooms in the following sections: 2, 7, 22, 39, 134, 201, 209, 221, 302, 312, and 318.
Seating: The Marlins offer accessible seating on each level. You can also purchase up to 3 companion seats with each accessible seat.
Wheelchair Service: The Marlins offer wheelchair transportation services from any of their parking garages to your seats. Just request the service at the entrance or a Guest Services center. You can also call Guest Services at 305-480-1300. Additionally, you can text MARLINS with your name and location to 69050 to request wheelchair service.
ATMs
If you need cash for walking vendors, you can find ATMs in the following locations:
The New Era Team Store (West Plaza)
3B entrance
Section 3
Section 15
Section 25
Section 204
Section 227
Section 318
Bags
You can bring in 1 bag per person, as long as it is soft-sided and no larger than 16″ x 16″ x 8″. There is no storage area for bags that are too large, so you'll need to walk back to your parking spot if you have items that are not allowed into the park.
Batting Practice
Gates open 90 minutes before first pitch, so you'll likely miss the home team's BP. You can still get there in time to watch the visitors though. You'll be asked to find your seat 45 minutes before the game starts. If you're a Marlins Member (season ticket holder), you can enter the park 2.5 hours before gametime on Friday or Saturday. Just flas your Marlins ID at the 3B gate.
Bring Your Own Food
You can bring your own food into Marlins Park as long as it is in individual serving sizes and placed inside a clear plastic bag. You can also bring in a sealed bottle of water that is 20oz or smaller.
Charging Stations
Running low on phone juice? You can find charging stations at the following locations:
Section 8
Section 15
Section 22
Sections 36/38
Near the Budweiser Bowtie Bar
Guest Services
If you have any issues or questions while at the ballpark, please utilize Guest Services. Each MLB team has this department, and they are solely focused on making sure each fan has a safe and memorable time at the ballpark.
You can call the Marlins Guest Services team at 305-480-1300, or visit the desks in sections 15 and 318. You can also confidentially text the Marlins Park Security Team and Guest Services by texting the word FISH along with a description of your issue and location to 69050.
Gates
All gates at Marlins Park open 90 minutes prior to first pitch. If you have a ticket to The Club, you can enter 2 hours prior to game time. If you're a Marlins Member (season ticket holder), you can enter the park 2.5 hours before game time on Friday or Saturday. Just flash your Marlins ID at the 3B gate.
Promos
The Marlins occasionally run promotions and giveaways. See if your game is included here.
Sunday Funday: Sunday games are Family Sunday Fundays. There will be pregame activities near section 15, and kids 14 and under can run the bases after the game.
Radio Broadcast
If you prefer to listen to the ballgame while at Marlins Park, tune to 102 FM for English and 104 FM in Spanish. These are in ballpark feeds. The official radio affiliates of the Miami Marlins are WINZ 940 AM for English and WAQI 710 AM for Spanish.
Restrooms
You can find family and companion restrooms in the following sections: 2, 7, 22, 39, 134, 201, 209, 221, 302, 312, and 318.
Retired Numbers
The Marlins have not retired any numbers other than Jackie Robinson's #42, which was retired throughout all of the MLB in 1997.
Tailgating
No tailgating is allowed in the official Marlins lots.
Tours
The Marlins offer tours of Marlins Park on non-game days. Stops include the bobblehead museum, press room, workout room, owner's suite, and more. Find more details and book your tour here.
Snap a Photo of Homer on The Art Walk
The former owner of the Miami Marlins, Jeffrey Loria, is an art dealer. He requested that his good friend Red Grooms submit a proposal for a home run sculpture that embodied the spirit of Miami. The result was a $2.5M, 7 story tall, neon sculpture that sat in the outfield. Every time a Marlin would hit a home run, the sculpture would spin, light up, and flash lasers to celebrate the blast. It would be kind to say it had….mixed reviews when the park first opened. And when the new CEO, Derek Jeter took the helm, he was adamant that it would not be allowed to remain inside. Jeter won the argument, and "Homer" now sits outside in the ballpark's East Plaza on the "Art Walk". It functions everyday at 3:05pm (if you've ever heard a Pitbull song, you know that's Miami's zip code). The Marlins may also run the sculpture after a hometeam home run, or a win.
Relish the old Orange Bowl Site
The Orange Bowl stood on the site of Marlins Park from 1935 to 2008, when it was demolished to make room for the ballpark. You'll find nods towards the 77-year history of the Orange Bowl around and throughout the park. Most notably, the letters from the original "Miami Orange Bowl" sign are scattered around the East Plaza. Depending on where you stand, the letters spell different words – Like "Game Won". Near the corner of NW 5th Street and Marlins Way, you'll also find public benches that were constructed from the materials of the original seats in the stadium. And located near sections 24 and 25 is a tribute to the history of the Orange Bowl. Perhaps the coolest nod to the orange bowl is the clear view of the Miami Skyline you can see over the left field wall. This is nearly the same view as the open East End Zone of the Orange Bowl.
Bobblehead Museum
One of the coolest features of Marlins Park when it was built was the unique Bobblehead Museum. The Marlins' former owner Jeffrey Loria took several bobbleheads from his personal collection and sent them to Cooperstown. However, there are still about 400 bobbleheads remaining at the park. They are showcased in a vibrating display case, which keeps the heads bobbeling. It's also backed with mirrors so you can see the detail on the backs of the uniforms. Find it behind home plate in the main concourse.
Aquarium
Opinions on the ethics of the Marlins' fish tank backstop vary. However, it's a feature that is unique amongst MLB ballparks. Both Tropicana Field, and Oracle Park have aquariums. But, neither of them are as close to the action as the fish backstop at Marlins Park. Your only chance to see the Marlins' Aquarium will be before the game starts or via a tour. Of course if you care to fork out the money for the seats right behind home plate, you'll get an excellent view.
Keep an Eye out for Derek Jeter
Much like many aging New Yorkers who grow tired of the bustling city, Derek Jeter relocated to Florida for his "second act". As the team's acting CEO, Jeter attends several games from his suite behind home plate. He's been known to sign autographs and snap photos with fans, especially at games with sub-par attendance.
Visit the Brand New Biscayne Bay Brew Hall
Set to debut in 2020 (we all know how that went), the brand new Biscayne Bay Brew Hall is located near sections 15 and 16 on the Promenade level. It's a 3,000 square foot food hall with food, beer, and live music. If you are more interested in the social scene and scoping out the unique features of each park, this could be a great place to kill some time. Be sure to grab a signature German style "Marlins Lager", brewed locally by Bsicayne Bay.
Did we forget something?
Baseball Bucket List relies on information from Bucketheads to keep our guides and resources up to date.
Marlins Park | Transportation and Parking
Marlins Park is in the heart of the Little Havana neighborhood, which is a residential area. This provides a few off-site parking options, but some people will find the safety and convenience of the official parking lots worth the cost. Even though the ballpark is West of downtown, you can still find yourself in traffic, so as usual, we recommend getting to the ballgame early.
Official Marlins Park Lots
You typically won't have any problems being able to find a spot in one of the official Marlins lots — approximately 5,600 spaces are on site! There are 4 covered parking garages, and 6 surface parking lots available. The parking rate is the same for all lots:
Monday – Friday: $15
Saturday – Sunday: $20, or $15 if purchased in advance here.
Marquee Games (popular opponents) – $25, or $20 if purchased in advance here.
The Marlins recommend that you book your parking ahead of time, which can remove some of the stress of figuring out where to go on gameday. Click here to reserve your spot.
You can also try to snag a resale parking pass from a site like StubHub or SeatGeek. You may be able to save a few dollars that way.
Off-Site / Free Parking Options Near Marlins Park
As mentioned above, Marlins Park is in the middle of the Little Havana neighborhood. This means you'll have several options for off-site parking. Many of the residents in the area will lease out the space in front of their homes or in their driveways. If you're comfortable with leaving your car on someone's property, this can be a good way to save $10 or so bucks. There are also a few grass lots in the area that will be cheaper than the official lots.
Public Transportation
There are plenty of public transportation options to get to Marlins Park.
MDT Bus: You can take the Route 55 Bus from the Historic Overtown / Lyric Theatre Metrorail Station. The bus will travel over the 5th St Bridge and drop you on the corner of Marlins Way and NW 4 St.
Metrorail: There are also two Metrorail stops within a mile of the ballpark. Depending on where you are coming from, this may be your best bet. The Miami Trolley will also run from the Civic Center Metrorail Station to Marlins Park, if the almost mile walk is a bit long for you.
Uber & Lyft
The official rideshare lot at Marlins Park is East Lot 1, on the northeast side of the park. The lot is off of Orange Bowl Way, between NW 5th and 6th streets.
If you're new to Uber, you can use this link to get a discount on your first few rides.
Join the Baseball Bucket List community
Create your own bucket list, track ballpark visits, and connect with other fans.
Marlins Park | Best Seats
Best Seats for Marlins History
The Marlins have won two World Series ('97 and '03), but both took place before the new park was built. The only historic seat found in Marlins Park is in Section 19, Row H, Seat 12. It's red, in a sea of blue seats, and was the first seat to be installed in the ballpark.
Best Seats for Game Views
If you've read any of our other guides, you know that we prefer to sit on the 1B line. Our reasoning is that it gives you a straight on look to almost every area of the field, and you're close to where the majority of plays happen. In Miami, there's even more of a reason to sit on the 1B line. Not only do you get terrific game views, you also get a great view of the Miami skyline, and one of the park's most notable features. In left center, the back wall of the park actually slides open, giving the park even more of an open field. Granted, the roof is closed more than it's open, the view is still decent with the lid shut.
Where not to Sit
Marlins Park has great sitelines from just about anywhere in the park, with no truly obstructed seats. Just be aware of the obvious obstructions like foul poles and overhangs from above sections. If we had to caution against sitting anywhere in this park, we'd recommend staying away from the upper corners, which will feel the furthest away from the action, and will prevent you from getting a good look at the huge video board in right center.
Best Seats for Shade
Another perk to the 1B line in this park is that it will be the first to receive shade during a day game or summer evening. If you are attending a day game and the roof is open, you may be most comfortable in the last few rows of each section where the overhang from the above level will offer some cover.
Best Seats for Foul Balls
According to foulballz.com, your best bets for catching a foul ball at Marlins Park are in sections 19-22 on the 3B line, and 7-9 on the 1B side. Keep in mind that with the extension of the protective netting, you'll need a pop up to have a shot at catching a ball. But, you'll still have a fair chance of getting a toss up in these sections, too.
Marlins Park | Ballpark Food
Beer!
In the must do section, we mentioned the Biscayne Bay Brew Hall, which is proudly serving the Marlins Larger. We're just not sure how you could pass up a beer named after a baseball team. Snag one from the Brew Hall. Not only will you get a tasty beer, you can feel good about it too! A portion of each purchase is donated to the Miami Marlins Foundation's Home Plate Meals Program.
Best Value Beer:
A few years ago, the Marlins introduced a value menu, the 3o5 menu…Mr. Worldwide would be so proud. It features $3 hot dogs, popcorn, pretzels, nachos, water and soda, and $5 domestic draft beers. You can also snag a $5 Mojo Pork Taco while you're in line for your beer. The deal is available at every game in sections 13 and 37.
The Must Have: Novecento Empanadas
Novecento is a local franchise with several popular locations around the Miami area. They're famous for their Argentinian food — specifically their empanadas. At Marlins Park, you can choose from made-from-scratch steak, chicken, or spinach. Find it in section 24.
Something Special: Cuban Sandwich
Miami has a thriving Cuban community. Heck, the neighborhood that Marlins Park is located in is called Little Havana. You certainly can't travel to Miami without getting a Cuban Sandwich. Some fans will state that you should get a Cuban from a restaurant outside of the park, to which we say "why not get one at each place?" Find them at La Cocina in section 40, and order up a side of yucca fries.
The Challenge: Bubble Waffle Cracker Jack Sundae
Why get boring old Cracker Jacks when you could order this monstrosity (and we mean that in the best way possible)? Get a bubble waffle (sometimes called egg waffle), topped with vanilla ice cream, whipped cream, chocolate sauce, and of course…Cracker Jacks. Find it at Sweets in section 26.
Vegetarian and Vegan Options at Marlins Park
You have a few options for meatless or plant based foods at Marlins Park. For vegetarians, you'll be able to find cheese nachos, popcorn, and pretzels throughout the park. You can also find cheese pizza at Miami's Best Pizza in section 10. Vegans can find Mushroom Tacos from Butterfly Taco in section 107, and a Veggie Burger from Pincho in section 19. Couple it with the sweet potato tots which are also vegan. We've also heard that you can find a few vegan and vegetarian options from the grab and go El Mercadito near section 1.
Did we forget something?
Baseball Bucket List relies on information from Bucketheads to keep our guides and resources up to date.
Marlins Park | Surrounding Area
We're still wrapping up the guide to Marlins Park, including the surrounding location. If you have tips to offer, please submit them below!
Did we miss something in our Marlins Park Guide?
Baseball Bucket List relies on information from Bucketheads to keep our guides and resources up to date.
Have some insight about this ballpark that you'd like to share with the community? Let us know! We try to visit each park often, but changes can happen quickly. We're always looking for updated information about ballparks, the cities they're located in, and attractions nearby. If we include your tip in a guide, we'll give you credit whenever possible.