Guaranteed Rate Field | Chicago White Sox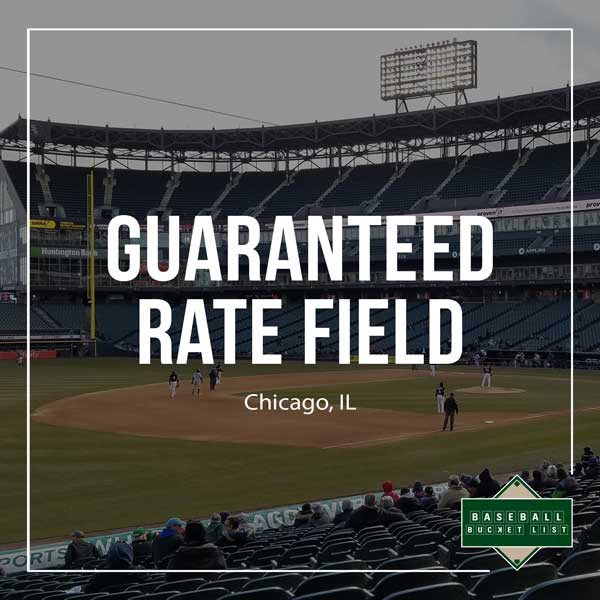 Quick Facts About Guaranteed Rate Field
Year Opened
1991
Capacity
40,615
Home Club
Chicago White Sox (1900)
Team Colors
Black, Silver, White
Upcoming Homestands at Guaranteed Rate Field
April 2022
| S | M | T | W | T | F | S |
| --- | --- | --- | --- | --- | --- | --- |
| | | | | | | |
| | | | | | | |
| | | | | | | |
| | | | | | | |
| | | | | | | |
May 2022
S
M
T
W
T
F
S
June 2022
| S | M | T | W | T | F | S |
| --- | --- | --- | --- | --- | --- | --- |
| | | | | | | |
| | | | | | | |
| | | | | | | |
| | | | | | | |
| | | | | | | |
July 2022
| S | M | T | W | T | F | S |
| --- | --- | --- | --- | --- | --- | --- |
| | | | | | | |
| | | | | | | |
| | | | | | | |
| | | | | | | |
| | | | | | | |
| | | | | | | |
August 2022
| S | M | T | W | T | F | S |
| --- | --- | --- | --- | --- | --- | --- |
| | | | | | | |
| | | | | | | |
| | | | | | | |
| | | | | | | |
| | | | | | | |
September 2022
| S | M | T | W | T | F | S |
| --- | --- | --- | --- | --- | --- | --- |
| | | | | | | |
| | | | | | | |
| | | | | | | |
| | | | | | | |
| | | | | | | |
October 2022
| S | M | T | W | T | F | S |
| --- | --- | --- | --- | --- | --- | --- |
| | | | | | | |
| | | | | | | |
| | | | | | | |
| | | | | | | |
| | | | | | | |
| | | | | | | |
No events.
November 2022
| S | M | T | W | T | F | S |
| --- | --- | --- | --- | --- | --- | --- |
| | | | | | | |
| | | | | | | |
| | | | | | | |
| | | | | | | |
| | | | | | | |
No events.
December 2022
| S | M | T | W | T | F | S |
| --- | --- | --- | --- | --- | --- | --- |
| | | | | | | |
| | | | | | | |
| | | | | | | |
| | | | | | | |
| | | | | | | |
No events.
January 2023
S
M
T
W
T
F
S
No events.
February 2023
| S | M | T | W | T | F | S |
| --- | --- | --- | --- | --- | --- | --- |
| | | | | | | |
| | | | | | | |
| | | | | | | |
| | | | | | | |
| | | | | | | |
No events.
March 2023
| S | M | T | W | T | F | S |
| --- | --- | --- | --- | --- | --- | --- |
| | | | | | | |
| | | | | | | |
| | | | | | | |
| | | | | | | |
| | | | | | | |
No events.
Guaranteed Rate Field | Ballpark Info
Accommodations for Disabilities
The Chicago White Sox aim to provide the best possible experience to all fans visiting Guaranteed Rate Field. If we haven't answered your question below, contact the White Sox at 312-674-5225 or fanfeedback@chisox.com.
Parking: Accessible parking can be found in Lot B, which is on the north side of the park, at 35th Street and Shields. Lot B is close to Gate 5, which is closest to the elevator bank.
Gates: All gates are accessible so feel free to enter wherever makes the most sense for your ticket. There is only one elevator bank in the park though, with is located near Gate 5.
Elevator: There is only one elevator bank at Guaranteed Rate Field, near Gate 5.
Ramps: If you prefer to use the ramps, those are located at Gates, 2, 3, 5, & 6.
Restrooms: All restrooms in Guaranteed Rate Field include accessible stalls and washing areas. You can also find family and companion restrooms near section 106. You'll need to get a key for this restroom from the guest services representative in the section.
Seating: Guaranteed Rate Park offers accessible seating on all levels, so you can choose your seats based on where you like to watch the game.
Wheelchair Service: If you'd like a wheelchair escort to your seat, just ask a security or guest services representative as you come through the gate.
ATMs
If you prefer cash for walking vendors, you can find ATMs in the following locations:
Section 130
Section 100
Section 109
Section 533
section 540
Bags
You can bring a small soft-sided bag that is 16″ x 16″ x 8″ or smaller. If you need to check a bag that you are not allowed to carry into the park, you can check your bag at bag check trailer on the corner of 35th and Shields.
Batting Practice
You can catch batting practice at Guaranteed Rate Field. Gates open 90 minutes before first pitch, so you'll likely miss the home team. You can still watch the visitors bat, though!
Bring Your Own Food
You can bring outside food into the ballpark. Just make sure that it is in a clear plastic bag. Sealed bottles of water that are 1 liter or smaller are allowed as well.
Charging Stations
Low on phone juice? You can find charging stations at the following locations:
Section 109
Section 137
PNC Diamond Club
Section 312
Guest Services
If you have any issues or questions while at the ballpark, please utilize Guest Services. Each MLB team has this department, and they are solely focused on making sure each fan has a safe and memorable time at the ballpark.
Guest Services booths are located behind home plate on the 100 level, club level, and 500 level. If you need help once you are in the ballpark, you can text RISEABOVE to 69050.
Gates
All gates at Guaranteed Rate Field open 90 minutes prior to first pitch.
Promos
The White Sox will occasionally run giveaways and promotions. To see if your game is included, check the White Sox site here. Be sure to get to the ballpark early to make sure you get a giveaway!
Sunday home games at Guaranteed Rate Field are Family Sundays. Kids will have a chance to run the bases after the game. Watch the video board for instructions on getting down to the field after the game.
Radio Broadcast
If you prefer to listen to the radio broadcast from within the ballpark, tune to WMVP 1000 AM. A Spanish broadcast can be found on WRTO 1200 AM.
Restrooms
Men's and women's restrooms are located on each level throughout the entire park. A family and companion restroom can also be found in section 106. You'll need to get a key from the guest services representative in the section to use the family restroom.
Retired Numbers
The White White Sox have retired 11 numbers, which can be found on the facade of the upper deck directly behind home plate. Their retired numbers are:
#2 – Nellie Fox (1976)
#3 – Harold Baines (1989)
#4 – Luke Appling (1975)
#9 – Minnie Minoso (1983)
#11 – Luis Aparicio (1984)
#14 – Paul Konerko (2015)
#16 – Ted Lyons (1987)
#19 – Billy Pierce (1987)
#35 – Frank Thomas (2010)
#42 – Jackie Robinson (Retired throughout all of MLB in 1997)
#56 – Mark Buehrle (2017)
#72 – Carlton Fisk (1997)
Tailgating
Tailgating is permitted in all official lots. Gates to parking lots open 2 hours before first pitch. Small grills and discreet alcohol are allowed. Kegs are not allowed.
Tours
The White Sox don't offer traditionally ticketed tours. Instead, you can call them at 312-674-1000, ext. 7182 to arrange a tour. They'll ask for a donation which will benefit Chicago White Sox Charities.
Guaranteed Rate Field| Must Do
Find Old Comiskey's Home Plate
In a nod to their history, the White Sox opted to mark home plate and the batter's boxes of Old Comiskey — Guaranteed Rate Field's predecessor. You can find them near Gate 5 in parking lot B.
Visit the Champions Monument
As you walk up on the park, stop by gate 4 to see a monument celebrating the White Sox's 2005 World Series Championship. The centerpiece sculpture highlights the key moments of that postseason.
Walk the White Sox Legends Sculpture Plaza
In the outfield, you'll find several statues of past White Sox greats. You can start in the concourse near section 160, near the Xfinity Kids Zone and work you way towards center field. You'll find the following statues:
Minnie Minoso – section 164
Carlton Fisk – section 164
Billy Pierce – section 164
Charles Comiskey – section 100
Luis Aparicio – section 100
Nellie Fox – section 100
Harold Baines – section 105
Frank Thomas – section 160
Paul Konerko – section 160
While you're in the outfield, take a moment to find the Jim Thome Plaque. It marks where Thome hit a baseball onto the Fan Deck in 2008.
Xfinity Kids Zone
If you're bringing kids to the ballpark, stop by the Xfinity Kids Zone in left field. Kids 13 and under will have a blast in this multi-level activity section. Make sure they bring their sneakers, because sandals are not allowed. Some of the available activities include batting cages, base running, and pitching areas.
Stop By the Outfield Shower
One of the most popular amenities at Old Comiskey Park was the outfield shower. So, the White Sox moved it with them. Located on the main concourse near section 161 is a functioning outdoor shower where you can cool off on hot summer days.
Keep an Eye on the "Exploding Scoreboard"
The scoreboard at Old Comiskey Park was the first to shoot fireworks. The brainchild of White Sox Owner Bill Veeck, the scoreboard had many lights, sound effects, and of course fireworks! He claimed to have gotten the idea from watching a pinball display when a player hit a jackpot. When the Sox moved to their new home, they brought the scoreboard with them. It has since been modernized and replaced. New pinwheels were included and the scoreboard still "explodes" when a White Sox player hits a home run.
Did we forget something?
Baseball Bucket List relies on information from Bucketheads to keep our guides and resources up to date.
Guaranteed Rate Field | Transportation and Parking
Guaranteed Rate Field is located on Chicago's Southside off of I-90/I-94, and is pretty easy to get to by car or public transportation.
Join the Baseball Bucket List community
Create your own bucket list, track ballpark visits, and connect with other fans.
Guaranteed Rate Field| Best Seats
Best Seats for History
The White Sox won a World Series in 2005, and Game 2 was a wild one. With the Sox down 4-2 in the 7th, Paul Konerko smacked a grand slam that landed in left field. It would put the sox up 6-4. The ball landed in section 159, row 7, seat 4, where you'll see a blue seat.
The Astros would come back to tie the game in the 9th inning. That's when Scott Podsednik hit a walk off home run straight to right field. A blue seat marks the spot this ball landed in section 101, row 1, seat 13.
The coolest thing about these seats is that they are the original seats in the ballpark that evening. The White Sox swapped out the original blue seats of the ballpark with newer forest green seats. All except for these two.
Best Seats for Game Views
Our favorite seats at this park are the club level (300 level), especially along the 1B side. This location will give you great views of the playing field and the entire ballpark, and are reasonably priced (in the $20s-$30s) unless the White Sox are playing a bigger market team that will draw tons of visiting fans. You'll also get shade first on the 1B side, which can be a good or bad thing, depending on the time of year. The White Sox rarely sell out a ballgame, so after a few innings you can usually get up and move seats.
Where not to Sit
The biggest obstruction to be aware of at Guaranteed Rate Field is the batter's eye in center field. It's beautiful, but it's also large. For some reason, the Sox sell seats wrapping around it that are completely obstructed from half of the field. Be especially cautious of sections 100, 101, 164, and 163. If you end up sitting in these sections, aim to be in the first couple of rows so you can see around the batter's eye.
Guaranteed Rate Field has one of the most distant upper levels in professional sports. The architects apparently set the upper section back in order to avoid overhangs on the lower levels. But this means that not only are you high up, you're far back. In fact, the original upper deck was so steep and high that it was scary. So scary that fans refused to sit there and management had to renovate the entire upper deck. They removed over 6,000 seats to reduce the rise of the sections, so it's less scary to sit up there. But, you'll still feel a million miles away from the game, especially if you are sitting in the corners.
Best Seats for Shade
Depending on the time of year, shaded seats in Chicago can be something to pursue or avoid. If you are looking to cool down in the summer, you'll want to sit along the 1B side. If you're attending a day game, it's going to be hard to find shade, unless you want to sit in the last few rows of the 500 section of the park. If you need a break from the sun, your best bet may be to find some standing room in the concourse where you can still see the ballgame. For night games, the 1B side will get shade first, and the last few sections of the 100 and 300 levels will also start to get some shade (from the upper level's overhang) as the sun sets.
Best Seats for Foul Balls
According to foulballz.com, your best bets for catching a foul ball at Guaranteed Rate Field are in sections 137-144 on the 3B side and 127-119 on the 1B side. With the extended netting mandated by MLB, the odds of line drives will be less likely, but you may still catch a pop-up, or get a toss-up in these sections.
Guaranteed Rate Field | Ballpark Food
Beer!
In right field near gate 2, you'll find the Craft Kave which offers around 75 craft beers. As a bonus, they also have a craft burger menu which will pair nicely with one of your selected brews. There is also a Craft Kave Express in section 542, which doesn't offer food. Goose Island calls Chicago home, so we suggest one of their offerings, or one of Revolution's brews, which is another local favorite.
The Must Have: The Comiskey Dog
You're in Chicago so enjoy a Chicago Dog. This one is somehow even more special because it is named after the White Sox beloved old ballpark — which was also Guaranteed Rate Field's first name. Find it in sections 114, 152, and 544.
Something Special: Elote Nuggets
Poppable fried corn fritters with queso cotija and cayenne pepper, drizzled with cilantro-lime aioli. What could be better than that? Sections 104, 127, 142, and 528.
Something Sweet: Sweet Potato Dessert Fries
Sweet potato fries covered with powdered sugar, chopped pecans, and whipped cream. Drizzled with chocolate and Nutella. Section 110.
The Challenge: The Pierogi Platter
Bring a support team for this one. A half-pound Polish Kielbasa sausage and the choice of three loaded baked potato or onion pierogies piled on top of sauerkraut and caramelized onions. Topped with house-made mustard of course. Section 126.
Vegetarian and Vegan Options at Guaranteed Rate Field
You have a few options for vegetarian and vegan fare at Guaranteed Rate Field. There is a Garden Burger (Vegan with no cheese/mayo) in sections 122, 140, the Fan Deck, 524, and 544. The Xfinity Carvery in section 109 also offers a Deluxe Vegetarian Sandwich, which can be made vegan. We're not sure if the veggie dog is vegan or just vegetarian, so it's best to ask. Those can be found in sections 122, near the Fan Deck, and section 538.
Fun Fact: The White Sox were the first professional baseball team to sell veggie dogs on June 19, 2000.
Did we forget something?
Baseball Bucket List relies on information from Bucketheads to keep our guides and resources up to date.
Guaranteed Rate Field | Surrounding Area
BallPark Pub
This favorite watering hole for Sox fans has some of the best burgers in Chicago.
ChiSox Bar & Grill
Bar and Grill attached to Guaranteed Rate Field, does not require a ticket.
35th Street Red Hots
Seriously delicious Chicago Dogs at reasonable prices.
Buffalo Wings & Rings
Typical wing restaurant serving cold beer and a fun atmosphere. Free shuttle to Sox games!
Local Attractions
Guaranteed Rate Field is surrounded by highways, train lines and parking lots so there just isn't much to do immediately around the ballpark. And some would argue that it's not the safest area to explore, so if you're traveling with a family or just trying to make the most out of your trip to the Chicago area, we'd recommended checking out some of the nearby attractions listed in the Wrigley Field guide.
Did we Miss Something in our
Guaranteed Rate Field Guide?
Baseball Bucket List relies on information from Bucketheads to keep our guides and resources up to date.
Have some insight about this ballpark that you'd like to share with the community? Let us know! We try to visit each park often, but changes can happen quickly. We're always looking for updated information about ballparks, the cities they're located in, and attractions nearby. If we include your tip in a guide, we'll give you credit whenever possible.