Wrigley Field | Chicago Cubs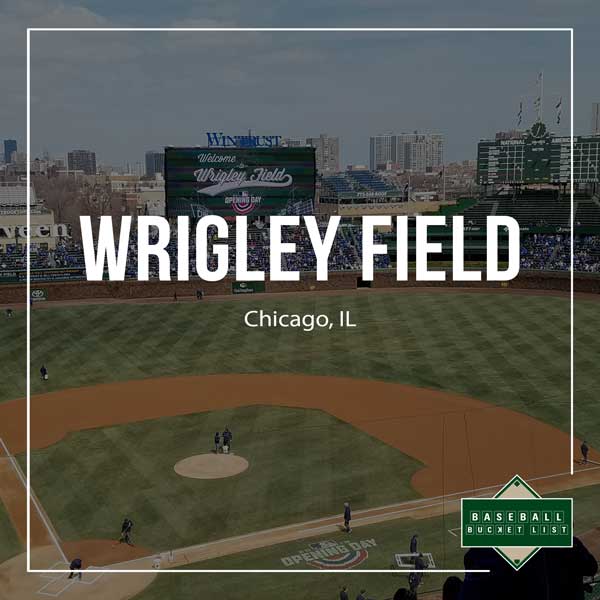 Quick Facts About Wrigley Field
Year Opened
1914 (oldest park in the National League)
Capacity
41,649
Home Club
Chicago Cubs (1870)
Team Colors
Blue, Red
Ballpark Nicknames
"The Friendly Confines"
Upcoming Homestands at Wrigley Field
April 2022
| S | M | T | W | T | F | S |
| --- | --- | --- | --- | --- | --- | --- |
| | | | | | | |
| | | | | | | |
| | | | | | | |
| | | | | | | |
| | | | | | | |
May 2022
S
M
T
W
T
F
S
June 2022
| S | M | T | W | T | F | S |
| --- | --- | --- | --- | --- | --- | --- |
| | | | | | | |
| | | | | | | |
| | | | | | | |
| | | | | | | |
| | | | | | | |
July 2022
| S | M | T | W | T | F | S |
| --- | --- | --- | --- | --- | --- | --- |
| | | | | | | |
| | | | | | | |
| | | | | | | |
| | | | | | | |
| | | | | | | |
| | | | | | | |
August 2022
| S | M | T | W | T | F | S |
| --- | --- | --- | --- | --- | --- | --- |
| | | | | | | |
| | | | | | | |
| | | | | | | |
| | | | | | | |
| | | | | | | |
September 2022
| S | M | T | W | T | F | S |
| --- | --- | --- | --- | --- | --- | --- |
| | | | | | | |
| | | | | | | |
| | | | | | | |
| | | | | | | |
| | | | | | | |
October 2022
| S | M | T | W | T | F | S |
| --- | --- | --- | --- | --- | --- | --- |
| | | | | | | |
| | | | | | | |
| | | | | | | |
| | | | | | | |
| | | | | | | |
| | | | | | | |
November 2022
| S | M | T | W | T | F | S |
| --- | --- | --- | --- | --- | --- | --- |
| | | | | | | |
| | | | | | | |
| | | | | | | |
| | | | | | | |
| | | | | | | |
No events.
December 2022
| S | M | T | W | T | F | S |
| --- | --- | --- | --- | --- | --- | --- |
| | | | | | | |
| | | | | | | |
| | | | | | | |
| | | | | | | |
| | | | | | | |
No events.
January 2023
S
M
T
W
T
F
S
No events.
February 2023
| S | M | T | W | T | F | S |
| --- | --- | --- | --- | --- | --- | --- |
| | | | | | | |
| | | | | | | |
| | | | | | | |
| | | | | | | |
| | | | | | | |
No events.
March 2023
| S | M | T | W | T | F | S |
| --- | --- | --- | --- | --- | --- | --- |
| | | | | | | |
| | | | | | | |
| | | | | | | |
| | | | | | | |
| | | | | | | |
No events.
Wrigley Field | Ballpark Info
Accommodations for Disabilities
Wrigley is an older ballpark, which means it has been retrofitted to include handicap accessible features and areas. The Cubs have done a great job with this, but finding accessible features can take a little more work than at the other parks.
If you have any questions or concerns ahead of time, we recommend reaching out to the Cubs at accessibleservices@cubs.com or 800-THE-CUBS.
Parking: If you have a handicap marker on your vehicle, you can access the Toyota Camry lot off of W. Grace St. Spaces are limited, so it's a good idea to reserve one before your trip. You can do so by emailing fanservices@cubs.com or calling 800-THE-CUBS. The lot is 2.5 blocks from the park, so keep an eye out for the shuttle, which will take you and your party to the gate.
Gates: All gates at Wrigley have an accessible line, so go ahead and enter via the gate that is shown on your game ticket.
Elevators: The Cubs have put a lot of resources into keeping Wrigley safe and up to date. As a part of this effort (the 1060 Project), they have drastically increased the number of elevators in the last several years. You can now find elevators:
Near the marquee gate
Near the left field gate
Near the right field gate
In the left field corner
Near the bleachers
Bags
The Cubs follow the MLB's general bag guidelines, which means that you can bring in a bag, as long as it is soft and no bigger than 16" x 16" x 8". There is no bag storage once inside, so you'll be responsible for keeping up with your bag.
Batting Practice
You can catch the visitor's batting practice at Wrigley. However, you can only access the outfield bleachers if you have a ticket, so keep that in mind. If BP is a big deal to you (we get it!), then a bleacher ticket is a must. You'll still be able to visit the main concourse and walk the entire park. Gates open 2 hours prior to first pitch, so you may actually catch the very tail end of the Cubs BP if you get there early enough.
Bring Your Own Food
Save a few bucks by bringing your own food and beverages to Wrigley Field. Just make sure everything is wrapped in a clear plastic bag or seal in its original wrapper. You can bring in sealed water bottles under 1 liter in size. And kids can have sealed soft sided juice boxes or packs.
We have heard (unofficially) that you can get away with taking in a few sealed sodas, but that's not the official policy, so just beware.
Guest Services
If you have any issues or questions while at the ballpark, please utilize Guest Services. Each MLB team has this department, and they are solely focused on making sure each fan has a safe and memorable time at the ballpark.
Ahead of time, email them at fanservices@cubs.com or call 800-THE-CUBS. Once you're at Wrigley, you can visit the booths on the main concourse near home plate and near the bleacher gate in left field. If you're in the upper levels, you'll find some smaller kiosks on the left field patio.
Gates
All gates at Wrigley open at the same time — 2 hours prior to first pitch.
Promos
The Cubs do have regular promotions and giveaways. You can see if the game you're attending has anything special going on by searching here.
Each Sunday home game is "Kids Sunday" at Wrigley Field. There is typically a giveaway for the first 5,000 kids 13 and under. On your way in, make sure to get a wristband, because the first 1,000 kids to ask for one get to run the bases after the game.
Restrooms
You'll find men's and women's restrooms throughout the ballpark, each with accessible stalls. You can find family restrooms in sections 113 and 128 on the main concourse, and in the upper bleachers near the Budweiser Patio.
Tailgating
Unfortunately, you can't tailgate in any of the official lots.
Tours
Wrigley is a baseball icon with an incredible history, so you should absolutely take a tour if you can make it work with your schedule. The Cubs offer tours of the Friendly Confines both on game days and non game days. Of course, what you're able to see will depend on the day. All tours usually include an opportunity to step onto the warning track of the field. Stops include the press box, the dugout, the visitor's clubhouse, and more.
Each tour is approximately 60-90 minutes and costs $30. You'll definitely want to book ahead since Wrigley is so popular, the tours frequently sell out. Get tickets ahead of time here.
Take a Mini Tour of the Statues Outside of the Park
Take a lap around the outside of Wrigley, and you'll find 4 statues of Cubs legends. We recommend starting in center field at the corner of Sheffield and Waveland. A statue of Harry Caray, the Cubs beloved announcer, is located near the bleacher gate (gate 10). From there, head south to the right field gate, where you'll find a statue of Billy Williams on the corner of Sheffield and Addison. Next to Billy Williams is Ron Santo's statue. From there you can turn right on Addison and end your mini tour at the main marquee gate. Mr. Cub, Ernie Banks is located on the corner of Clark & Addison directly across from the ticket windows, about halfway down the third base line. Keep walking down Clark and you'll find yourself at The Park at Wrigley.
The Park at Wrigley (Now "Gallagher Way")
If you've completed the mini tour listed above, this is a great place to hang out before the gates open. You'll need a ticket to the game to enter, but once there you'll find tons to do. Stop by one of the restaurants for a beer, play lawn games, and visit the Trophy Room, where you can see the 2016 Wold Series Trophy.
Snap a Photo with the Main Entry Marquee
When most people think of Wrigley Field, the first image that pops into your head is the iconic red marquee outside of the main gate (gate 3). Stop there for a few moments to read the messages before heading inside.
Sing "Take Me Out to the Ballgame"
Singing "Take Me Out to the Ballgame" during the 7th inning stretch is a tradition at every ballpark. But it is nearly a religion at Wrigley Field. In 1982, announcer Harry Caray began the now long standing tradition of singing the song during the stretch. Now, many important and famous folks sing the song, so keep your eyes on the press box to see who is leading the tune the day you're there. If the Cubs are down in the game, you'll probably hear the rallying cry of "Let's get some runs!" at the conclusion of the song.
Stay to Watch the Flag and Hear "Go Cubs Go" (Hopefully)
One of the cool traditions about Wrigley is the way they fly a flag over the scoreboard to telegraph the result of the day's game. This is one of the traditions that has stuck with the Cubs for years. If a white flag (with a blue W) is flying on the left field side of the scoreboard, the Cubs won! If a blue flag (with a white L) is flying on the right field side of the scoreboard, it was a loss. This is why at the conclusion of a win, you'll often hear fans yell "FLY THE W!"
Another win tradition is "Go Cubs Go", which is a catchy tune written by Steve Goodman. The song is played over the PA with fans joining in as the Cubs players follow the post game ritual of high fives on the field.
Did we forget something?
Baseball Bucket List relies on information from Bucketheads to keep our guides and resources up to date.
Wrigley Field | Transportation and Parking
The area immediately surrounding Wrigley transforms into Wrigleyville during Cubs games. Chicago actually blocks a lot of the streets in the area to ensure that fans can walk the area safely. It's great once you make it into Wrigleyville, but it can make getting there a bit of a hassle. If you can avoid driving into the area, we recommend it.
Official Wrigley Field Parking Lots
The Cubs offer a handful of official lots near the ballpark. Toyota is an official sponsor of the Cubs, so all of the official lots will be named after their vehicles. Parking is pretty limited, so you'll want to get there early if you're planning on getting a space. If you're not a season ticket holder, you have two options for official lots — The Camry Lot (cash only) and the Irving Park lot.
Off-Site / Free Parking Options
There is plenty of street parking to be found around Wrigleyville. The Cubs actually run a shuttle between Wrigley and their official free parking lot across the river. Keep in mind it isn't open for weekday daytime games. Get directions here.
Many residents around the ballpark will rent out their spots to third party spot finding services like:
We recommend selecting your parking lot ahead of time and driving straight there to avoid the stress of trying to find a place on your way into the ballpark area.
Public Transportation
Hands down, the easiest way to get to Wrigley Field is to take the L to the Addison stop. Regardless of which line you are on, you'll need to transfer to the Red Line and get off the train at the intersection of Clark & Addison. You'll see the ballpark immediately after exiting. Many of the Chicago Transit Authority stations have $4 or $5 parking lots where you can safely leave your car.
Uber & Lyft
In the last few years, the city of Chicago has really tightened the reins on rideshare services, especially in high traffic areas like Wrigleyville. In fact, you most likely won't be able to find a rideshare car until you're several blocks away from the ballpark. It's still a good option for some folks. Just be aware that you may have to take a walk when getting dropped off or picked up.
If you're new to Uber, you can use this link to get a discount on your first few rides.
Join the Baseball Bucket List community
Create your own bucket list, track ballpark visits, and connect with other fans.
Wrigley Field |Ballpark Food
The Must Have: Hot Doug's Sausages or Giordano's Deep Dish
Doug Sohn owned a very successful restaurant in the city, but closed it several years ago. Now, the bleachers section of Wrigley is the only place you can find these player themed sausage dogs. Unfortunately, you'll need a ticket to the bleachers to enjoy this Chicago tradition, so not everyone can partake. Platform 14.
If you're not sitting in the bleachers, you still have a chance to get a Chicago staple — Giordano's deep dish pizza. Order it by the slice or the as a personal pie. You can find Giordano's in sections 102, 112, 126, 420, and in the bleachers.
Something Special: Buona Beef
Italian beef is another classic Chicago fare. The original beef sandwich features thinly sliced meat. Get it topped with sweet peppers and ask for it "Baptized", which means they'll dunk it in extra au jus. Find it in sections 112 – 115, 420, and bleacher platform 14.
The Challenge: Big Slugger Helmet Nachos
Everything else on our list has been Chicago focused, but the Cubs offer classic ballpark fare as well. And lots of it. These nachos are served in an adult sized Cubs helmet and are piled high with all the fixin's, just order it "fully loaded". Big enough to share, or a personal challenge to take on by yourself. Keep the helmet as your souvenir. Sections 105, 140, and bleacher platform 14.
Vegetarian and Vegan Options at Wrigley Field
You do have a few vegetarian and vegan options at Wrigley Field. You can find both vegan and vegetarian offerings at the Chicago Dogs stands in sections 115 and 119. Veggie burgers and Impossible Burgers are available in sections 110, 129, and bleacher platform 14. The Marquee Classics Stand in section 117 offers both a roasted cauliflower sandwich, and a rotating vegan option.
Did we forget something?
Baseball Bucket List relies on information from Bucketheads to keep our guides and resources up to date.
Wrigley Field | Surrounding Area
Murphy's Bleachers
The de facto "go to" for Cubs fans before and after the game.
Cubby Bear
Local favorite dive bar in the heart of Wrigleyville where you will find many a Cubs fan convening to celebrate or commiserate after a game
PR Italian Bistro
Authentic, award-winning casual Italian restaurant
Chicago Diner
Vegetarian and Vegan comfort food.
Did we Miss Something About Wrigley Field?
Baseball Bucket List relies on information from Bucketheads to keep our guides and resources up to date.
Have some insight about this ballpark that you'd like to share with the community? Let us know! We try to visit each park often, but changes can happen quickly. We're always looking for updated information about ballparks, the cities they're located in, and attractions nearby. If we include your tip in a guide, we'll give you credit whenever possible.