Citi Field | New York Mets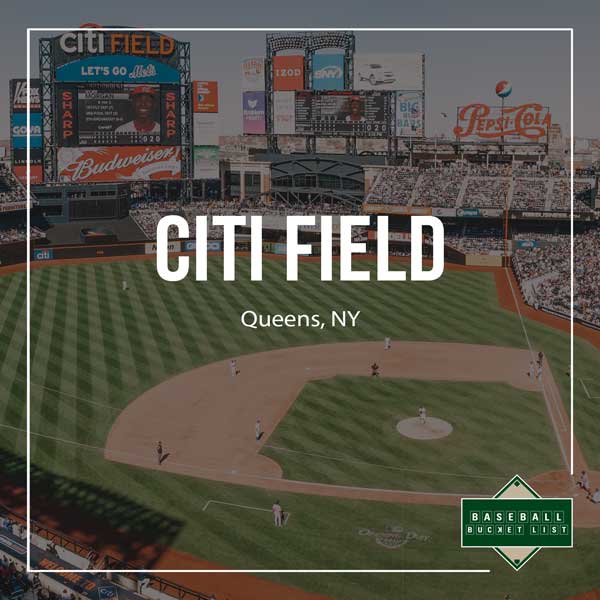 Quick Facts About Citi Field
Year Opened
2009
Capacity
41,922
Home Club
New York Mets (1962)
Team Colors
Blue, Orange, White
Upcoming Homestands at Citi Field
April 2022
| S | M | T | W | T | F | S |
| --- | --- | --- | --- | --- | --- | --- |
| | | | | | | |
| | | | | | | |
| | | | | | | |
| | | | | | | |
| | | | | | | |
May 2022
S
M
T
W
T
F
S
June 2022
| S | M | T | W | T | F | S |
| --- | --- | --- | --- | --- | --- | --- |
| | | | | | | |
| | | | | | | |
| | | | | | | |
| | | | | | | |
| | | | | | | |
July 2022
| S | M | T | W | T | F | S |
| --- | --- | --- | --- | --- | --- | --- |
| | | | | | | |
| | | | | | | |
| | | | | | | |
| | | | | | | |
| | | | | | | |
| | | | | | | |
August 2022
| S | M | T | W | T | F | S |
| --- | --- | --- | --- | --- | --- | --- |
| | | | | | | |
| | | | | | | |
| | | | | | | |
| | | | | | | |
| | | | | | | |
September 2022
| S | M | T | W | T | F | S |
| --- | --- | --- | --- | --- | --- | --- |
| | | | | | | |
| | | | | | | |
| | | | | | | |
| | | | | | | |
| | | | | | | |
October 2022
| S | M | T | W | T | F | S |
| --- | --- | --- | --- | --- | --- | --- |
| | | | | | | |
| | | | | | | |
| | | | | | | |
| | | | | | | |
| | | | | | | |
| | | | | | | |
No events.
November 2022
| S | M | T | W | T | F | S |
| --- | --- | --- | --- | --- | --- | --- |
| | | | | | | |
| | | | | | | |
| | | | | | | |
| | | | | | | |
| | | | | | | |
No events.
December 2022
| S | M | T | W | T | F | S |
| --- | --- | --- | --- | --- | --- | --- |
| | | | | | | |
| | | | | | | |
| | | | | | | |
| | | | | | | |
| | | | | | | |
No events.
January 2023
S
M
T
W
T
F
S
No events.
February 2023
| S | M | T | W | T | F | S |
| --- | --- | --- | --- | --- | --- | --- |
| | | | | | | |
| | | | | | | |
| | | | | | | |
| | | | | | | |
| | | | | | | |
No events.
March 2023
| S | M | T | W | T | F | S |
| --- | --- | --- | --- | --- | --- | --- |
| | | | | | | |
| | | | | | | |
| | | | | | | |
| | | | | | | |
| | | | | | | |
No events.
Citi Field | Ballpark Info
Accommodations for Disabilities
Citi Field offers accommodations for wheelchair users, and also provides captioning, and audio and sensory resources. If we haven't answered your question in this section, reach out to accessibility@nymets.com or call 718-565-4360.
Parking: Citi Field has more than 350 designated accessible spots. Look for lots A, B, F, or G.
Gates: Entry through the following gates will provide the easiest route to elevators — Hodges, Seaver, or Stengel VIP. You do not need a VIP ticket to enter through the Stengel gate. Just explain that you need to use the elevator and the crew will gladly let you through.
Elevators: You'll find elevators in the following locations on the main floor:
Hodges Entrance
Service Tunnel near section 109
Bullpen Plaza
Service Tunnel next to the building command center
Stengle Entrance
Seaver Entrance
Jack Robinson Rotunda Ticket Office
Seating: You'll find wheelchair accessible seating in every level of setting except for the 500 level, and it is nicely spread out to give you multiple options for field position.
Bags
Can you bring a bag into Citi Field?
Citi Field does not allow backpacks of any kind, regardless of size. You can bring any other kind of soft bag or cooler as long as it is under the MLB size restrictions of 16″ x 16″ x 8″. There is no bag storage inside the ballpark.
Batting Practice
You are allowed to watch and catch batting practice at Citi Field. The Jackie Robinson Rotunda and Hodges Entrance gates both open 2 hours before first pitch. The Rotunda gate is at home plate, and the Hodges gate is halfway down the first base line, between the rotunda and the right field gate.
If you get there right as the gates open, you may see the tail end of the Mets BP. Visitors batting practice starts an hour and a half prior to first pitch and will end about 55 minutes before first pitch.
Bring Your Own Food
Citi Field doesn't have an official bring your own food policy. Their policy only states that you can bring in one sealed water bottle 20 ounces or less, and juice boxes for children. We've not had trouble taking food inside Citi as long as we play by the rules mandated at other parks — no glass, and everything is wrapped in baggies or original packaging. Just be aware that there is no policy stating you are allowed to bring food in.
Tip: Once you browse our section on ballpark food, you may not even want to consider bringing your own.
Guest Services
If you have any issues or questions while at the ballpark, please utilize Guest Services. Each MLB team has this department, and they are solely focused on making sure each fan has a safe and memorable time at the ballpark.
Once inside the park, you can call or text the fan assistance hotline at 646-438-5000. This number should primarily be used to alert the staff to safety issues like broken equipment or unruly fans.
If you have any questions about the ballpark while there, you can stop by any of the fan assistance stations in the following sections:
Each of the locations listed above will have "First Mets Game" certificates.
Gates
What time do the gates open at Citi Field? 
As mentioned in the batting practice section, the Jackie Robinson Rotunda and Hodges gates will open 2 hours before first pitch. All other gates open 90 minutes before first pitch during the week, and 2 hours before weekend games.
Promotions
The Mets offer giveaways and other promotions at certain games. Use this link to search for games featuring a promotion.
Free Shirt Friday: Mets fans can get a free shirt at every Friday home game. Make sure you get there early to guarantee you snag one.
Family Sundays: Family Sundays with the Mets take place during every Sunday home game. Kids 12 and under will get a promotional give away and can run the bases after the game. You'll also find pregame activities on Mets Plaza. The festivities start 2 hours prior to first pitch.
Restrooms
You'll find both men's and women's restrooms in the following locations:
Women's: Sections 101, 104, 111, 114, 122, 130, 132, 309, 312, 326, 329, 334, 408, 409, 422, 429, 431, 513, 514.
Men's: 103, 113, 121, 124, 131, 139, 309, 329, 334, 405, 420, 424, 430, 436, 511, 5116.
Family Restrooms: 111, 114, 121, 124, 130, 312, 326, 339, 409, 420, 430.
Tailgating
Can you tailgate at Citi Field?
You can't tailgate in the following lots: A, B, G. Tailgating in other lots is allowed as long as you are not grilling or consuming alcohol. So basically as long as you are sitting quietly and having zero fun, you'll be okay.
Tours
Do the Mets offer tours of Citi Field?
You can tour Citi Field on both game days and non-game days. Tours last approximately one hour and include stops at the clubhouse, field and dugout, control room, press box, suites, and the hall of fame & museum. Of course, some of these stops may be unavailable based on games. Complimentary parking in an official lot is included with a non-game day tour ticket. Parking is not included for game day tours. Tickets are $20 for adults and $15 for kids. Book your tour here.
Run the Bases of Old Shea Stadium
Shea Stadium was Citi Field's predecessor and was located literally right next door. If you arrive early enough, you'll find bronze plaques in parking lot B marking the bases of Shea Stadium. Lot B is located on the 3B side of the ballpark, just outside of the Stengel Entrance and Left Field gate.
Snap a Photo with the Home Run Apple Out Front, then Watch for the Home Run Apple Inside
When most people think of the New York Mets, they think of the Home Run Apple. Located in the outfield, it rises up whenever the Mets hit a home run. The original apple was moved from Shea Stadium to just outside of the main entrance at the Jackie Robinson Rotunda. Stop there for a quick photo.
Once inside the park, if a Mets player hits a home run, watch for the new Home Run Apple to rise up from the center field batters eye. The apple currently inside Citi Field is 4 times larger than the Shea Stadium version.
Visit the Jackie Robinson Memorial, then the Mets Hall of Fame & Museum
If you enter via the main gate, you'll find a tribute to Jackie Robinson at the top of the rotunda. Robinson is honored across the MLB, but has a special place in the hearts of Dodgers and Mets fans. Robinson's career began in Brooklyn before the Dodgers moved to LA, and the Mets do a great job of honoring him at Citi Field. Take the time to study Robinson's nine values that he lived his life by: courage, determination, teamwork, persistence, integrity, citizenship, justice, commitment and excellence. These are etched around the rotunda.
Once you have enjoyed the Robinson tribute, head behind the escalators to the Mets Hall of Fame & Museum. It's free to enter and contains much Mets memorabilia, including World Series trophies and rings. The Mets Hall of Fame includes plaques for each of the Hall of Fame members. You'll have plenty of time to see the Hall of Fame & Museum since it's open from when the gates open until after the ballgame.
See the Shea Scoreboard Skyline
One of the features of the old park was the famous neon New York skyline that sat atop the main scoreboard. The skyline was originally installed in the 1980s. Following the 2001 terror attacks, the neon was removed from the World Trade Center Towers in the outline, and a red white & blue ribbon was placed over top. When the original scoreboard was demolished, the skyline was moved to the area behind center field and can be found on top of the Shake Shack stand.
Did we forget something?
Baseball Bucket List relies on information from Bucketheads to keep our guides and resources up to date.
Citi Field | Transportation and Parking
Once you get into Queens and approach the ballpark, parking won't be an issue. It can be difficult to get to Queens though, which is why we recommend taking public transportation to Citi Field. If you do decide to drive to Citi, be sure to leave yourself plenty of time. There's nothing worse than sitting in traffic on the Grand Central Parkway while listening to first pitch on the radio.
Official Citi Field Parking Lots
There are 5 official parking lots at Citi Field. Parking for each of those lots is $25. If you don't have a VIP ticket or pre-purchased parking pass, you can only park in Lot A (though the number of general spots is quite small) and Lot E.
There are also 5 remote lots near Citi Field that accommodate game day parking. These require a bit of a walk or a shuttle, but still cost the same amount as the general lots near the park. If you can't find a spot in Lot A or E, we recommend looking for off-site, non-official parking to save a few bucks.
Off-Site / Free Parking Options Near Citi Field
You can find street parking in the neighborhoods surrounding the ballpark. If you get there early, you might luck out and find free street parking a block or so away from the park. Many places around the ballpark will rent out their spots to third party spot finding services like:
You can also park in Skyview Center's garage, which is a nearby mall. Parking is substantially cheaper there, less than $5, and it's a short half mile walk to the ballpark. If you are attending a night game and it runs long, be aware that the garage may close at a certain time. Look for signage as you are parking.
Public Transportation
Public transportation is the way to get to the ballpark. You'll want to take the 7 train of the New York subway system, which you can pick up from Times Square, 5th Ave, and Grand Central Station, or transfer to from another line. Get off at the Mets/Willets Point Station and follow the Blue and Orange.
Uber & Lyft
The rideshare lot for Citi Field is just outside of the bullpen gate on Seaver Way. You'll find Uber signage throughout the park since they are the official rideshare company of the Mets, but Lyfts and taxis can also access that pickup and dropoff location. You might actually be better off calling a Lyft since everyone else will have been staring at Uber signage all day.
If you're new to Uber, you can use this link to get a discount on your first few rides.
Join the Baseball Bucket List community
Create your own bucket list, track ballpark visits, and connect with other fans.
Best Seats for Mets History
Citi has seen its fair share of historical moments since opening in 2009. Mariano Rivera recorded his 500th save there (2009), Johan Santana threw the first no-hitter in Mets history (2012), Garry Sheffiled hit his historic 500th home run to section 132 in left field (2009), and Pete Alonso broke the record for most single season home runs by a rookie (2019).
There are no specifically marked or known seats for those historic events. If you want to revisit history from a seat, we recommend buying tickets to the Subway Series, the interleague play between the Yankees and Mets that happens each year. Called the Subway Series because you can get to each ballpark from the subway, this New York tradition began with the Yankees and Giants in the early 1920s, and continues today with the Yankees and Mets.
Best Seats for Game Views
If you have no problem shelling out $100+ for each ticket, the 300 level is great for game views, especially down the 1B and 3B lines. The seats in the 400 Promenade Club sections (406 – 423) are probably the best value in terms of view vs price. Just make sure to sit a few rows back to avoid hand rails. Depending on how the season is going and who they are playing, you may be able to score lower level seats for less money shortly before a game. Use a service like Seatgeek or Stubhub to scope those out.
Where Not to Sit
If your seats are not on the 500 level, you won't have much to worry about. Citi Field like many other parks, has plexiglass along the railing of the stairs that take you from the 400 level to the 500 level. There are silver hand railings that run alongside the glass, blocking your view. On top of that, in the first row, you still have the traditional metal railing, so you can end up with a triple obstructed view. Sit a few rows back in the 500 level.
If you sit further back in the 500 sections, you also have the chance of being obstructed by the overhang above. And if you sit further down the line, you'll lose some view of the outfield corner you're sitting in.
If on the 500 level, aim for the true middle of any section to avoid most of these problems.
Best Seats for Shade
Day games at Citi Field usually start at 1:10pm, which means the sun will be present for all of the game. Your best bet for shade is the 3B side, specifically the 300 level, which is also protected by an overhang. The last 10 or so rows of any level are usually in the shade thanks to the overhang. Avoid the 1B side and outfield if you can help it.
Best Seats for Foul Balls
Looking to catch a foul ball at Citi Field? According to foulballz.com, your best chances are in 121 – 124 on the 3B side, and 111-114 on the 1B side.
Citi Field |Ballpark Food
Citi Field is arguably one of the best ballparks for food. Even if you normally eat before the ballpark, you may want to switch it up for this one. There are many options, and most of them are favorably reviewed. The below are just a few of the many options. They also offer 62 beers and 32 wines. If you're like us, you'll need to come back for several games just to feel like you've scratched the surface of what this place has to offer. For the full offering, take a look here.
The Must Have: The Pastrami Sandwich
The classic New York deli sandwich. Pastrami + rye bread + mustard. Pickle on the side. What more do you need? Sections 126, 318, and 415.
Something Special: The Pizza Cupcake
What is it? Kind of like a pizza slider. The Pizza Cupcake is something you won't find at any other park. It's also not huge, so you'll still have room for more of Citi Field's offerings. Find it at the Jim Beam Highball Club on the 400 Promenade level.
Something Sweet: Tipsy Scoop
The Mets were planning to proudly debut their new vendor of liquor infused ice cream in 2020. We all know how that went. But it sounds amazing. Flavors include Vanilla Bean Bourbon Ice Cream, Strawberry White Sangria, and Dark Chocolate Whiskey Salted Caramel Ice Cream.
Vegetarian and Vegan Options at Citi Field
Citi Field has an entire food stand dedicated to vegans — Marty's V Burger in section 105. It includes multiple Beyond burger and sausage options along with a soy peppersteak. This will be your best option if you are very strict, as everything here will be vegan. The soft pretzels (scattered throughout the main concourse) are vegan. Vegan hot dogs are available in sections 137, 321, and 423. Daruma of Tokyo offers a vegetable roll at the Worlds Fare Market.
Did we forget something?
Baseball Bucket List relies on information from Bucketheads to keep our guides and resources up to date.
Citi Field | Surrounding Area
McFadden's Restaurant and Saloon
A great sports bar attached to Citi field with a lively atmosphere before and after the game.
Lucia Pizza
No-frills classic slices of pie, and a darn good ones at that
Haidilao Hotpot
Think fondue, but with soup. Great for early in the season when it's cold.
Empanadas Cafe
Best empanadas, hands down.
Did we miss something in our guide to Citi Field?
Baseball Bucket List relies on information from Bucketheads to keep our guides and resources up to date.
Have some insight about this ballpark that you'd like to share with the community? Let us know! We try to visit each park often, but changes can happen quickly. We're always looking for updated information about ballparks, the cities they're located in, and attractions nearby. If we include your tip in a guide, we'll give you credit whenever possible.