Dodger Stadium | Los Angeles Dodgers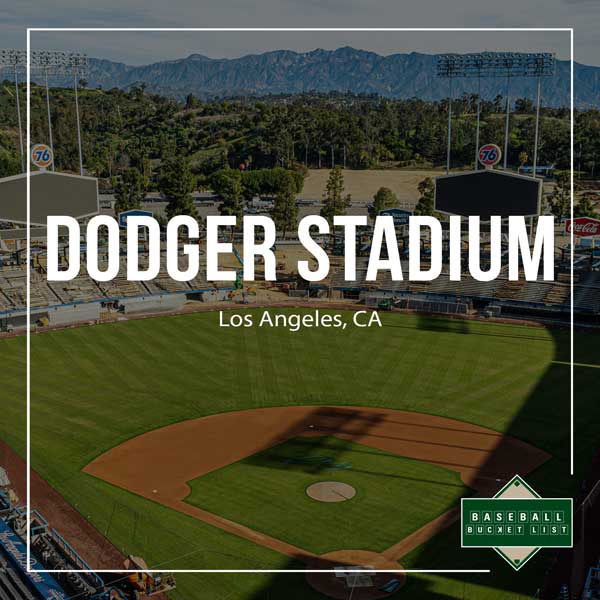 Quick Facts About Dodger Stadium
Year Completed
1962 (Third Oldest in MLB)
Capacity
56,000 (Largest in MLB)
Home Club
Los Angeles Dodgers (1883)
Team Colors
Blue, White
Ballpark Nicknames
Blue Heaven, Chavez Ravine
Upcoming Homestands at Dodger Stadium
April 2022
| S | M | T | W | T | F | S |
| --- | --- | --- | --- | --- | --- | --- |
| | | | | | | |
| | | | | | | |
| | | | | | | |
| | | | | | | |
| | | | | | | |
May 2022
S
M
T
W
T
F
S
June 2022
| S | M | T | W | T | F | S |
| --- | --- | --- | --- | --- | --- | --- |
| | | | | | | |
| | | | | | | |
| | | | | | | |
| | | | | | | |
| | | | | | | |
July 2022
| S | M | T | W | T | F | S |
| --- | --- | --- | --- | --- | --- | --- |
| | | | | | | |
| | | | | | | |
| | | | | | | |
| | | | | | | |
| | | | | | | |
| | | | | | | |
August 2022
| S | M | T | W | T | F | S |
| --- | --- | --- | --- | --- | --- | --- |
| | | | | | | |
| | | | | | | |
| | | | | | | |
| | | | | | | |
| | | | | | | |
September 2022
| S | M | T | W | T | F | S |
| --- | --- | --- | --- | --- | --- | --- |
| | | | | | | |
| | | | | | | |
| | | | | | | |
| | | | | | | |
| | | | | | | |
October 2022
| S | M | T | W | T | F | S |
| --- | --- | --- | --- | --- | --- | --- |
| | | | | | | |
| | | | | | | |
| | | | | | | |
| | | | | | | |
| | | | | | | |
| | | | | | | |
November 2022
| S | M | T | W | T | F | S |
| --- | --- | --- | --- | --- | --- | --- |
| | | | | | | |
| | | | | | | |
| | | | | | | |
| | | | | | | |
| | | | | | | |
No events.
December 2022
| S | M | T | W | T | F | S |
| --- | --- | --- | --- | --- | --- | --- |
| | | | | | | |
| | | | | | | |
| | | | | | | |
| | | | | | | |
| | | | | | | |
No events.
January 2023
S
M
T
W
T
F
S
No events.
February 2023
| S | M | T | W | T | F | S |
| --- | --- | --- | --- | --- | --- | --- |
| | | | | | | |
| | | | | | | |
| | | | | | | |
| | | | | | | |
| | | | | | | |
No events.
March 2023
| S | M | T | W | T | F | S |
| --- | --- | --- | --- | --- | --- | --- |
| | | | | | | |
| | | | | | | |
| | | | | | | |
| | | | | | | |
| | | | | | | |
No events.
Dodger Stadium | Ballpark Info
Accommodations for Disabilities
Handicap accessible parking sports can be found in the following lots: B, D, G, L, N, and P. The Dodgers also run a courtesy shuttle for guests with disabilities. Give them a call via the Dodger hotline at (323) 224-2611.
For specific questions regarding accommodations, we recommend that you reach out to the Dodgers prior to your ballpark visit at 866-363-4377 Ext. 7. Once inside the park, use the Dodger hotline number listed above.
Bags
Make sure any bag you bring in (including diaper bags) are 16 x 16 x 8, or smaller. 
Batting Practice
Dodger Stadium allows all fans to enter the stadium 2 hours prior to game time to watch early batting practice from Field Level. They open the Left Field Pavilion for BP. You'll be asked to find your seat ninety (90) minutes prior to first pitch.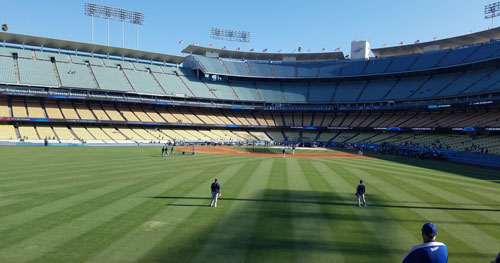 Bring Your Own Food
If you're not up for shelling out $$$ for ballpark fare, the good news is you can bring your own snacks into Dodger Stadium.
Just be sure you're not bringing in glass bottles, cans, coolers, glass containers or thermoses. You can bring unopened plastic bottles of 1 liter or less, as long as they are non-alcoholic.
Fan Services
If you have any issues or questions while at the ballpark, please utilize Fan Services. Each MLB team has this department, and they are solely focused on making sure each fan has a safe and memorable time at the ballpark.
Call the Dodger Hotline: (323) 224-2611 or visit one of their stations throughout Dodger Stadium in sections:
Field Level: 3, 52 and 53
Center Field: Welcome Center & 3rd Level Pavilion
Loge Level: 152 and 153
Reserve Level: 31 and 32
Top Deck: 1
Gates
Parking gates open 2.5 hours prior to the start of the game. Ballpark gates open approximately 2 hours prior to the first pitch.
Promos
The Dodgers present Friday Night Fireworks following all Friday night home games. Fans are permitted to head down onto the field once the game has ended to enjoy the show from the outfield grass. Talk about great seats. However, something to keep in mind, Dodgers policy states there will be no fireworks after the game if the game goes past 10:59pm and fans will not be allowed onto the field if the game goes past 10:45pm.
Kids ages 14 and under can head to centerfield at the end of most Sunday day games for the opportunity to run the bases. 
Restrooms
You can find restrooms in the following sections:
Field Level: 16, 17, 32 and 33
Loge Level: 122, 123, 167, and 168
Reserve Level: 8, 9, 35, 36, 47, and 48
Top Deck: 1
Left Pavilion: 301 and 315
Right Pavilion: 302 and 316
Family Restrooms and Gender Neutral Restrooms Can be Found
Loge Level: 152 and 153
Reserve Level: 31 and 32
Top Deck: 1
Left Field Pavilion: 315
Right Field Pavilion: 316
Tailgating
Unfortunately, there is no tailgating or consuming alcohol in any Dodger Stadium parking lots. You're better off grabbing a few beers at a nearby bar before the game.
Tours
Dodger Stadium offers daily walking tours of the ballpark. They're around 90 minutes long and include visits down to the field, as well as the dugout (if permitted by that day's game schedule).
The cost is $20 for adults, $15 for kids under 14, $15 for seniors 55+, and $15 for military.
Check out the Retired Numbers known as the "Ring of Honor"
The Dodgers have some of the richest history in the MLB, and they're proud of it. If you visit the "Top of the Park" located on the top deck, you'll find the Retired Numbers Plaza. You'll find giant numbers honoring all of the Dodger greats who have had their numbers officially retired by the team. They are:
1 – Pee Wee Reese
2 – Tommy Lasorda
4 – Duke Snider
19 – Jim Gilliam
20 – Don Sutton
24 – Walter Alston
32 – Sandy Koufax
39 – Roy Campanella
42 – Jackie Robinson
53 – Don Drysdale
Visit the Jackie Robinson Statue
Jackie Robinson is proudly known throughout baseball to be the man who broke the color barrier. Jackie Robinson is the only player in history to have his number retired by the entire league. The statue of Robinson stealing home was unveiled on 4/15/2017 (Jackie Robinson Day) and can be found in the Left Field Reserve Plaza. The Dodgers chose to place the statue here because it is the gate that sees the most fans enter the ballpark.
Did we forget something?
Baseball Bucket List relies on information from Bucketheads to keep our guides and resources up to date.
Dodger Stadium | Transportation and Parking
Keep in mind that LA Traffic is REAL! If you're coming from out of town, leave yourself an hour longer than you initially think you'll need. There's nothing worse than missing part of a game or missing out on something that you wanted to do before the game due to sitting in traffic. Better to get there way early and pass the time at a nearby bar or restaurant.
To avoid the hassles of driving and parking yourself, the Dodger Stadium Express provides free transportation for fans with a Los Angeles Dodgers game ticket at two convenient locations – Union Station or the South Bay
If you plan to drive, use the Scott Avenue gate entrance on the west side of the stadium. This is one of Dodgers fan's best-kept secrets and helps you avoid the nightmarish, more crowded gates. It's no wonder people are deterred, there's usually signage indicating the road is closed or for local traffic only. Don't be fooled though, you're allowed to be there, just keep it on the DL so we can all enjoy the reprieve from usual game day parking traffic for years to come.
Official Dodger Stadium Lots
General parking for automobiles and motorcycles is $17 in advance and $25 at the gate.
Preferred parking is $40 in advance and $50 at the gate.
For only $5 (in advance or upon arrival), purchase parking for Lots 13 and 14. These first-come, first-serve lots are located offsite on Stadium Way – between Elysian Park Avenue and the 110 – and allow for easy entrance and exit. Note that there is an uphill walk to the stadium from these lots, of approximately 10 to 15 minutes. A free shuttle is available for fans with disabilities, call Fan Services (323) 224-2611.
Off-Site / Free Parking Options
You actually have a fair chance of coming across free parking near Dodger Stadium. This is due to the fact that free parking will usually require a walk "up the hill". Free parking can be found along Stadium Way and Sunset Ave.
Uber & Lyft
If you'd rather not drive, Uber and Lyft are great options for getting to and from Dodger Stadium. Uber is the official rideshare company endorsed by the Dodgers, so you'll see their logo everywhere. Don't worry, Lyft is still allowed to pickup and drop off at the ballpark. In fact, you may be better off calling a Lyft since everyone else will be staring at Uber signage all night.
Drivers know to pick up up in the official rideshare lot, Lot 11. Don't be afraid to call your car as you're walking out of the park. you'll be waiting on it for awhile. You may want to consider heading over to a nearby bar to wait out the post-game rush.
If you're new to Uber, you can use this link to get a discount on your first few rides.
Join the Baseball Bucket List community
Create your own bucket list, track ballpark visits, and connect with other fans.
Dodger Stadium | Best Seats
Best Seats for Dodger History
The Kirk Gibson Home Run Seat was the first seat at Dodger Stadium to be marked in tribute to a historic event. Seat 88, Row D in Section 302 of the Right Field Pavilion is painted blue and adorned with Gibson's painted signature to commemorate where his historic walk-off home run in Game 1 of the 1988 World Series landed. It's definitely worth taking a stroll by seat 88 before or after the ballgame. Gibson's seat usually sells out for the entire season before Opening Day. It's a great piece of baseball history to see. If you manage to snag the pair of seats, you'll be happy to know that $200 of ticket price goes to fight Parkinson's, which is what Gibson's foundation is focused on.
Best Seats for Game Views
Even with a capacity of 56,000, Dodger Stadium has very few obstructed views. If you choose covered seats to battle the sun, you may find that you lose the ability to see fly balls and the outfield video boards. This usually only happens if you are sitting far back in the covered portions.
Best Seats for Shade
If you're attending a day game, your best bet for shade will be along the third base side. Specifically, look for tickets in rows U-X on the Field Level. The further back you sit in the third base Field Level sections, the more protection the overhang provides. Just keep in mind that sitting too far back in these sections may obstruct your view of fly balls in the outfield. If you're looking to stay out of the sun, avoid seats on the first base side on the Field Level and nearly all of the Reserve Level sections.
Best Seats for Foul Balls
Looking to catch a foul ball at Dodger Stadium? According to foulballz.com, your best shots are in sections 18-28 on the third base side and 19-28 on the first base side.
Dodger Stadium | Ballpark Food
The Must Have: The Dodger Dog
The Dodger Dog, famously known and around since 1962, is a 10 inch pork weiner wrapped in a steamed bun, served plain (although you can load it up at the condiment bar if you'd like). You can find them all over the ballpark and there are two separate lines: steamed or grilled. FYI, the grilled dogs are considered the "classic" version. I mean, if you don't have a Dodger Dog at Dodgers Stadium, did you even go? You can find Dodger Dogs all over the park.
Speaking of hot dogs, if you would like to pay homage to where it all started, get yourself a Brooklyn Dodger Dog. It's similar to a Dodger Dog, but features a slightly different sausage with a "snappier" casing, which some people argue make this version better. We say, have both and decide for yourself.
Something Special: Chicken & Waffle Sammy
Spicy chicken, bacon, and maple syrup sandwiched between two Belgium waffles…topped off with powdered sugar. Sweet and spice, and everything right will ballpark food. Find it in Reserve section 12 and Field section 8.
The Challenge: Coca-Cola All You Can Eat Pavilion
If you're really hungry, or just love a good challenge, buy yourself a ticket to the Coca-Cola All You Can Eat Right Field Pavilion. They run about $30 and you'll have access to an unlimited supply of peanuts, nachos, popcorn, Dodger Dogs and soft drinks. Load up!
Vegetarian and Vegan Options at Dodger Stadium
Lucky you, you're in LA! You'll find Beyond Meat burgers and sausages in many field sections (including 10, 22, and 311). It's also available in top deck sections 5 and 6. If you're in the mood for something a little fancier, you can find vegan tacos in sections 252 and 741. You'll also find tempeh nachos in the Right Field Plaza. The Dodgers have even devoted an entire food stand (Plant Powered) to vegan food in Field Section 47. There, you'll find burgers, loaded fries, nachos, and even a meatball sub.
Did we forget something?
Baseball Bucket List relies on information from Bucketheads to keep our guides and resources up to date.
Dodger Stadium | Surrounding Area
El Compadre
Well-known Echo Park neighborhood Mexican restaurant
Philippe the Original
LA institution since 1908. Famous for French Dip sandwiches. Family friendly.
The Short Stop
Classic dive bar, perfect for a beer before or after the game. Open late!
Button Mash
Restaurant with vintage arcade. Great for groups with vegetarians or vegans. Open late!
Did we forget something?
Baseball Bucket List relies on information from Bucketheads to keep our guides and resources up to date.
Have some insight about one of the ballparks that you'd like to share with the community? Let us know! We try to visit each park often, but changes can happen quickly. We're always looking for updated information about ballparks, the cities they're located in, and attractions nearby. If we include your tip in a guide, we'll give you credit whenever possible.