Busch Stadium | St. Louis Cardinals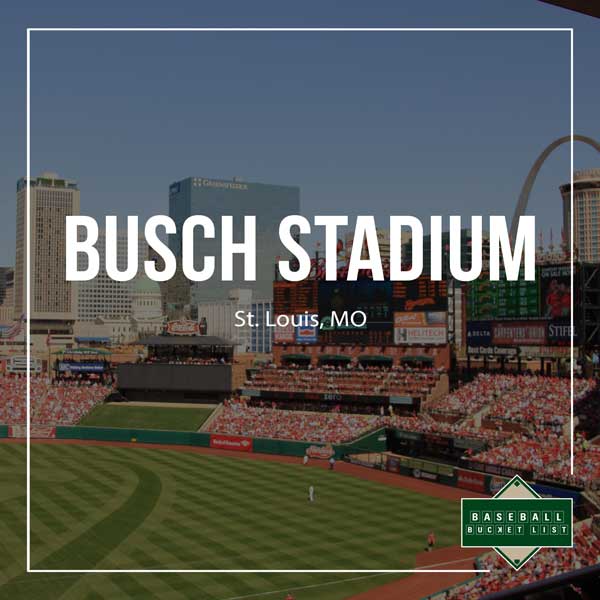 Quick Facts About Busch Stadium
Year Completed
2006 
Capacity
45,494 
Home Club
St. Louis Cardinals (1882)
Team Colors
Cardinal Red, Midnight Navy, Yellow, White
Ballpark Nicknames
New Busch Stadium, Busch Stadium III
Upcoming Homestands at Busch Stadium
April 2022
| S | M | T | W | T | F | S |
| --- | --- | --- | --- | --- | --- | --- |
| | | | | | | |
| | | | | | | |
| | | | | | | |
| | | | | | | |
| | | | | | | |
May 2022
S
M
T
W
T
F
S
June 2022
| S | M | T | W | T | F | S |
| --- | --- | --- | --- | --- | --- | --- |
| | | | | | | |
| | | | | | | |
| | | | | | | |
| | | | | | | |
| | | | | | | |
July 2022
| S | M | T | W | T | F | S |
| --- | --- | --- | --- | --- | --- | --- |
| | | | | | | |
| | | | | | | |
| | | | | | | |
| | | | | | | |
| | | | | | | |
| | | | | | | |
August 2022
| S | M | T | W | T | F | S |
| --- | --- | --- | --- | --- | --- | --- |
| | | | | | | |
| | | | | | | |
| | | | | | | |
| | | | | | | |
| | | | | | | |
September 2022
| S | M | T | W | T | F | S |
| --- | --- | --- | --- | --- | --- | --- |
| | | | | | | |
| | | | | | | |
| | | | | | | |
| | | | | | | |
| | | | | | | |
October 2022
| S | M | T | W | T | F | S |
| --- | --- | --- | --- | --- | --- | --- |
| | | | | | | |
| | | | | | | |
| | | | | | | |
| | | | | | | |
| | | | | | | |
| | | | | | | |
November 2022
| S | M | T | W | T | F | S |
| --- | --- | --- | --- | --- | --- | --- |
| | | | | | | |
| | | | | | | |
| | | | | | | |
| | | | | | | |
| | | | | | | |
No events.
December 2022
| S | M | T | W | T | F | S |
| --- | --- | --- | --- | --- | --- | --- |
| | | | | | | |
| | | | | | | |
| | | | | | | |
| | | | | | | |
| | | | | | | |
No events.
January 2023
S
M
T
W
T
F
S
No events.
February 2023
| S | M | T | W | T | F | S |
| --- | --- | --- | --- | --- | --- | --- |
| | | | | | | |
| | | | | | | |
| | | | | | | |
| | | | | | | |
| | | | | | | |
No events.
March 2023
| S | M | T | W | T | F | S |
| --- | --- | --- | --- | --- | --- | --- |
| | | | | | | |
| | | | | | | |
| | | | | | | |
| | | | | | | |
| | | | | | | |
No events.
Busch Stadium | Ballpark Info
Accommodations for Disabilities
The Cardinals do a great job of providing accommodations for guests with disabilities. If we haven't answered your question below, please review their ADA Information guide here. You can also contact them ahead of time at guestservices@cardinals.mlb.com or call the Cardlinas at 314-345-9600. Once inside the park, you can text 314-300-1000 for assistance.
Parking: Accessible parking can be found in the following lots: Starr lot near gate 2, Stadium West Parking Garage, and Stadium East Parking Garage. You should see signage with a phone number for a transportation cart which can take you to the ballpark.
Gates: Every gate is accessible, so feel free to enter wherever makes most sense with your ticket. All gates open 90 minutes before first pitch Monday-Thursday, and 2 hours Friday-Sunday.
Elevators: Elevators are located at the following locations:
Family Pavillion
Near Gate 6 (Right Field)
Near Gate 2 (Home Plate)
Near Gate 3 (3B side)
Seating: Accessible seating is scattered throughout the park, so you should have no problems picking a seat based on your preferred field view. The Cardinals will be happy to help you select your seats, just call the ticket office at 314-345-9000.
Bags
The Cardinals do not allow backpacks of any kind. Soft sided bags that are no larger than 16″ x 16″ x 8″ are allowed.
Batting Practice
You can watch and catch batting practice at Busch Stadium if you get there early. Gates open 90 minutes before first pitch Monday – Thursday, and 2 hours Friday – Sunday. You can catch the tail end of the Cardinals BP if you get there right as gates open. All gates open at the same time, so head in through one of the outfield gates. Visitors BP runs until 45 minutes before first pitch, when you'll be asked to find your seats.
Bring Your Own Food
Busch Stadium allows you to bring your own food and beverages into the ballpark. You can bring any food, as long as it is wrapped. Sealed non alcoholic beverages of less than 2 liters that are in plastic bottles are also allowed.
Guest Services
If you have any issues or questions while at the ballpark, please utilize Guest Services. Each MLB team has this department, and they are solely focused on making sure each fan has a safe and memorable time at the ballpark.
Once inside the ballpark, you can contact guest services by calling 314-345-5331. Guest services desks are also located in the following sections:
Gates
All gates open at the same time. 90 minutes prior to first pitch Monday – Thursday, and 2 hours Friday- Sunday.
Promos
The Cardinals offer promotional giveaways before some games. Check this schedule to see if your game is one of them.
Radio Broadcast
If you like to listen to the ballgame, you can tune in to KMOX at 1120 AM.
Restrooms
Men's and Women's restrooms are scattered throughout the park, and are never far away. Find them in the following sections:
Men's Restrooms: 127, 133, 140, 143, 156, 231, 237, 261, 268, 333, 339, 345, 357, 449, 451, Left Field Porch.
Women's Restrooms: 107, 132, 133, 140, 143, 156, 163, 234, 261, 271, 333, 339, 345, 357, 449, 451, Left Field Porch
Family Restrooms: 107, 134, 140, 156, 171.
Tailgating
There are no official Busch Stadium parking lots.
Tours
ours of Busch Stadium are offered year round. You'll stop at the broadcast booth, club locations, the dugout, and more. Keep in mind that some of the stops may change based on game day activities. Tickets are $18 for adults, $16 for seniors and military, and $14 for kids 15 and under. Find more info and book your tour here.
Visit Ballpark Village
Ballpark Village is located outside of the ballpark, behind center field. You'll find plenty of food and drink options, as well as some shopping (including one of our favorites, Baseballism). The outdoor plaza recreates the original Busch II infield, so you'll even have a chance to step on the same ground as some of the Cardinals greats. Inside, you'll find options like FOX Sports Midwest Live!, which is a huge entertainment area very similar to Texas LIVE! at Globe Life Field.
Enjoy the Cardinals Hall of Fame and Museum
Before you head into the ballpark, stop by the Hall of Fame and Museum located in Ballpark Village. You'll find tons of Cardinal relics and history including a championship gallery, a chance to hold a game used bat, and a section on the three different ballparks the Cards have called home. Tickets are $12 for adults, $10 for seniors and military, and $8 for kids.
Visit the Cardinals Greats
Just outside the ballpark on the North West corner (8th and Clark), you'll find 10 statues of past Cardinal greats. They are: Rogers Hornsby, George Sisler, Bob Gibson, Stan Musial, Ozzie Smith, Dizzy Dean, Cool Papa Bell, Lou Brock, Red Schoendienst, and Enos Slaughter. Just around the corner, at the 3B gate, you'll also find a larger statue of Musial at bat. This statue was moved from Busch II. Halfway between gate 4 and 5, you'll also find a statue of the Cardinals great broadcaster Joe Buck.

Enjoy the Baseball Sky
Busch Stadium's outfield view ranks pretty high up there. Since the park is situated in the city (as a ballpark should be!), you get amazing skyline views of the Arch and surrounding buildings, including the oddly circular Millennium Hotel Tower. Home plate faces South West, which usually means an amazing sunset view in the beautiful park. It's hard to think of a better way to spend a summer evening.
Swipe to view images from Busch Stadium.
Did we forget something?
Baseball Bucket List relies on information from Bucketheads to keep our guides and resources up to date.
Busch Stadium | Transportation and Parking
Busch Stadium is located in the heart of downtown St. Louis, which can make it a little difficult to get to if you haven't been there before. Like most downtown grids, St. Louis consists of both two-way and one-way streets, so you'll want to scope out your parking plan ahead of time to avoid confusion and stress. Luckily, you have plenty of parking and transportation options to choose from.
Join the Baseball Bucket List community
Create your own bucket list, track ballpark visits, and connect with other fans.
Busch Stadium | Best Seats
Best Seats for Cardinals History
While you can't technically sit there, the grassy knoll batter's eye in center field is probably the most iconic section of Busch Stadium. Most baseball fans will remember a wild Game 6 of the 2011 World Series, where the St. Louis Cardinals battled back — down to their last strike…twice. David Freese's walk off home run in the 11th inning of Game 6 landed in the grassy knoll, where an Illinois radiologist scrambled to grab it. Traditionally speaking, the folks sitting in either section to the left or right (bleacher sections 197 and 101) have been allowed to dash into the batter's eye to grab home run balls.
Best Seats for Game Views
The Infield Redbird Club seats along each side of the infield offer great views at a decent price. Sections 241 – 246 and 254 – 257 get our pick for best game views. Keep in mind that Busch Stadium also has amazing outfield / cityscape views, so you may want to consider that when purchasing tickets. While we've never sat there personally, we have heard great things about the seats directly behind home plate, on any level.
Where not to Sit
Busch really doesn't have any major obstructions. There will be a few views where you can't see the scoreboards though. The worst game view obstructions come in the the first few rows of the upper sections, where the handrails are. If that's an issue for you, consider moving down to the lower levels, or up a few rows so your line of site is above the rails.
Best Seats for Shade
If you're looking for shade at a day game, you'll want to avoid sitting in the bleachers, or near the field. The last few rows in most sections have overhangs that will protect you from direct sun. For mid-day games, your best bet will be to sit on the 1B side, as the sun will set by moving towards home plate.
Best Seats for Foul Balls
Looking to catch a foul ball at Busch Stadium? According to FoulBallz.com, your best bets are in sections 153 – 156 on the 3B side, and 141-146 on the 1B side.
Busch Stadium| Ballpark Food
The Must Have: The Pulled Pork Nachos
You're in BBQ country, so embrace Country Bob's BBQ. You'll find house smoked pulled pork topped with Monterey Jack cheese, jalapenos, banana peppers, and special spices and BBQ Sauce. Head to Broadway BBQ in section 109.
Something Special: The Bratzel
Part bratwurst, part pretzel, all awesome. Find the pretzel wrapped Brats in sections 252 and 248 at the Red Bird Club stands.
The Challenge: The Grand Slam Mixed Grill
For the low price of $26, you'll find 4 chicken bats (chicken legs slathered in sauce), 2 sausage bites, and a shrimp skewer. This feast is served in a box shaped like home plate and is big enough to feed a family, or just you if you're up for the challenge. Find it in section 429 at the Terrace Grill
Vegetarian and Vegan Options at Busch Stadium
While Busch doesn't have as many options for Vegans as some of the other parks, you'll still be able to find a decent meal. Options include Stir Fry in sections 136 and 242. Busch also offers a Beyond Burger in sections 135 and 358, look for the Double Play Tap and Grill. The good news is, the Cardinals claim that their fries are vegan. And of course you can build your own salad at the Red Bird Club Cucina Italiano in section 250. Vegetarians can also enjoy pretzels (section 248), nachos, and cheese pizza (sections 139, 162, 250, 437).
Did we forget something?
Baseball Bucket List relies on information from Bucketheads to keep our guides and resources up to date.
Busch Stadium | Surrounding Area
Ballpark Village
Restaurants, bars, shops, and even the Cardinals Nation Museum and Hall of Fame.
Broadway Oyster Bar
A local favorite, known for its fun NOLA vibe and great seafood.
Three Sixty
Rooftop bar located in the Hilton at The Ballpark
The Midwestern
A modern sports bar with great food just one block west of Busch Stadium.
Did we miss something in our guide to Busch Stadium?
Baseball Bucket List relies on information from Bucketheads to keep our guides and resources up to date.
Have some insight about this ballpark that you'd like to share with the community? Let us know! We try to visit each park often, but changes can happen quickly. We're always looking for updated information about ballparks, the cities they're located in, and attractions nearby. If we include your tip in a guide, we'll give you credit whenever possible.