Globe Life Field | Texas Rangers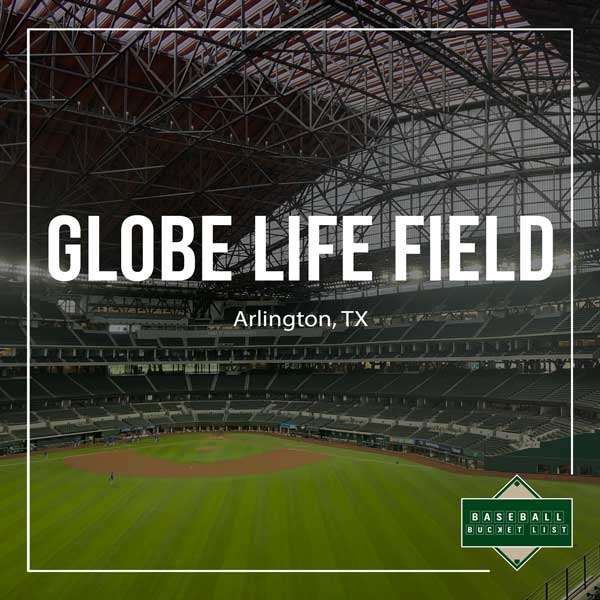 Quick Facts About Globe Life Field
Year Opened
2020
Capacity
40,300
Home Club
Texas Rangers (1972)
Team Colors
Blue, Red, White
Upcoming Homestands at Globe Life Field
April 2022
| S | M | T | W | T | F | S |
| --- | --- | --- | --- | --- | --- | --- |
| | | | | | | |
| | | | | | | |
| | | | | | | |
| | | | | | | |
| | | | | | | |
May 2022
S
M
T
W
T
F
S
June 2022
| S | M | T | W | T | F | S |
| --- | --- | --- | --- | --- | --- | --- |
| | | | | | | |
| | | | | | | |
| | | | | | | |
| | | | | | | |
| | | | | | | |
July 2022
| S | M | T | W | T | F | S |
| --- | --- | --- | --- | --- | --- | --- |
| | | | | | | |
| | | | | | | |
| | | | | | | |
| | | | | | | |
| | | | | | | |
| | | | | | | |
August 2022
| S | M | T | W | T | F | S |
| --- | --- | --- | --- | --- | --- | --- |
| | | | | | | |
| | | | | | | |
| | | | | | | |
| | | | | | | |
| | | | | | | |
September 2022
| S | M | T | W | T | F | S |
| --- | --- | --- | --- | --- | --- | --- |
| | | | | | | |
| | | | | | | |
| | | | | | | |
| | | | | | | |
| | | | | | | |
October 2022
| S | M | T | W | T | F | S |
| --- | --- | --- | --- | --- | --- | --- |
| | | | | | | |
| | | | | | | |
| | | | | | | |
| | | | | | | |
| | | | | | | |
| | | | | | | |
No events.
November 2022
| S | M | T | W | T | F | S |
| --- | --- | --- | --- | --- | --- | --- |
| | | | | | | |
| | | | | | | |
| | | | | | | |
| | | | | | | |
| | | | | | | |
No events.
December 2022
| S | M | T | W | T | F | S |
| --- | --- | --- | --- | --- | --- | --- |
| | | | | | | |
| | | | | | | |
| | | | | | | |
| | | | | | | |
| | | | | | | |
No events.
January 2023
S
M
T
W
T
F
S
No events.
February 2023
| S | M | T | W | T | F | S |
| --- | --- | --- | --- | --- | --- | --- |
| | | | | | | |
| | | | | | | |
| | | | | | | |
| | | | | | | |
| | | | | | | |
No events.
March 2023
| S | M | T | W | T | F | S |
| --- | --- | --- | --- | --- | --- | --- |
| | | | | | | |
| | | | | | | |
| | | | | | | |
| | | | | | | |
| | | | | | | |
No events.
Globe Life Field | Ballpark Info
Accommodations for Disabilities
Globe Life Field provides accommodations for guest with disabilities, and also provides assisted listening devices. If we haven't answered your question below, please reach out to the Rangers at fanrelations@texasrangers.com or 817-533-1717.
Parking: Most official Texas Rangers lots offer handicap parking spaces. They're sold on a first come first serve basis. Handicap spots are available in the following lots: B, C, E, J, M, N, R, S, and V. Once you park, notify one of the parking lot staff members that you'd like a shuttle to the ballpark.
Gates: Gates open 90 minutes before game time for afternoon games, and two hours before night games. There are several elevators, so no need to worry about entering through the proper gate.
Elevators: There are several elevators throughout the park. You can find them in the following sections on the main concourse: 102, 104, 109, 114, 116, 124, 126, 129, 134.
Seating: This brand new park has wheelchair accessible seating available in each level, giving you plenty of opportunities to select your favorite game view.
Bags
Globe Life Field is another park that has completely disallowed backpacks. Drawstring backpacks are okay to bring in. You can also bring in any soft sided bags that are smaller than the MLB mandated 16″ x 16″ x 8″ size.
Coolers of any kind are not allowed inside, unless for medical reasons.
Batting Practice
Check back soon for info on batting practice. Given the 2020 season, there appear to be no official policies yet. However, during the 2020 NLCS and World Series, fans were allowed to catch batting practice. Gates open 2 hours before night games, and 90 minutes before day games. The quickest routes to the outfield would be to enter through the North or Northeast gates.
Bring Your Own Food
The Rangers have not announced a specific outside food policy yet. However, Globe Life Park (the previous Texas Rangers ballpark) did allow fans to bring in outside food, as long as it was wrapped. You also could bring in a sealed water bottle of 1 liter or smaller. Please keep in mind that we aren't sure what the official food policy is yet. We will update this section as soon as we can attend a regular season game.
Guest Services
If you have any issues or questions while at the ballpark, please utilize Guest Services. Each MLB team has this department, and they are solely focused on making sure each fan has a safe and memorable time at the ballpark.
You can find the Guest Services desk on the main concourse near the TXU Energy North Entry. It is sort of tucked away in the corner, behind the Grab-n-Go concession stand.
Gates
All gates open at the same time. 90 minutes prior to day games, and 2 hours prior to night games.
Promos
The Rangers give away many promotional items throughout the year. To see if the game you're attending includes one, visit this link.
Autograph Tuesday: On Tuesday home games, the Rangers will have two players signing autographs prior to the game (after batting practice). You'll find signs at the gates showing who is signing and where they are. Get there early!
Friday & Saturday Alumni Autographs: Before each Friday and Saturday home game, former Rangers will sign autographs. Check signage on your way in!
Radio Broadcast
If you prefer to listen to the ballgame on the radio while watching, you can tune in at 105.3 FM for English or 1270 AM for the Spanish broadcast. The ballpark feed can also be found at 90.5 FM.
Restrooms
You'll find restrooms throughout the park. Specifically in the following sections: 3, 10, 18, 24, 102, 111, 123, 127, 130, 133, 201, 206, 212, 225, 231, and 235.
Family restrooms can be found in the following sections: 3, 10, 18, 24, 102, 111, 123, 127, 130, 133, 201, 208, 214, 224, 231, and 235.
Tailgating
This is Texas, so of course you're encouraged to tailgate, as long as you play by the rules. You must stay in the grassy areas, and off of the sidewalks or walkways. You are allowed to use charcoal and gas grills, as long as you do not use an open flame grill, and properly dispose of your used charcoal in the designated containers. The Rangers do provide portapotties.
You can also tailgate after the game if you want to let traffic unwind a little. The lots close an hour after the game finishes though, so you'll need to be cleaned up and cleared out before then.
Tours
The Texas Rangers offer tours of Globe Life Field that last approximately 60 minutes. Stops vary based on the day's activities, but will include 4-6 "must see" locations. Tickets are $25 for adults, $22 for seniors, military, and first responders, and $15 for kinds under 14. For more information and to purchase tickets, click here.
Globe Life Field | Must Do
Enjoy the Juxtaposition of Globe Life Park (The Old Ballpark)
It's rare that a ball club will build a brand new state of the art park and leave the old one standing. But that's what happened in Texas, at least for now. Globe Life Park was the short lived home of the XFL's Dallas Desperados (RIP), and is now home to the Level One USL team North Texas SC.
You won't be able to miss the old park as you're making your way towards the new one. Take a moment to take in the retro-inspired architecture of the exterior before you head towards the shiny new Globe Life Field.
Visit the Rangers Statues
Take a mini walking tour of the outside of the ballpark and view all of the Texas Rangers statues. If you start at the Southwest Entry, you'll find Pudge Rodriguez guarding home plate. The best part about Pudge's statue is that he originally commissioned it to decorate his house in Miami, then donated it to the Rangers. Next, start walking towards the Southeast Entry (you'll know it because it houses the Rangers front office and will have plenty of signage). Outside of the SE entry, is the a statue of Tom Vandergriff, the former Arlington mayor who was instrumental in bringing the Washington Senators franchise to Texas. Continue walking in the same direction to find "Going to the Show", which commemorates the 2011 moment when Pedro Feliz struck out Alex Rodriguez on a called strike three to send the Rangers to the World Series for the first time in franchise history. The statue features the celebration between Feliez and catcher Bengie Molina. Complete the tour at the North entrance with Nolan Ryan tipping his cap, then head over to Texas Live.
Stop by Texas Live! and enjoy the North Plaza
Texas Live! is one of the coolest pregame spots in Major League Baseball. You'll find stores, bars, and restaurants where you can spend hours leading up to game time. We recommend making a lap inside, then grabbing a beer at one of the outdoor bars, and enjoying the North Plaza. In the plaza, you'll find video boards notifying you of anything special going on that day, as well as a 6′ fountain. This is where the action will be both before and after the game.
Check out Chuck Morgan's Booth
Chuck Morgan is the beloved, long time "voice of the Rangers". He's called over 3,000 Texas Rangers home games over his 35+ year career behind the mic as the Rangers P.A. announcer. His booth at Globe Life Field (a major upgrade from Globe Life Park), is front and center in the main concourse, and is made almost entirely of glass. Check out his view from section 114. A fun fact about Chuck Morgan is that he actually has a movie credit on IMDB for his roll in "The Rookie".
Pay Attention to the Dimensions of the Park, and the Rangers History that Goes Along with it
Something neat that the Rangers did when designing Globe Life Field was incorporate Rangers history into the dimensions of the field. Each portion of the field has a special meaning:
Home plate to the backstop: 42′ in honor of Jackie Robinson who wore number 42.
Left Field Line: 329′ in honor of third baseman Adrian Beltre who wore number 39.
Left Field Alley: 372′ honoring the Rangers' first year in Arlington (1972).
Centerfield: 407′ in honor of catcher "Pudge" Rodriguez who wore number 7.
Deepest parts of the park: 410′ in honor of Michael Young, the infielder who wore number 10.
Right Field Alley: 374′ in honor of "The Turnaround Gang", the 1974 team that won 84 games after winning just 57 the year before.
Right Field Line: 326′ in honor of the beloved manager Johnny Oates who wore number 26.
Did we forget something?
Baseball Bucket List relies on information from Bucketheads to keep our guides and resources up to date.
Globe Life Field | Transportation and Parking
Globe Life Field is located off of I-30, a major interstate in Texas. It is frequently under construction and congested since the DFW metroplex is quickly becoming one of the largest metros in the country. Especially during weekday evenings. For this reason, we recommend leaving yourself plenty of time to get there. You don't want to end up sitting on the expressway, missing a part of the game. We also recommend getting to the park early because there is plenty to do before first pitch! Check out the surrounding area for ideas.
Join the Baseball Bucket List community
Create your own bucket list, track ballpark visits, and connect with other fans.
Globe Life Field | Best Seats
Best Seats for History
2020 was a weird year to open a ballpark. The Rangers didn't even get a chance to play a game in front of fans, and the LA Dodgers played 16 postseason games there on the way to winning their first World Series championship in 30+ years. At the conclusion of the 2020 season, it was actually Dodger Corey Seager who was the all time home run leader at Globe Life Field. We'll have to wait and see which seats at this park become historically significant to the Texas Rangers.
Best Seats for Game Views
The site lines from even the furthest seats at Globe Life Field are better than those at its predecessor, the Ballpark In Arlington (Globe Life Park). It has to do with the way the seating area was constructed, with the aim to get every section closer to the action. Most of the seats are awesome, with your best views coming from the 100 and 200 levels, but the 200 levels are not awful.
Where Not to Sit
You wouldn't expect a brand new ballpark to have obstructed view seats for sale, but Globe Life Field does. In the Left Field Reserved section, you'll find concrete columns blocking almost half the field of view from the ends of the back two rows. The overhang of the upper deck also significantly cuts the overhead view for that section. These sections can be tricky when you're purchasing tickets. Row 14 is actually the last row in some of the sections. If you're going to spend the money to sit here, make sure you end up in the first 7 or 8 rows, towards the aisles. The upper deck 100 sections in left and left center may be a better value for you.
Best Seats for Shade
The biggest draw of Globe Life Field when they were building it was the AC. We'd assume that means that for the majority of the summer, the roof will be closed. This should help with some of the sun. However, on those beautiful early and late season day games, you may still be battling the sun. Shaded sections for day games are actually going to be in the Right Field corner. Specifically in sections 233 to 237 and 322 to 326. For night games in the summer, when the sun won't set until around 9, you'll want to choose the 3B line.
Best Seats for Foul Balls
With only 13 games being played in front of fans at Globe Life Field, it's hard to say where the best foul ball opportunities are. If we had to guess, we'd say sections 17-21 on the 1B side and 15-10 on the 3B side. We'll update this portion of the guide as more games are played with fans.
Globe Life Field | Ballpark Food
The Must Have: Brisket Egg Rolls
This is Texas, y'all, so of course the brisket makes the list. The best part about this item is that a Texas Rangers fan Jennie Loy won a Twitter competition with her own recipe. Shredded brisket and shredded veggies fried in an egg roll wrapper. Served with Sweet Baby Ray's BBQ Sauce, of course.
Something Special: The Rattler
On first glance, the Rattler may look like any other ballpark's sausage dog. It's nothing like them though. This is rattlesnake sausage. You read that right, sausage made from rattlesnakes. Top it with the traditional sausage dog peppers or onions, and drizzle it with "venom sauce".
The Challenge: The Boomstick
The boomstick first made national headlines back in 2012, when the Texas Rangers were trying to shake up their food item offerings. That year alone, the item brought in over half a million dollars in revenue. Many years later, it's still going strong. The boomstick is a 2-foot hot dog that you can slather in chili and cheese. For $28, it could feed a family for days, but if you're up for the challenge, it's all yours.
Vegetarian and Vegan Options at Globe Life Field
You'll probably be incredibly surprised to know that Globe Life Field, the same park that sells rattlesnake sausage and 2-foot hotdogs, is the #1 ranked ballpark for vegan and vegetarian fare. In 2016, the Rangers introduced a vegan-only food cart to the lower concourse of Globe Life Park. When the club moved across the street, that food stand became the "Visiting Vegan" in section 16 of the main concourse. You'll find burgers, dogs, sausages, mac and cheese, and the best vegan nachos on the planet. Load them up, they're worth every penny. The stand also offers lighter items like veggie wraps and salads.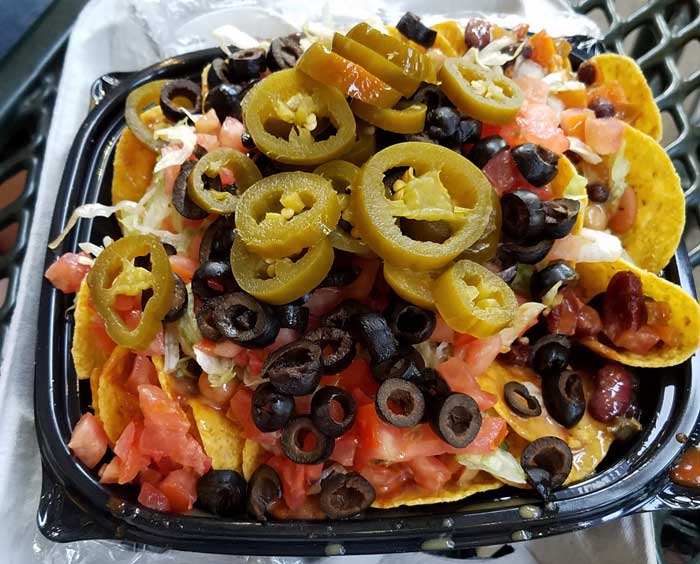 The vegan nachos are great, and big enough to share!
Did we forget something?
Baseball Bucket List relies on information from Bucketheads to keep our guides and resources up to date.
Globe Life Field | Surrounding Area
Texas Live!
Giant TVs, multiple restaurants, and shopping!
Babe's Chicken Dinner House
Babe's Chicken is definitely a staple around these parts.
Mariano's Hacienda
Some of the best Tex-Mex around, this place is responsible for inventing the frozen margarita!
Tailgate Tavern
Lively sports bar offering your typical bar food.
Is something missing in our Guide to Globe Life Field?
Baseball Bucket List relies on information from Bucketheads to keep our guides and resources up to date.
Have some insight about this ballpark that you'd like to share with the community? Let us know! We try to visit each park often, but changes can happen quickly. We're always looking for updated information about ballparks, the cities they're located in, and attractions nearby. If we include your tip in a guide, we'll give you credit whenever possible.