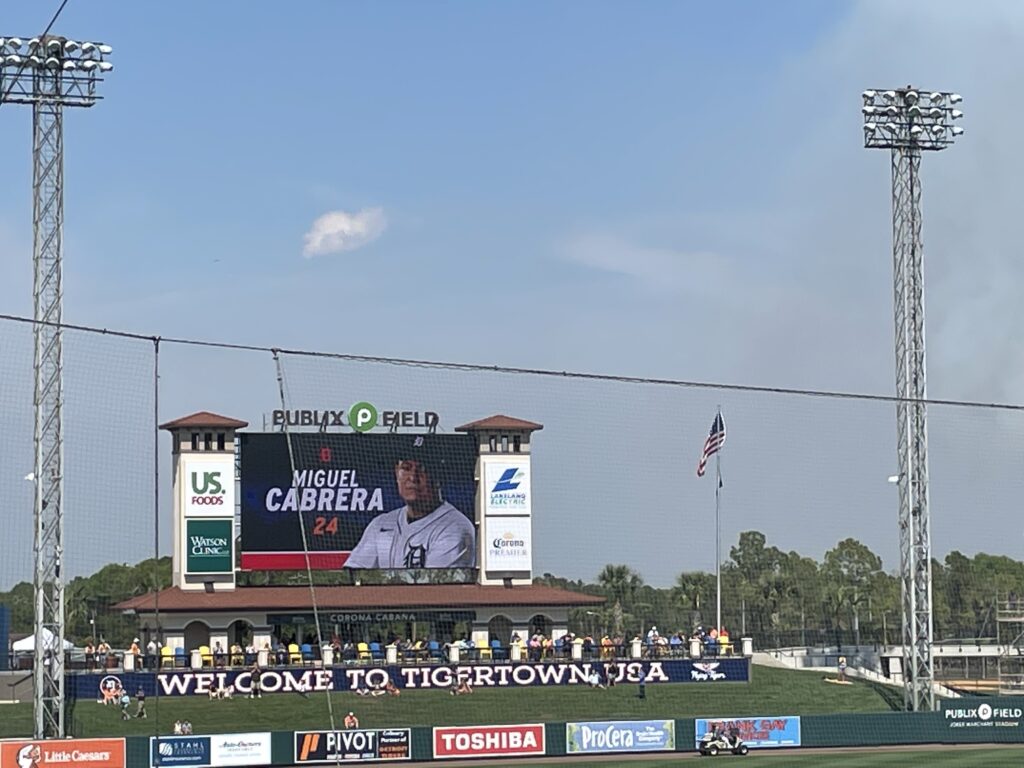 Spring Training in Tigertown
This was my first ever visit to Spring Training and I wasn't really sure what to expect, ultimately, like all times watching a ball game, it was a fun afternoon (in the sunshine) drinking a beer and watching the game. Probably not surprisingly it does become a bit like a pre season football friendly with a host of "substitutions" as the teams get a chance to try out their numerous squad players.
Actually, that proved a significant benefit for us in our first game as the Tigers hosted the Baltimore Orioles. I've had my Tigers shirt branded with Cameron 41 (for Daz Cameron) for over a year now but as I never got to see the Tigers in 2022 this was the first chance to wear it to a game and lo and behold Daz turned up later in the game wearing the 41 jersey (but of course in Orioles colours!). I wasn't too impressed when he was hit by a pitch getting an automatic walk.
Tigertown is in Lakeland, on a clear road day less than an hour from Orlando. (Our second trip to see them host some New York team called the Yankees saw pretty heavy traffic on the highway adding about 15 minutes to the journey, then exacerbated by the fairly heavy traffic around the ballpark). We had pre booked parking both times and on our first visit we were practically on the door step pf the stadium but obviously the second game saw us parked further away but still in the official parking. The opposition probably also created a bigger crowd. We made first pitch though! The Yankees game was a Friday, did that make getting out of and later into Orlando busier?
There's a couple of entrances into the Publix Field Joker Marchant ballpark and in common with most baseball stadiums it doesn't really matter where you enter. As we were doing two games we took the opportunity to try two different spots to sit and I'd thoroughly recommend the view we had for game 1. Pretty much in line with home plate and about 20 rows up, it genuinely felt like you had a perfect view of each hit and movement during the game. At the Yankees game we sat down around 3rd base just a couple of rows from the front. Close enough to the front that the netting saves you yet too close that you'll probably not get near a ball thrown to the crowd (or indeed hit). On the day it was also exposed to the sun and the "steward" (I got the impression that's not a word the Americans use?) told everyone to consider taking a shade break up on the walkway area.
A win and a loss for the Tigers was a fair return. The Yankees game looked like ending up a tie until they scored in the 9th, and we are good at turning up at tied games in real life and extra innings. But as a Spring Training game it would have been a genuine tie which would have been cool for us Europeans.
The club shop was well stocked for us visitors and I think pretty much everything was branded Spring Training/Lakeland Flying Tigers/Florida which is kind of neat. You'll see me on the fairways of Scotland this year with my Lakeland baseball cap.
Only because of the way I've written this but I'll finish on a negative. The chicken tenders and fries I got at the Orioles game has to be the worst food I've had at a sports game in USA (It wouldn't get mentioned if comparing with the usual rubbish we are served at home), if not even the worst food I've had in the USA. Must have been sat there for a while or just over cooked, the chicken batter was hard and slightly burnt and the chicken tasteless, the fries weren't that good. I don't often leave food but that was easy to do on this day. Friday's burger at Yankees game was however decent. I suspect I was unlucky but also wondered if, like ordering a speciality beer on tap at home, it's not fresh because so few people want it?
On the subject of beer, they did have the Two Hearted IPA from Bells Brewery in Michigan. I'd happily drink that for the rest of my days but I don't believe there is a UK outlet….