Episode 89 Follow-Up: The posts I wrote my kids.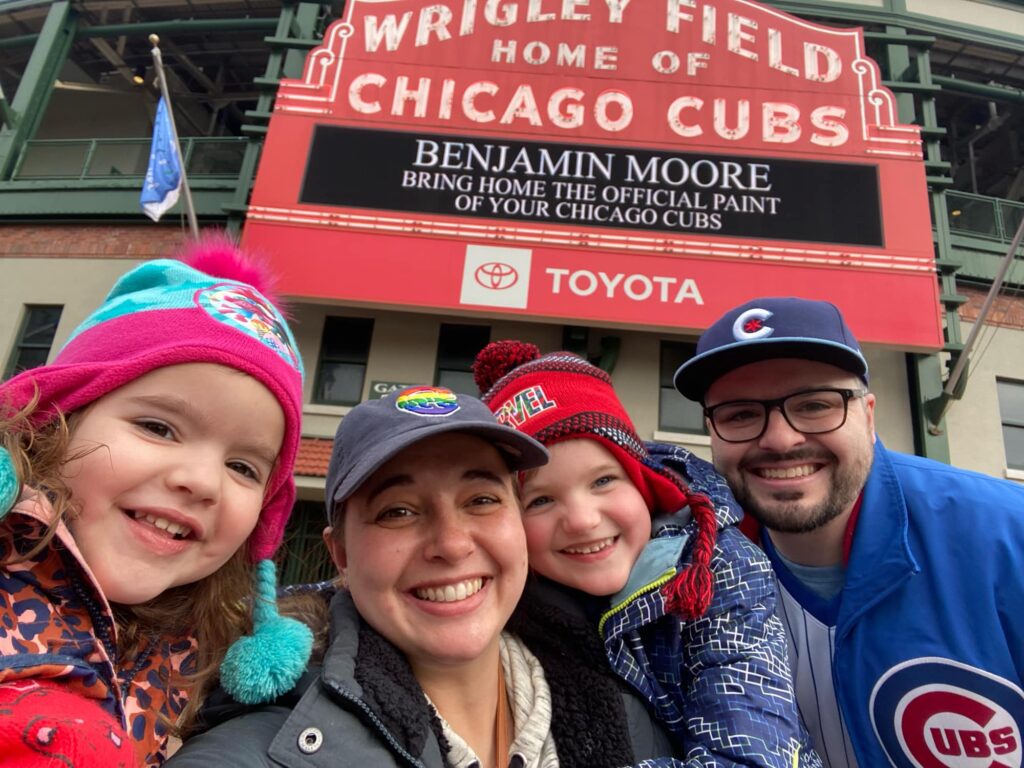 To my son,
I write to you right now from the sofa of your mom and dad's first home, soaking in an event your dear ole' dad has looked forward to his entire (but comparatively shorter than most) life. I hope someday you will get to experience the pure joy I am experiencing right now.
When your mom took me to Wrigley in May and told me you were on your way, I was speechless. See, what you will learn is that you are now a Cub fan. You are born into a fraternity of fans of one of the most lovable losers. Well, until tonight. But we will get to that later.
Your Great-Grandma Madeleine was a big part of my upbringing. I was with Great-Grandma and Great-Grandpa a lot growing up. There was one constant when I was in their house: the Chicago Cubs. I remember watching these games on TV with them and falling in love with their undying commitment to the proceedings. This love was carried over into your Grandma Chris and Grandpa Jack's house. The Cubs were a mainstay in their lives. I needed to know what this game was. This beautiful sport was called baseball.
I was hooked. Books. Strategy. Papers. Baseball Cards. Baseball Toys. Gloves. Baseball Video games. My life was forever changed. I had become hooked to this group on the Northside; the same team other Yonker/Wirtz/Ragauskis members have before.
What you don't know, and will now never know, is that the Cubs were notorious losers. Baseball's greatest prize is The Commissioner's Trophy:
See how beautiful this is? Well the Chicago Cubs had not won this trophy in a long time. A HISTORIC long time. 108 years. There has never been a longer championship drought in the history OF ALL SPORTS.
But the burden didn't stop there for us Cub fans. The Cubs turned letting their few chances at glory slip away into a painful art form.
1.) The Goat
2.) The Black Cat of '69
3.) The Collapse of '84
4.) The Bartman Game (I don't believe in this one…)
If you fall in love with this team; with this game, I will tell you all about these. 
In fall of 2011, the Chicago Cubs hired Theo Epstein. Theo was the GM for the Boston Red Sox when they broke their almost as painfully long curse in 2004 (85 years). I was excited. That is an understatement. I was ecstatic. Having at that point devoted most of my 22 years on this earth to following baseball, I understood at that time that Theo would be something special. The way he ran his team in Boston was truly different at the time. He built a sustainable farm system that would replenish a talented Major League team for continued success. The Cubs had never had this philosophy (At least sustained). 
2012 through 2014 were tough years. 90 plus losses hurt, but the drafts and acquisition of talent through trades had me believe in a special future. As other Cub fans abandoned ship, I dove in. In 2013, I completed a life long dream and became a Season Ticket Holder. As you will know as we become closer while you grow, Cub tickets are hard to come by. When I was 10-years old I put myself on the Waitlist. At that time, the wait was 20-30 years. I figured I would get called at some point later in life. Unfortunately, the early years of the Epstein era caused many of these championship starved fans to abandon ship. I was called 10 years earlier than I wanted. I knew at this time that if I did not jump in now, it would never happen. 
When I met your mom, I knew she was special. She was my blind date to a formal when I was in college. I fell in love with her when she sang "Go Cubs Go" with me while the '05 White Sox Anthem "Don't Stop Believing" was played by the DJ. It was very easy to get her on board with getting the tickets. 
Fast forward to this season. The 2016 Cubs were the team picked by almost every national media outlet to win it all. This season started with an injury, moved to a no-hitter and ended with 103 wins. 
The playoffs were stressful, but the boys in blue made it to the World Series for the first time in 71 YEARS. I realize when you read this later in life, that this will seem ridiculous. It is important you understand where you came from. 
Tonight, the Chicago Cubs won the World Series. They did it. I cried and I cried and I cried. I have cheered, cried, obsessed, followed, worshiped, and believed in this team since I was small. The Cubs were the first to teach me about loyalty. The Cubs taught me that some things in life are worth waiting for. I waited for your mom. I am still waiting to meet you. Since the Cubs haven't won since 1908, it is hard not to think about who hasn't seen this. I feel spoiled to be 27 years young and get to witness this history without waiting as long as others. I think of your late Great-Grandfather Frank would have loved to see this. Your Great-Great Grandmother Harriet. And so so so so many more. I am sorry to keep reinforcing this, but you are so blessed to be born into a family of Cub fans after the biggest burden in their history has been lifted. 
When I found out that you were coming into our life, I joked with your mom that we would wait to see if the Cubs won the World Series until we decided what we would call you. It was a funny thought at first, given its unlikeliness. Then the NLDS happened with a miracle comeback. The Cubs went down 2-1 in the NLCS only to storm back and win their first NL pennant in 71 years (I know I have said this repeatedly, so I hope the respect of the situation is sinking in.) 
After an unbelievable Game 7, the Chicago Cubs are your World Champions. For this reason, you will be named after 3 great individuals. 
So my beautiful son, Kyle Anthony Frank Ragauskis, I hope you instill the qualities of the amazing individuals you are named after. 
1.) Kyle – Kyle Hendricks had an unbelievable 2016 campaign. Without the benefit of an overpowering fastball like his elite counterparts, Kyle lead the Majors with a 2.13 ERA. He used his Ivy League intelligence to out think batters with his repertoire. May you inherit his drive for education and excellence. 
2.) Anthony – Anthony Rizzo is the heartbeat of the Chicago Cubs. His back to back 30 HR/100 RBI seasons take a back seat to his incredible charity work and good demeanor. May you inherit the compassion he has for others while understanding the power of positive leadership. 
3.) Frank – Your Great-Grandfather was a fun-loving, incredible man. What an honor it is for you to carry his name. 
I can't wait to share all these things with you. Someday, we can read this together. Until that day comes, I want you to know that I love you more than words and I am excited for the world you come into. 
Love always, 
Your Dad
And of course:
Enjoy!
– CandidCubs