Yankee Stadium | New York Yankees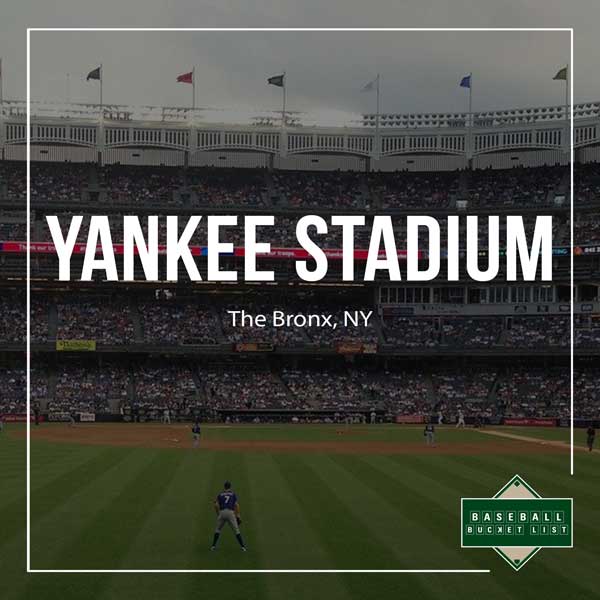 Quick Facts About Yankee Stadium
Year Opened
2009
Capacity
50,287
Home Club
New York Yankees (1903)
Team Colors
Midnight Navy Blue, White
Upcoming Homestands at Yankee Stadium
April 2022
| S | M | T | W | T | F | S |
| --- | --- | --- | --- | --- | --- | --- |
| | | | | | | |
| | | | | | | |
| | | | | | | |
| | | | | | | |
| | | | | | | |
May 2022
S
M
T
W
T
F
S
June 2022
| S | M | T | W | T | F | S |
| --- | --- | --- | --- | --- | --- | --- |
| | | | | | | |
| | | | | | | |
| | | | | | | |
| | | | | | | |
| | | | | | | |
July 2022
| S | M | T | W | T | F | S |
| --- | --- | --- | --- | --- | --- | --- |
| | | | | | | |
| | | | | | | |
| | | | | | | |
| | | | | | | |
| | | | | | | |
| | | | | | | |
August 2022
| S | M | T | W | T | F | S |
| --- | --- | --- | --- | --- | --- | --- |
| | | | | | | |
| | | | | | | |
| | | | | | | |
| | | | | | | |
| | | | | | | |
September 2022
| S | M | T | W | T | F | S |
| --- | --- | --- | --- | --- | --- | --- |
| | | | | | | |
| | | | | | | |
| | | | | | | |
| | | | | | | |
| | | | | | | |
October 2022
| S | M | T | W | T | F | S |
| --- | --- | --- | --- | --- | --- | --- |
| | | | | | | |
| | | | | | | |
| | | | | | | |
| | | | | | | |
| | | | | | | |
| | | | | | | |
November 2022
| S | M | T | W | T | F | S |
| --- | --- | --- | --- | --- | --- | --- |
| | | | | | | |
| | | | | | | |
| | | | | | | |
| | | | | | | |
| | | | | | | |
No events.
December 2022
| S | M | T | W | T | F | S |
| --- | --- | --- | --- | --- | --- | --- |
| | | | | | | |
| | | | | | | |
| | | | | | | |
| | | | | | | |
| | | | | | | |
No events.
January 2023
S
M
T
W
T
F
S
No events.
February 2023
| S | M | T | W | T | F | S |
| --- | --- | --- | --- | --- | --- | --- |
| | | | | | | |
| | | | | | | |
| | | | | | | |
| | | | | | | |
| | | | | | | |
No events.
March 2023
| S | M | T | W | T | F | S |
| --- | --- | --- | --- | --- | --- | --- |
| | | | | | | |
| | | | | | | |
| | | | | | | |
| | | | | | | |
| | | | | | | |
No events.
Yankee Stadium | Ballpark Info
Accommodations for Disabilities
If you have any questions while at the ballpark, just find one of the nearest ballpark employees. They'll be able to help answer any questions. If you're unable to find a Yankees employe, you can also call Disabled Services at (718) 579-4510.
For specific questions ahead of time, you can also email: disabledservices@yankees.com
Bags
The Yankees follow the MLB's general bag guidelines, which means that you can bring in a single bag, as long as it is soft and no bigger than 16" x 16" x 8". Given the usual size of crowds at games, they're pretty strict on this policy, and there is no place to store your bag if it isn't allowed inside. To avoid having to trash your belongings, head over to one of the nearby bars or restaurants and check your bag there.
Batting Practice
You're allowed to watch batting practice from any of the general access areas in the ballpark. This means that you can head over to right or left field once inside the park. You'll be asked to head to your own seat when the actual seat holder arrives, or 45 minutes after the gates open.
Bring Your Own Food
Save a few bucks by bringing your own food and beverages to Yankee Stadium. Just make sure everything is wrapped in a clear plastic bag. You can bring in sealed water bottles under 1 liter in size. And kids can have sealed soft sided juice boxes or packs.
Guest Services
If you have any issues or questions while at the ballpark, please utilize Guest Services. Each MLB team has this department, and they are solely focused on making sure each fan has a safe and memorable time at the ballpark.
Call the Yankees Guest Services at (646) 977-8000. There are also two Guest Relations booths at Yankee Stadium, one in the Great Hall (near gate 6) and one in section 128.
Gates
All gates to all games will open no later than 90 minutes prior to first pitch. For most games (unless they start at 6:35pm), there are a few gates that open a full 2 hours before the game starts. Gates 6, 8, and the Babe Ruth Plaza gates open early. You will only get access to the Field Level, Bleachers, and the Great Hall for the first 30 minutes inside the park.
Restrooms
You can find both men and women's restrooms scattered throughout the ballpark. Family restrooms with changing tables can be found in the following sections
106, 124, 130
219, 227A, 234
311, 317, 327, 333
Bleachers
Tailgating
If you decided to drive and park, you may be surprised to find that you can actually tailgate in lots. The official rules are no open flames and no alcohol, but many report as long as you are respectful and quiet, you'll be left alone.
Tours
There is a ton of history at Yankee Stadium, even though the park itself was built in 2009. Of course, many baseball fans argue that the Yankees are the most historically rich organization of the entire league, so there is plenty to see. In fact, there is so much history, that the Yankees offer several different types of tours.
Classic Tours are available almost every day, and include stops to the Yankees Museum, Monument Park, the Press Box, and the Dugout (if possible). Tickets for Classic Tours are $20 if purchased online ahead of time, and $25 at the window. Purchase tickets ahead of time here.
Pregame Tours are a sneaky way to get into the ballpark a little earlier than the rest of the crowds. You'll see the museum, Monument Park, and batting practice. Tickets for the pregame tours are $40. Get more info and see the schedule here.
Hands on History has to be nearly a religious experience. Take a white-glove tour through the Yankees Museum and actually get to hold Yankees artifacts! Some of the artifacts you'll get a chance to see and touch are Babe Ruth's bat, Mickey Mantle's glove, and the home plate from original Yankee Stadium. We heard there may be some World Series rings and trophies there as well, since the Yankees have collected a few of those over the years. Learn more here.
Virtual Tours are a new offering where you will actually "walk" through the ballpark with a tour guide. You'll see Monument Park and get a peek at the Yankees Museum. The tour is 45 minutes and you'll even get a chance to ask questions at the end. The best part? It's free. Learn more here.
Stop by the Babe Ruth Plaza on Your Way Into Yankee Stadium
Though he never played at this Yankee Stadium, you'll still find an homage to the Sultan of Swat near the main gate. Babe Ruth Plaza is located just outside of the ballpark off of 161st. You'll find a small memorial and markers detailing the life of the Babe. Head in through gate 4 or 6 when you're ready. This is a great place to meet up with your group prior to entering the park.
Side Note: Fans who made it to old Yankee Stadium will remember "The Bat". The Bat is a 138 foot exhaust stack that was renovated to look like Babe Ruth's Lousiville Slugger in the 1970's. The Bat stood outside of gate 4 at the old park, and was the meeting place before games. You'd even see shirts with the slogan "meet me at the bat". Yankee fans tried to get the bat moved to the new park, but it remains in its original location. If you have time to stop by, it's on the opposite side of 161st, and it is worth visiting for the history alone. Find directions here.
Visit Monument Park
Fans will remember that Old Yankee Stadium had monuments in the field of play up until 1975, when the center field wall was moved in and allowed the three original plaques to be enclosed. The new Monument Park is located in center field to commemorate the original park. You'll find 6 monuments (Miller Huggins, Lou Gehrig, Babe Ruth, Joe DiMaggio, Mickey Mantle, and George Steinbrenner), 38 Yankee organization plaques, and 5 honorary plaques. You'll also see the retired numbers. Fun fact – because of their rich history and star player pool, 11 is now the lowest number available to be worn by a New York Yankee.
You don't need a special ticket to get into Monument Park, but you'll want to get there as early as possible, or schedule a tour if you want some real time to appreciate the park. Small groups are let in at one time, and the park is closed 45 minutes before first pitch.
Check Out the New York Yankees Museum
Hit Monument Park first, then stop by the New York Yankees Museum (near gate 6). The museum is free and is open during the game, so you'll have more time to appreciate it. It closes at the end of the 8th inning. You'll find rotating exhibits along the permanent exhibits of the Yankees World Series dominance, and Thurman Munson's locker. In the center of the museum, two statues — Don Larsen and Yogi Berra — flank a case of autographed baseballs.
Get to Your Seat In Time for Roll Call
We know we're throwing a lot at you, but what did you expect for one of the MLB's most storied franchises? Yankee fans — specifically the "Bleacher Creatures" — honor a tradition called "Roll Call" at every home game. A chant of each position player's name is started during the top of the first inning. The entire section will continue chanting the player's name until they receive some kind of acknowledgement from the player. It's a cool tradition to watch or be a part of.
Did we forget something?
Baseball Bucket List relies on information from Bucketheads to keep our guides and resources up to date.
Yankee Stadium | Transportation and Parking
We can't think of a nice way to say this, but if you can avoid driving into the Bronx, do it. New York is one of the traffic capitals of the world! If you're unable to get there any other way, you'll be coming from I-87. If on I-87 North, you'll want to take exit number 4 or 5 and follow the signage to the park. From I-87 South, take exit 5.
Official Yankee Stadium Parking Lots
Unlike most ballparks, there are actually no "official" New York Yankee parking lots at Yankee Stadium. The city of New York granted the right to maintain parking lots and spots around the ballpark to City Parking. So technically speaking, this means that there are no "official lots".
Off-Site / Free Parking Options
You'll still have plenty of parking options available to you if you have to drive into the ballpark. There are several lots very close to the ballpark that will range in price. Expect to spend at least $40 if you're using one of those lots. According to Yankee fans, this is sometimes worth the extra money, because those lots give you a cleaner exit route after the game.
You can find several other lots further away from the park as well. For example, there is a train station off of exit 6 that allows you to park for around $30, and is only a short walk to the ballpark.
We recommend using a third party parking spot locator and booking a spot online before you head to the ballpark. These will give you prices right up front, and even save you a few bucks. A few of these are:
Public Transportation
Public transportation is your best option for getting to Yankee Stadium. Some fans even recommend driving into the city, then parking at a Subway station and taking the train in. Take the No. 4 train if you're coming from the east side, or the D train if you're coming from the west side. Your stop is 161st Street/Yankee Stadium.
You can also take the B train if coming from the west side, but it will only run to Yankee Stadium on weekdays, so keep that in mind.
There are several busses that also run to the ballpark. These are the Bx6, Bx13, Bx1, Bx2, and BxM4.
Make sure to hit the MTA's official website to check for any service disruptions before heading to the park.
Uber & Lyft
The Yankees don't have an official rideshare pickup point (at least not one we could find). If you're using a rideshare service or taking a taxi, we recommend being dropped off or picked up a few blocks away from Yankee Stadium. That will save your driver from sitting in traffic, and you a few dollars. You shouldn't have any trouble finding a car after the game, as many drivers anticipate pickups from that area, but you may have to wait quite a while to get one.
If you're new to Uber, you can use this link to get a discount on your first few rides.
Join the Baseball Bucket List community
Create your own bucket list, track ballpark visits, and connect with other fans.
Yankee Stadium | Best Seats
Best Seats for Yankees History
The park opened in 2009, so most of the Yankees' storied history took place in the old Yankee Stadium that was torn down. However, the infamous "Bleacher Creatures" did make the move to the new park. They remain in section 203 of the right field bleachers. We don't recommend sitting in the right field bleachers unless you have a thick skin, and you definitely don't want to take your family there. But section 203 is a very unique component of Yankee Stadium that we recommend you observe. You'll see traditions such as Roll Call, The Cowbell Man, and other "charming" chants and jeers.
Best Seats for Game Views
The ballpark is beautifully constructed, with only a few obstructed view seats out in the bleachers. Any seat within the seating bowl will have a great view. Of course, Yankee Stadium has some of the most expensive tickets available, but they never have issues selling them. If you're stuck in the 400 level, you'll still have a great time and be able to see all of the action. The 200 level is a good compromise between price and being close to the action.
Where Not to Sit
If you're easily offended or with your kids, you'll definitely want to avoid the bleachers (specifically section 203). Yankee fans have a bad reputation of being less than kind to out of towners — especially those wearing the visiting team's gear. If you're looking for value seats for a family, you're better off in the 300 or 400 level.
Sections 201 and 239 both have obstructed views of the field due to the batter's eye restaurant. However, these tickets are the cheapest in the ballpark, so if you're looking to just get in the gate, that's your ticket.
The view from the 400 level isn't so bad. You can see the entire field and get a great view of the Bronx.
Best Seats for Shade
Summers in New York can be pretty brutal, so if you're attending a day game at Yankee Stadium, you'll want to think about shade. Stick to the first base side and aim for the last few seats in any of the sections. If you find yourself baking in the sun, remember that there are a few "general" standing areas at the top of the field level where you can retreat.
Best Seats for Foul Balls
Trying to snag a souvenir from Yankee Stadium? According to foulballz.com, your best bets for foul balls are in sections 24A-27A and 124-127A on the 3B side, and then 14B – 16 and 114B and 116 on the 1B side.
Yankee Stadium |Ballpark Food
The Must Have: Lobel's Steak Sandwich
It sounds odd, but the Lobel's Prime Steak Sandwich is consistently described as the best option at Yankee Stadium. It's only a bit more expensive than your basic ballpark fare, but has way more flavor. If you're not a big sandwich person, they also offer steak fries, which feature the same prime steak over top of wedge cut french fries. Find Lobel's in section 134 and 321.
Something Special: Nathan's Famous Hot Dog
How is a regular hot dog something special? For us, it's more about the sentiment. Grab a foot long in sections 125-127, 225, or 313. Then sit back in your seat and enjoy a classic baseball tradition: a hot dog, beer (we recommend NY's own Blue Point), and Yankees baseball.
The Challenge: The Chicken Bucket
For $20, you'll get a huge bucket of 10 chicken tenders and french fries. This is enough food to feed 2-4 people, or just yourself depending on how much of a challenge you want to take on. You can find these scattered throughout the park.
Fun Fact: The Chicken Bucket has gained notoriety with not only Yankee fans, but also NYCFC fans. The soccer club plays at Yankee Stadium…where you can regularly hear chants of "Chick-en Buck-et!" throughout the match.
Vegetarian and Vegan Options at Yankee Stadium
Bareburger (section 132) has several vegan options including Beyond Sausage, and a veggie burger. You can also find field roast vegan burgers in sections 205 and 234. The concession stand pretzels are also vegan.
There are several vegetarian options at Yankee Stadium, including Pizza (section 310), nachos (232, 313, 327, and the bleachers), and a few different options at the Haru Sushi satand in section 127B.
Did we forget something?
Baseball Bucket List relies on information from Bucketheads to keep our guides and resources up to date.
Yankee Stadium | Surrounding Area
Stan's Sports Bar
The de facto "go to" for Yankees fans before and after the game.
Dugout
Cheapest beers around, plus a Taco Bell walkup window!
Yankee Tavern
Yet another Yankee Sports bar, filled with great memorabilia. Large food menu.
Bronx Draft House
A good place to eat before the game. This spot actually has tables, and is good for families.
Did we miss something in the Yankee Stadium Guide?
Baseball Bucket List relies on information from Bucketheads to keep our guides and resources up to date.
Have some insight about this ballpark that you'd like to share with the community? Let us know! We try to visit each park often, but changes can happen quickly. We're always looking for updated information about ballparks, the cities they're located in, and attractions nearby. If we include your tip in a guide, we'll give you credit whenever possible.