T-Mobile Park | Seattle Mariners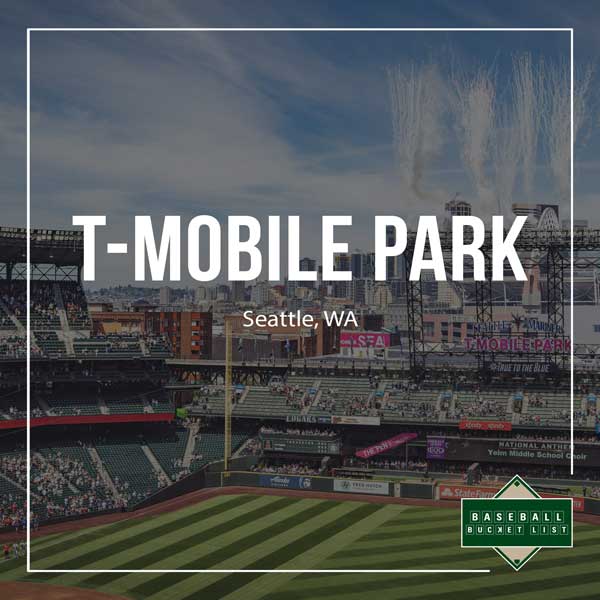 Quick Facts About T-Mobile Park
Year Opened
1999
Capacity
47,929
Home Club
Seattle Mariners (1977)
Team Colors
Navy Blue, Silver, Northwest Green, Royal Blue, Yellow, Cream
Ballpark Nicknames
"The House That Griffey Built"
Upcoming Homestands at T-Mobile Park
March 2023
| S | M | T | W | T | F | S |
| --- | --- | --- | --- | --- | --- | --- |
| | | | | | | |
| | | | | | | |
| | | | | | | |
| | | | | | | |
| | | | | | | |
April 2023
| S | M | T | W | T | F | S |
| --- | --- | --- | --- | --- | --- | --- |
| | | | | | | |
| | | | | | | |
| | | | | | | |
| | | | | | | |
| | | | | | | |
| | | | | | | |
May 2023
| S | M | T | W | T | F | S |
| --- | --- | --- | --- | --- | --- | --- |
| | | | | | | |
| | | | | | | |
| | | | | | | |
| | | | | | | |
| | | | | | | |
June 2023
| S | M | T | W | T | F | S |
| --- | --- | --- | --- | --- | --- | --- |
| | | | | | | |
| | | | | | | |
| | | | | | | |
| | | | | | | |
| | | | | | | |
July 2023
| S | M | T | W | T | F | S |
| --- | --- | --- | --- | --- | --- | --- |
| | | | | | | |
| | | | | | | |
| | | | | | | |
| | | | | | | |
| | | | | | | |
| | | | | | | |
August 2023
| S | M | T | W | T | F | S |
| --- | --- | --- | --- | --- | --- | --- |
| | | | | | | |
| | | | | | | |
| | | | | | | |
| | | | | | | |
| | | | | | | |
September 2023
| S | M | T | W | T | F | S |
| --- | --- | --- | --- | --- | --- | --- |
| | | | | | | |
| | | | | | | |
| | | | | | | |
| | | | | | | |
| | | | | | | |
October 2023
| S | M | T | W | T | F | S |
| --- | --- | --- | --- | --- | --- | --- |
| | | | | | | |
| | | | | | | |
| | | | | | | |
| | | | | | | |
| | | | | | | |
November 2023
| S | M | T | W | T | F | S |
| --- | --- | --- | --- | --- | --- | --- |
| | | | | | | |
| | | | | | | |
| | | | | | | |
| | | | | | | |
| | | | | | | |
No events.
December 2023
| S | M | T | W | T | F | S |
| --- | --- | --- | --- | --- | --- | --- |
| | | | | | | |
| | | | | | | |
| | | | | | | |
| | | | | | | |
| | | | | | | |
| | | | | | | |
No events.
January 2024
| S | M | T | W | T | F | S |
| --- | --- | --- | --- | --- | --- | --- |
| | | | | | | |
| | | | | | | |
| | | | | | | |
| | | | | | | |
| | | | | | | |
No events.
February 2024
| S | M | T | W | T | F | S |
| --- | --- | --- | --- | --- | --- | --- |
| | | | | | | |
| | | | | | | |
| | | | | | | |
| | | | | | | |
| | | | | | | |
No events.
March 2024
| S | M | T | W | T | F | S |
| --- | --- | --- | --- | --- | --- | --- |
| | | | | | | |
| | | | | | | |
| | | | | | | |
| | | | | | | |
| | | | | | | |
| | | | | | | |
No events.
April 2024
| S | M | T | W | T | F | S |
| --- | --- | --- | --- | --- | --- | --- |
| | | | | | | |
| | | | | | | |
| | | | | | | |
| | | | | | | |
| | | | | | | |
No events.
May 2024
| S | M | T | W | T | F | S |
| --- | --- | --- | --- | --- | --- | --- |
| | | | | | | |
| | | | | | | |
| | | | | | | |
| | | | | | | |
| | | | | | | |
No events.
T-Mobile Park | Ballpark Info
Accommodations for Disabilities
T-Mobile was designed with the Americans with Disabilities Act in mind, so it should be pretty easy to enjoy a ballgame at this park. If we haven't answered your question below, please reach out to the Mariners at MarinersADATeam@Mariners.com or 206-346-4224 before your trip to the ballpark.
Parking: You can find handicap parking spaces in most official Mariners lots. Your best bet is to purchase a pass before the game, as they only have a limited number available on game day. We recommend the Mariners Garage, which can accommodate vehicles up to 7′ in height. Purchase a pass here.
Gates: All gates are accessible, so feel free to enter wherever you'd like. All gates open 2 hours before first pitch, except the the Center Field and 'Pen Gates, which open 2.5 hours before first pitch.
Elevators: You can find elevators in the following locations:
Near the Home Plate Gate
Near the Left Field Gate
Section 114
Section 191 – This elevator only stops on the street level, main level, and center field bleachers.
Section 106 – This elevator only stops on the main level, at the Cafe, suite level, and view level
Seating: You'll find accessible seating available in almost every single section of the park, so you'll be able to choose your favorite view. The Mariners team will work with you to ensure that you're able to find seats for your entire party nearby, just give them a call at 206-346-4001.
Batting Practice: Hats off to the Mariners for providing equal access to batting practice for all guests. If you are unable to navigate the steps in the seating bowl, a reservation can be made with the team to ensure you have the ability to attend batting practice. Contact the Mariners for more information and to make your reservation: MarinersADATeam@mariners.com or 206-346-4224.
Bags
Backpacks are no longer allowed at T-Mobile Stadium. You can bring in soft, single compartment bags as long as they fit the MLB mandated size requirements of 16″ x 16″ x 8″. Coolers are allowed in the park.
Batting Practice
Another great thing about T-Mobile is that they open up the Center Field and 'Pen Gates 2.5 hours prior to first pitch, making it one of the few parks where you can actually watch the home team take BP. The Mariners will hit 2 hours and 35 minutes prior to first pitch, and the visiting team will hit 1 hour and 35 minutes prior to first pitch. Get to the field early enough, and you'll be able to watch all of it. Just keep in mind that batting practice is usually skipped on both Sundays and day games.
Bring Your Own Food
Single serving, individually wrapped food is allowed into the ballpark, as long as it is easily identified. If you're bringing in fruits like apples and oranges (or anything else that can be thrown), make sure you cut it up beforehand. You can also bring in one sealed bottle of water, no larger that 1 liter.
Guest Services
If you have any issues or questions while at the ballpark, please utilize Guest Services. Each MLB team has this department, and they are solely focused on making sure each fan has a safe and memorable time at the ballpark.
You can find Guest Service centers in the follow locations:
Section 128
Section 329
The 'Pen
Gates
All gates at T-Mobile open no later than 2 hours before game time. The Center Field and 'Pen Gates actually open even earlier — 2.5 hours before first pitch. Just arrive early if you want to visit the 'Pen, as they only open it to the first 1,000 fans.
Buckethead Tip: Buckethead babishop shares that T-mobile customers can enter through a "Fast Track" gate near the T-Mobile 'Pen. Just show your phone.
Promos
The Mariners run promotions throughout the season where there may be giveaways or special events. Check this link to see if your game is included.
Radio Broadcast
If you prefer to listen to the radio call of the game while in the ballpark, tune to KIRO FM 710.
Restrooms
You'll find restrooms scattered throughout the ballpark. T-Mobile also includes Family restrooms and All-Gender restrooms.
Women's Restrooms: Center Field Gate Walkway, Home Plate Gate, KeyBank Diamond Club, Left Field Gate, Center Field Main Concourse, Lef-Center Main Concourse, Right-Center Main Concourse, sections 108, 114, 120, 134, 144, 150, 213, 218, 224, 234, 239, 247, 307, 312, 216, 321, 327, 333, 340, and 345.
Men's Restrooms:: Center Field Gate Walkway, Home Plate Gate, KeyBand Diamond Club, Left Field Gate, Center Field, Lef-Center Field, Right-Center Field, and in sections 107, 112, 123, 135, 146, 150, 213, 217, 223, 238, 246, 307, 313, 318, 323, 331, 339, and 344.
Family / All-Gender Restrooms: Sections 105, 120, 234, 319, 327 and 333.
Tailgating
There is no official tailgating policy available. Since the official lots are garages, you can safely assume that there will be no grilling allowed.
Tours
The Mariners offer one-hour tours of T-Mobile Park. Stops include the Press Box, Owners Suite, Visitors Clubhouse and more. We even got to go on the field and sit in the dugout, but are not sure if these are regular stops. While in the press box, take a moment to see the dented plaster and the foul ball that caused it.
Tickets are $12 for adults, $10 for kids, and $11 or Senior or Military. Book your tour here.
Check out the Mariners Statues
Outside of home plate there is a statue of Mr. Mariner, Ken Griffey Jr. "The Kid" only played at T-Mobile Park (originally SafeCo Field) for three seasons — the inaugural season of 1999 and his final seasons in the MLB, 2009 & half of 2010 — but T-Mobile park is still called "The House that Griffey Built". His number 24 was retired in 2016. He's one of the most beloved players in the history of the MLB and is often credited with saving the Mariners from folding or being relocated.
In section 105, you'll find a statue of the Hall of Fame Broadcaster Dave Niehaus. Niehause spent 33 years as the play-by-play announcer for the club. Niehaus is sitting at this desk, microphone in hand, with his scorebook flipped to game 5 of the 1995 ALDS, the moment of his most famous call — Edgar Martínez's "The Double". "The Double" would win the game for Seattle to send them to the ALCS, and is one of the best Mariner's moments in history. Listen to his call of the Bottom of the 11th below.
Watch the M's Battery Warm Up in The 'Pen
If you are a big fan of pitching, T-Mobile gives you the opportunity to experience something that no other park does. Get to the game early enough and you'll be able to secure a spot on the fence in The 'Pen to watch the Mariners' opener warm up. The 'Pen opens up 2.5 hours prior to first pitch, which is half an hour earlier than any other gate at the park. You'll be just a few feet from a Major League battery as they go through their warm-up routine. One thing to be aware of is that The 'Pen is typically a party scene, so if you're not into that, you'll want to find your seat after warmups.
Visit the Mariner's Museum and Hall of Fame
The Mariners currently have two players wearing their cap in Cooperstown — Ken Griffey Jr. and Edgar Martinez, but 9 members of the Mariners have been inducted into the team's hall of fame. You'll find their plaques and biographies in the Hall of Fame, located near sections 135-141. You'll also find The Baseball Museum of Pacific Northwest there. Free and open to all fans during game day.
Hit the Driving Range for a Chance to Win Swag
Located in Right Field near section 194, you'll find a virtual driving range where you can compete for swag. We've heard of fans winning everything from t-shirts to autographed baseballs!
Sing and Dance to
Louie Louie

Can't Hold Us

It's tradition at every park to sing "Take Me Out to the Ballgame" during the seventh inning stretch. But in Seattle, after the final notes of the baseball anthem, "Can't Hold Us" by Seattle hip hop artist Macklemore is pumped through the speakers. Macklemore is a huge baseball fan and there is some speculation that he may have chosen his stage name as an homage to former Mariner Mark Mclemore. Macklemore of course, is also well known for writing the song "My Oh My" in 2011 in honor of the late and legendary Mariners broadcaster Dave Niehaus.

The M's used to play "Louie Louie" after the seventh inning classic, and fans would bust a move for a shot of fame on the Jumbotron. Apparently, in 1985, an elaborate prank tried to get the tune recognized as Washington State's official song. It failed, but "Louie Louie" was played at every Mariners home game until 2022…so there's that.
Check out the Art in Park
Seattle is an artsy city, and that's reflected in its ballpark. If you walk through the main entrance at home plate, you'll see a chandelier made of 1,000 baseball bats, and a huge compass rose mosaic. You'll find tons of other local artwork throughout the park including a neat "quilt" made of license plates that represents all 30 MLB teams (near the right field gate), and our favorite "The Defining Moment", a mural of Martinez's "The Double" (left field gate). Read about all of the artwork in T-Mobile Park here.
Swipe to view images from T-Mobile Park.
Did we forget something?
Baseball Bucket List relies on information from Bucketheads to keep our guides and resources up to date.
T-Mobile Park | Transportation and Parking
T-Mobile is downtown, so you'll find law enforcement directing traffic around a predetermined path. Our recommendation is to have a game plan for parking before you head towards the ballpark.
Join the Baseball Bucket List community
Create your own bucket list, track ballpark visits, and connect with other fans.
T-Mobile Park | Best Seats
Best Seats for Mariners History
In 2012, T-Mobile Park (SafeCo Field at the time) saw something crazy — 2 perfect games and 1 combined no hitter, all in the same season. One of those moments was courtesy of beloved Mariner Felix Hernandez aka "King Felix". Section 150 of the ballpark was deemed King's Court back in 2011 (it would grow to include 3 sections eventually), and The Court went crazy on August 15, 2012 when Felix tossed a perfect game against the Rays. King Felix finished his career with the M's in 2019. The King's Court may be gone, but those seats still hold the best memories at T-Mobile Park.
Best Seats for Game Views
We're fans of the Club Section 200 level at almost every park, and T-Mobile doesn't disappoint. You get a slightly elevated view of the playing field, and a view of the skyline (from the 1B site) if the roof is open. Our favorite sections are 223 and 224.
Move on up to the View Level in the 300 sections and you'll still get great views of the field, and even better views of the city. These seats are going to be one of the best values in the park. One thing that is unique about T-Mobile is that the upper sections of the park still have nearly as many amenities and food options as the main level.
In 2013 we were fortunate enough to get the VIP treatment at SafeCo Field. On top of an on field tour, we got to sit in the Diamond Club and visit the private lounge. This is the way to watch baseball. Unfortunately, the cost of these tickets are insane.
Where not to Sit
T-Mobile is beautiful. There are no major obstructions of the field of play, which makes picking tickets a lot less stressful. If you choose to sit in the bleachers, just keep in mind that you might have an obstructed view of the scoreboard. And if you are looking forward to a local beer at the ballpark, make sure you do not sit in section 104, which is alcohol free.
Best Seats for Shade
T-Mobile Park's roof is more of an umbrella for shade than anything else. There is no AC in the park, so the roof won't be closed on a hot sunny day. Your best bet for shade will be to choose the last several rows of any section in the park. The overhang of the section above, or the roof will block the sun from hitting those rows. Seats on the 3B side will be the first to get shade. Avoid the outfield.
Best Seats for Foul Balls
Looking to snag a souvenir at T-Mobile? According to foulballz.com, your best bet will be in sections 135-140 along 3B and 121-126 along 1B.
T-Mobile Park | Ballpark Food
BEERS
Local favorites: If you are looking for a taste of Seattle's craft beer scene, your best option is to visit Cask Ale Station in section 129. This stand features rotating kegs of local breweries. Heads up, it may have changed its name to Power Alley Bar in 2020, but should be in the same location.
Value beers: In 2020, the Mariners introduced $5 and $6 12oz cans, which is sadly some of the cheapest beer in the MLB. You can of course find the typical "everyman brews" like Miller High Life and Busch Light, but you'll be pleased to know that several of the local favorites are in the $6 range.
We recommend: Try any of the IPAs, they'll all be good. If you're not a fan of those, try the Golden Road Mango Cart Wheat Ale, which is fruity and refreshing and great for a warm day.
Wondering if you can snag your favorite beer at T-Mobile Park? Use their beer finder to see.
The Must Have: Garlic Fries
Garlic Fries are iconic in Seattle. There was even a brief a tradition based around them at T-Mobile park. In 2007, a fan dropped his fries while trying to catch a foul ball. Broadcaster Mike Bowers noticed and sent an intern to run a new batch of fries down to the man. The Mariners scored and "Rally Fries" were born. The fad has died off since then, but the fries are still so, so good. Get them in sections 106, 136, 149, 187, 325, and 340.
Something Special: The Crab Sandwich
You're in Seattle, get some seafood. The Crab Sandwich from Way Back Crab Shack is packed with crab and seasoned perfectly. Get a side of Old Bay Fries. It's expensive but worth it. Section 187.
The Challenge: Grasshoppers
In Texas, they sell rattlesnake sausage. In Seattle, they sell toasted chili lime grasshoppers. There's not much to say here, but if you're adventurous, give them a try at Edgars Cantina in The 'Pen.
Vegetarian and Vegan Options at T-Mobile Park
You have a few options for vegetarian fare at T-Mobile Park. You'll find the Impossible Burger at Lil Woody's in The 'Pen, and the Beyond Burger at the HIt i Here Cafe. The Veggie dogs are also reportedly vegan. Check out The Natural food stand in section 133 for multiple Beyond options, veggie dogs, and avocado toast. Edgar's Cantina in The 'Pen offers a tofu delight sandwich (skip the aioli and it's vegan). And Hiroshi's Sushi in section 132 offers a veggie roll.
Did we forget something?
Baseball Bucket List relies on information from Bucketheads to keep our guides and resources up to date.
T-Mobile Park | Surrounding Area
Sluggers
Sports bar that's a solid choice before a game.
The People's Burger
A local favorite known for its great burgers.
Pyramid Alehouse Restaurant
Brewery with a great game day atmosphere.
Tai Tung Restaurant
The oldest Chinese restaurant in Seattle, once frequented by Bruce Lee.
Did we miss something in our guide to T-Mobile Park?
Baseball Bucket List relies on information from Bucketheads to keep our guides and resources up to date.
Have some insight about this ballpark that you'd like to share with the community? Let us know! We try to visit each park often, but changes can happen quickly. We're always looking for updated information about ballparks, the cities they're located in, and attractions nearby. If we include your tip in a guide, we'll give you credit whenever possible.