PNC Park | Pittsburgh Pirates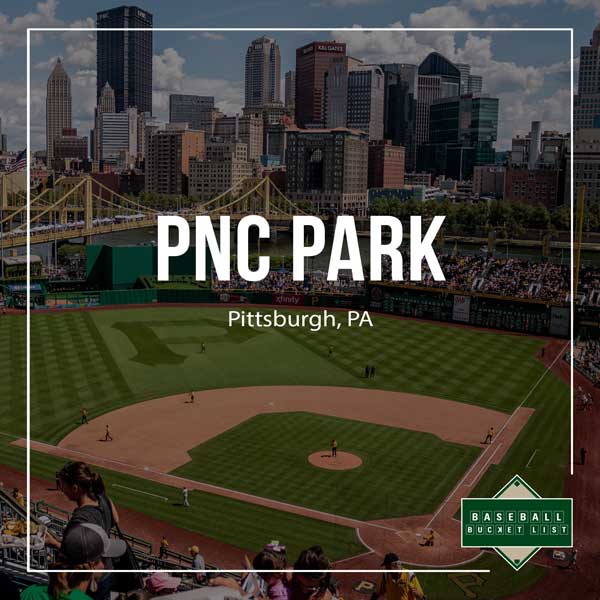 Quick Facts About PNC Park
Year Opened
2001
Capacity
38,747
Home Club
Pittsburgh Pirates (1887)
Team Colors
Black, Gold, White
Upcoming Homestands at PNC Park
April 2022
| S | M | T | W | T | F | S |
| --- | --- | --- | --- | --- | --- | --- |
| | | | | | | |
| | | | | | | |
| | | | | | | |
| | | | | | | |
| | | | | | | |
May 2022
S
M
T
W
T
F
S
June 2022
| S | M | T | W | T | F | S |
| --- | --- | --- | --- | --- | --- | --- |
| | | | | | | |
| | | | | | | |
| | | | | | | |
| | | | | | | |
| | | | | | | |
July 2022
| S | M | T | W | T | F | S |
| --- | --- | --- | --- | --- | --- | --- |
| | | | | | | |
| | | | | | | |
| | | | | | | |
| | | | | | | |
| | | | | | | |
| | | | | | | |
August 2022
| S | M | T | W | T | F | S |
| --- | --- | --- | --- | --- | --- | --- |
| | | | | | | |
| | | | | | | |
| | | | | | | |
| | | | | | | |
| | | | | | | |
September 2022
| S | M | T | W | T | F | S |
| --- | --- | --- | --- | --- | --- | --- |
| | | | | | | |
| | | | | | | |
| | | | | | | |
| | | | | | | |
| | | | | | | |
October 2022
| S | M | T | W | T | F | S |
| --- | --- | --- | --- | --- | --- | --- |
| | | | | | | |
| | | | | | | |
| | | | | | | |
| | | | | | | |
| | | | | | | |
| | | | | | | |
No events.
November 2022
| S | M | T | W | T | F | S |
| --- | --- | --- | --- | --- | --- | --- |
| | | | | | | |
| | | | | | | |
| | | | | | | |
| | | | | | | |
| | | | | | | |
No events.
December 2022
| S | M | T | W | T | F | S |
| --- | --- | --- | --- | --- | --- | --- |
| | | | | | | |
| | | | | | | |
| | | | | | | |
| | | | | | | |
| | | | | | | |
No events.
January 2023
S
M
T
W
T
F
S
No events.
February 2023
| S | M | T | W | T | F | S |
| --- | --- | --- | --- | --- | --- | --- |
| | | | | | | |
| | | | | | | |
| | | | | | | |
| | | | | | | |
| | | | | | | |
No events.
March 2023
| S | M | T | W | T | F | S |
| --- | --- | --- | --- | --- | --- | --- |
| | | | | | | |
| | | | | | | |
| | | | | | | |
| | | | | | | |
| | | | | | | |
No events.
Accommodations for Disabilities
PNC Park offers parking for guests with disabilities in all surrounding lots, available on a first-come-first-served basis.
For handicap accessible seats, please see PNC Park seating chart.
If your seats are on the upper levels, elevators are located near sections 101, 113, 117 and 125.
PNC Park tours are also accessible for all guests.
For any disability access information/questions, call 412-323-5000.
Bags
Each Guest is permitted to bring one bag into the ballpark. MLB and the Pirates recognize that bags, purses, fanny packs and backpacks 16″ X 16″ X 8″ or smaller are permitted and subject to search upon entry and within the ballpark. Soft-sided coolers and soft-sided briefcases are permitted. Hard-sided coolers and briefcases, ice packs and cooler inserts are NOT permitted.
Batting Practice
Enter through the Clemente Gate, which opens the earliest (two and a half hours prior to game time) and you'll be a short walk to the center field bleachers. Note that batting practice is not always held before weekend day games, particularly late in the season.
Bring Your Own Food
Guests are permitted to bring bottled water and food that may fit into a 16″ X 16″ X 8″ soft-sided bag. Water bottles should not exceed 24 ounces in size, and must be clear, plastic, sealed and disposable. Children's juice boxes and items necessary for medical purposes are permitted. Alcoholic beverages, carbonated beverages, sports drinks, cans, glass bottles and thermoses (including but not limited to: YETI, and other types of metal insulated items) are not allowed.
Outside food and beverage is not permitted entry into the Hyundai Club, Suite Level or the Jim Beam Left Field Lounge & Jim Beam Porch areas.
Fan Services
For medical emergencies, difficulties in the park or other assistance, you can reach PNC Park security by texting SECURITY to 61592.
You can find Guest Services for assistance or information at:
-Guest Relations Office: at the bottom of Home Plate Rotunda
-Upper Kiosk: near Section 317 at the Home Plate Rotunda
-Information Kiosks: near Legacy Square Gate and Right Field Gate
-Main Concourse Kiosk: near Section 117
Gates
Gates open an hour and a half prior to game time and two hours on Opening Day. For games starting at 7:05 p.m. or later, the Clemente Gate opens two and a half hours prior to game time. For daytime starts earlier than 7:05 p.m., the Clemente Gate opens two hours prior to first pitch.
Restrooms
You can find restrooms in the following sections:
108/110, 115, 117/119, 127/129, 130, 142/143, 147, 301, 305/308, 311/312, 315/318, 321/322, 327/329, 333, Club World Series Suites, Club Area, 205 Pirates Cove
Family restrooms are found in sections:
109, 110, 115, 119, 132, 133, 147, 305, 315, 331, Club Locations
Tailgating
Tailgating is allowed and all North Shore parking lots and garages should open 4 hours prior to game time. Alcohol is permitted, glass containers and tents are not. They do allow cooking grills but not in any of the garages. Tailgating is to be contained to paid space only.
Tours
PNC Park offers both in-season and off-season tours, and will run you about $10 per adult and $8 for seniors and for children ages 6 to 14 (smaller kids are free). Tours begin at the Allegheny Health Network Gate and last about 60-90 minutes. As with most tours, it will be mostly walking, so remember to wear comfortable shoes. Learn more and schedule your tour here.
Check out the Riverwalk
PNC Park is sitting right along the Allegheny River so don't miss the ballpark's right field outer promenade, known as the Riverwalk, where you can catch views of the water, famous bridges and downtown Pittsburgh. The terrace is also open to the general public on non-game days.
See the Legendary Statues
Statues honoring three of the most legendary Pirates players:
The statue of Willie "Pops" Stargell, which unfortunately was unveiled the same day he died, is located on Federal Street, outside of the left field entrance.
The Roberto Clemente statue stands between the Center Field entrance and the Clemente Bridge.
You can find the Honus Wagner statue in front of the home plate main gate.
Watch the Great Pierogi Race
Watch seven pierogi mascots duke it out for bragging rights at each home game. If the Nats or Brewers are visiting, you may be lucky enough to see their mascots join in on the race. Each year, the Pirates, Nats, and Brewers travel their mascots to each other's parks to race for glory.
Did we forget something?
Baseball Bucket List relies on information from Bucketheads to keep our guides and resources up to date.
PNC Park | Transportation and Parking
If you can walk to the park from your hotel, it is totally worth it. There is something special about crossing the bridge with dozens of other baseball fans and walking up on the ballpark, especially in nice weather. If you'd rather not walk, or you're coming from out of town, you do have other options.
The Free Port Authority "T" provides easy access to the ballpark for fans coming from the South. You can park at any of the stations along the route and hop on all the way to the park. Plan your trip here.
Official PNC Park Lots
If you're coming from the North, the North Shore official parking lots and garages are the easiest to access and exit from. Those lots are $15 each.
Off-Site / Free Parking Options
If you are headed in from any other direction, parking downtown across the river from the ballpark is your best option. Usually downtown parking is cheaper and you get the chance to walk across the Clemente bridge, which is closed off to vehicular traffic on game days. The Pirates strongly encourage all fans to download the "ParkPGH" app or visit m.parkpgh.org to check for downtown parking space availability throughout the season.
Waze
The Pirates have teamed up with Waze, a community-based traffic and navigation app, to provide you with the most efficient routes to and from the game. Waze is the only GPS program that has PNC Park parking lots, event day traffic patterns, and street closures incorporated, providing fans with accurate directions to your specific lot with real-time traffic alerts. Download the free Waze app from Apple's App store and Google Play.
Uber & Lyft
If you'd rather not drive, Uber and Lyft are great options for getting to and from PNC Park. There are two designated pick-up and drop-off locations on the North Shore. One is along Isabelle Street, east of the ballpark. The other is on Reedsdale. Follow signage to find your way.
If you're new to Uber, you can use this link to get a discount on your first few rides.
Join the Baseball Bucket List community
Create your own bucket list, track ballpark visits, and connect with other fans.
Best Seats for Views
One of the coolest things about PNC Park is its unforgettable views of Allegheny River, Roberto Clemente Bridge and downtown Pittsburgh. Our personal favorite spot is in the upper section behind home plate. You'll be up high so the views are amazing (of the skyline and if you attend one of the post-game fireworks shows) and it's a bit cheaper. Win-win.
Where Not To sit
There's really not a horrible view of the field in the ballpark, but the first several seats (1-5) in the back rows of section 208 will have obstructed views of the skyline.
The Must Have: Primanti Bros Sandwich
Primanti Bros. is a long-time running Pittsburgh chain known for their delicious sandwiches (stuffed with french fries and coleslaw on the inside!). This place is a classic that everyone should try at least once while visiting the City of Bridges. You can find them in section 110.
Something Special: The Pittsburgh Cone
The Pittsburgh Cone is a relatively new item that features Kielbasa sausage, pierogi, Swiss cheese, sauerkraut and Russian dressing all stuffed into a waffle cone. A waffle cone! Mind. Blown. Served at Familee BBQ located behind section 132.
Sweet Treat: The Shipwreck Sundae
Craving something sweet? The Shipwreck Sundae has jumbo (and we mean jumbo) marshmallows that are coated with chocolate and a dusting of graham crackers along with ice cream in a souvenir helmet sundae bowl. Find it at the Sweet Spot, located behind section 107.
Vegetarian/Vegan/Gluten-Free Options at PNC Park
Just4u, located in section 128/129, offers vegetarian and gluten-free options. PNC Park also offers a healthy and delicious Blueberry Quinoa Salad found at The Market, located behind section 118.
Did we forget something?
Baseball Bucket List relies on information from Bucketheads to keep our guides and resources up to date.
PNC Park | Surrounding Area
Mullen's Bar & Brill
The quintessential sports bar with a lively atmosphere.
Federal Galley
This is a fun, group-friendly modern food hall with a sprawling outdoor beer garden.
Burgatory
Kid-friendly burger joint.
Bars and Restaurants
We believe that in order to fully experience a ballpark, you should spend some time in the nearby area. We're also big believers that pre and post game rushes are awful. We suggest you spend some time at these local establishments instead of sitting in traffic or rushing to the train.
Mullen's Bar & Grill | 200 Federal St, Pittsburgh, PA 15212 | Website | Menu | Click to Call
Mullen's is the quintessential sports bar with a lively atmosphere, typical pub grub and cheap beer. You'll find a huge crowd here on game days, usually boisterous and overflowing onto the sidewalk. Nothing fancy or spectacular, but a great little spot to come before or after a game.
Federal Galley | 200 Children's Way, Pittsburgh, PA 15212 | Website | Menu | Click to Call
This is a fun, group-friendly modern food hall with a sprawling outdoor beer garden. Everyone will be able to find something to eat and drink at one (or all) of the 4 featured restaurants and the best part is it's only about a 10 minute walk to PNC Park.
Burgatory | 342 N Shore Dr, Pittsburgh, PA 15212 | Website | Menu | Click to Call
If you're simply looking for a cold beer and a really good burger to fill up on before a game, look no further. Burgatory is just down the street from the ballpark and offers up a burger to suit any taste bud: try their Elk burger, Wagyu beef burger, Impossible burger or the Fiddy-Fiddy, made of half ground beef and half ground bacon, you pretty much can't go wrong. This place is kid-friendly and usually hoppin' on game day.
Local Attractions
If you're traveling with a family or just trying to make the most out of your trip to Pittsburgh, here are some recommended nearby attractions.
World War ll Veterans Memorial and Vietnam Veterans' Monument | Website
Duquesne Incline | Website
Ride in a century-old cable car up the incline where you'll get amazing views of downtown Pittsburgh. FYI: Cash only and exact change is required (Port Authority bus passes and tickets are also accepted as payment) and there are no public restrooms available.
Point State Park | Website
A beautiful 36-acre park at the intersection of 3 rivers has boating, hiking, and biking. Within the park you can see Fort Pitt Museum, all that remains of a large British fort built in 1764, Fort Pitt Blockhouse which is an historic defensive building built in 1764, and now the oldest structure in western Pennsylvania and Fort Duquesne, the site of a 1754 French fort now marked by a granite outline in the grass. Also be sure to go see the State Park Fountain, with it's 200-ft.-wide basin, infinity waterfall and places to sit and have a picnic.
Are we missing info on PNC Park?
Baseball Bucket List relies on information from Bucketheads to keep our guides and resources up to date.
Have some insight about this ballpark that you'd like to share with the community? Let us know! We try to visit each park often, but changes can happen quickly. We're always looking for updated information about ballparks, the cities they're located in, and attractions nearby. If we include your tip in a guide, we'll give you credit whenever possible.