Petco Park | San Diego Padres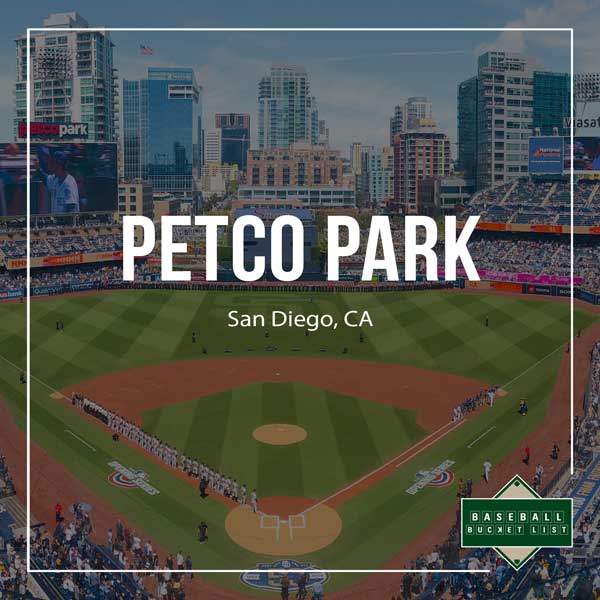 Quick Facts About Petco Park
Year Opened
2004
Capacity
40,209
Home Club
San Diego Padres (1969)
Team Colors
Brown, Gold, White
Upcoming Homestands at Petco Park
March 2023
| S | M | T | W | T | F | S |
| --- | --- | --- | --- | --- | --- | --- |
| | | | | | | |
| | | | | | | |
| | | | | | | |
| | | | | | | |
| | | | | | | |
April 2023
| S | M | T | W | T | F | S |
| --- | --- | --- | --- | --- | --- | --- |
| | | | | | | |
| | | | | | | |
| | | | | | | |
| | | | | | | |
| | | | | | | |
| | | | | | | |
May 2023
| S | M | T | W | T | F | S |
| --- | --- | --- | --- | --- | --- | --- |
| | | | | | | |
| | | | | | | |
| | | | | | | |
| | | | | | | |
| | | | | | | |
June 2023
| S | M | T | W | T | F | S |
| --- | --- | --- | --- | --- | --- | --- |
| | | | | | | |
| | | | | | | |
| | | | | | | |
| | | | | | | |
| | | | | | | |
July 2023
| S | M | T | W | T | F | S |
| --- | --- | --- | --- | --- | --- | --- |
| | | | | | | |
| | | | | | | |
| | | | | | | |
| | | | | | | |
| | | | | | | |
| | | | | | | |
August 2023
| S | M | T | W | T | F | S |
| --- | --- | --- | --- | --- | --- | --- |
| | | | | | | |
| | | | | | | |
| | | | | | | |
| | | | | | | |
| | | | | | | |
September 2023
| S | M | T | W | T | F | S |
| --- | --- | --- | --- | --- | --- | --- |
| | | | | | | |
| | | | | | | |
| | | | | | | |
| | | | | | | |
| | | | | | | |
October 2023
| S | M | T | W | T | F | S |
| --- | --- | --- | --- | --- | --- | --- |
| | | | | | | |
| | | | | | | |
| | | | | | | |
| | | | | | | |
| | | | | | | |
No events.
November 2023
| S | M | T | W | T | F | S |
| --- | --- | --- | --- | --- | --- | --- |
| | | | | | | |
| | | | | | | |
| | | | | | | |
| | | | | | | |
| | | | | | | |
No events.
December 2023
| S | M | T | W | T | F | S |
| --- | --- | --- | --- | --- | --- | --- |
| | | | | | | |
| | | | | | | |
| | | | | | | |
| | | | | | | |
| | | | | | | |
| | | | | | | |
No events.
January 2024
| S | M | T | W | T | F | S |
| --- | --- | --- | --- | --- | --- | --- |
| | | | | | | |
| | | | | | | |
| | | | | | | |
| | | | | | | |
| | | | | | | |
No events.
February 2024
| S | M | T | W | T | F | S |
| --- | --- | --- | --- | --- | --- | --- |
| | | | | | | |
| | | | | | | |
| | | | | | | |
| | | | | | | |
| | | | | | | |
No events.
March 2024
| S | M | T | W | T | F | S |
| --- | --- | --- | --- | --- | --- | --- |
| | | | | | | |
| | | | | | | |
| | | | | | | |
| | | | | | | |
| | | | | | | |
| | | | | | | |
No events.
April 2024
| S | M | T | W | T | F | S |
| --- | --- | --- | --- | --- | --- | --- |
| | | | | | | |
| | | | | | | |
| | | | | | | |
| | | | | | | |
| | | | | | | |
No events.
May 2024
| S | M | T | W | T | F | S |
| --- | --- | --- | --- | --- | --- | --- |
| | | | | | | |
| | | | | | | |
| | | | | | | |
| | | | | | | |
| | | | | | | |
No events.
Petco Park | Ballpark Info
Accommodations for Disabilities
A complimentary shuttle provides transportation between the Padres Parkade, Tailgate Park, the MTS Garage and Petco Park with specific pick-up locations marked with A-Frame signage. The shuttle begins running 2 hours before first pitch, and until about 90 minutes after the end of the game. After the game, catch the shuttle at Guest Services near the home plate gate.
You can also check out sensory bags at multiple Guest Services locations — Sections 108, 208, and 303. The bags include noise-cancelling headphones, fidget toys, a feeling thermometer, and wristbands for parents to write their phone number on. Simply provide your ID to check out a bag, and return it after the ballgame.
Guests with disabilities who require private accommodations or additional assistance can utilize family restrooms around the park. Family restrooms can be found near sections 109, 202, 219, 310, and 311.
Bags
All soft-sided containers and bags that measure sixteen (16) inches by sixteen (16) inches by eight (8) inches or smaller are permitted into Petco Park. No hard-sided coolers, bags, backpacks with metal frames, or items that exceed 16″ x 16″ x 8″ will be permitted into the park.
Batting Practice
You can catch the visiting team's batting practice if you get to the park early enough. The visitors typically take BP about an hour and 20 minutes prior to the game, and will hit for approximately 30 minutes. Gates typically open 90 minutes before the game, so you'll be there just in time!
Bring Your Own Food
You are allowed to bring your own food into Petco, as long as the items are wrapped, bagged, or packed inside a container. You can bring in a regular, sealed water bottle that is 1L or smaller. You can also bring in soft-sided single juices packs or milk for kids.
Guest Services
If you have any issues or questions while at the ballpark, please utilize Guest Services. Each MLB team has this department, and they are solely focused on making sure each fan has a safe and memorable time at the ballpark. The main Guest Services desk is located outside the Home Plate Gate on Park Boulevard. You can also find desks near sections 108, 208, 303 and at Gallagher Square in Left Field.
Gates
Gallagher Square opens two and a half hours prior to game time via the Gaslamp and East Village Gates. All other ballpark entries open 90 minutes prior to game time. If you're attending a special game or there is also an event, double check the gate times, as they may change.
Mascot
The official mascot of the San Diego Padres is "The Swinging Friar". The Friar is actually older than the Sand Diego Padres, and was previously the mascot for the Pacific Coast League Padres. In 1961, he became the official mascot of the Major League team.
Promos
San Diego's First responders and their families get 50% off tickets for all Friday games and 25% off tickets to all other games. You'll need your official ID to get the discounts. Verify ahead of time using your GovX verification, or show your ID at the ticket window. For more information, click here.
Restrooms
You can find restrooms between most sections on all levels, and Family Restrooms can be found in sections 109, 202, 219, 310, and 311.
Tailgating
Tailgating is allowed in Tailgate Park only. The lost only has 1,000 spaces, so get there early to secure your spot. Gates open 3 hours before first pitch. Groups are asked to begin shutting down their tailgate 30 minutes after first pitch. Gas cooking grills are allowed in the lot, and so are alcoholic beverages, as long as you bring cans and not kegs or bottles. You are also not allowed to toss a football or play a game of catch. You'll also need to leave the cornhole boards and lawn games at home since throwing anything in the air is prohibited.
Tours
Tours of Petco Park are usually offered year round, and on game days at 10:30AM, 12:30PM and 3:00PM. Purchase tickets at the ticket window, or book ahead of time here. Keep in mind that the tour schedule may vary based on game time, or events at the ballpark. Tickets are $25 for adults, $20 for seniors, kids, and military members. Kids under 36inches are free.
Visit the Western Metal supply Co. Building
The Western Metal Supply Company building is a historical landmark incorporated directly into the park. The corner of the building actually serves as the left foul pole. It currently houses a team store, and The Loft restaurant & bar. You don't need a special ticket to eat or drink at the Loft, and you can see the field from inside!
Stroll through Gallagher Square (Formerly "Park at the Park")
Previously called "Park at the Park", Gallagher square is a public park just outside of Petco Park. During home games, the park is closed to the general public, and you need a game day ticket to get in. For Friday home games, there is usually a "Party in the Park" for a few hours prior to first pitch. Get there early for drink specials and entertainment, and be sure to take in the views of the ballpark from outside the gates.
Check out the Tony Gwynn Statue
Visit the over 10-feet tall "Mr. Padre" statue, erected to celebrate the life of the Hall of Famer. Gwynn spent his entire career playing for the Padres and will forever be remembered for his contributions to the ball club and the city of San Diego. Find the statue in Tony Gwynn Plaza, located in Gallagher Square.
Visit the Breitbard Hall of Fame
On the main concourse of the Western Metal Supply Co. Building, you'll find the Breitbard Hall of Fame. The Hall of Fame honors those who have played major roles for San Diego sports teams, and native San Diegans who have gone on to achieve athletic fame around the country.
Soak up the Sun at Toyota Beach
It wouldn't be San Diego without a beach. In right-center field, you'll find the Toyota Beach, which is an open space where you can take in the game from life-guard style beach chairs. There is even a small sandbox to provide you with that authentic beach experience. Grab a beer from the Craft Pier just above Toyota Beach, and enjoy some time in the sun.
Did we forget something?
Baseball Bucket List relies on information from Bucketheads to keep our guides and resources up to date.
Petco Park | Transportation and Parking
Official Petco Park Parking Lots
Because Petco Park is located directly in downtown San Diego, there are plenty of parking garages and lots for you to take advantage of. The Padres claim that there are more than 27,000 spaces near the ballpark, which 8,000 designated specifically for the Padres. Prices will range from $10 – $35 depending on how close you'd like to get. Parking passes can be purchased ahead of time here.
Off-Site / Free Parking Options
If you're looking for free parking, there are 5,000 free spaces available at Qualcomm Stadium. The Padres even run a free trolley back and forth from Qualcomm to Petco. Save your money for a beer. The only downside is waiting for the trolley after the game.
A good tip for San Diego, and any larger city, is to park farther away if you can. As you're selecting your parking lot, think more about the exit route than how easy it will be to get to the lot. This may make getting to the ballpark a little harder, but you'll be happy when it's time to head out after the game.
Public Transportation
For fans who wish not to drive, the San Diego Trolley is also available, making it super easy and cost effective for you to get to the park. There are three trolley stations where you can be dropped near the ballpark, including the Gaslamp Quarter Station. Catch the train in early and kill some time at one of the bars or restaurants in the surrounding area. For a live trolley schedule, click here: https://www.sdmts.com/schedules-real-time
Shuttle Service
A complimentary shuttle provides transportation between the Padres Parkade, Tailgate Park, the MTS Garage and Petco Park with specific pick-up locations marked with A-Frame signage. The shuttle runs from 2 hours before first pitch until about 90 minutes after the end of the game. After the game, catch the shuttle at Guest Services near the home plate gate.
Uber & Lyft
If you'd rather not drive, or take public transportation, Uber and Lyft are great options for getting to and from Petco Park. Uber is the official rideshare company endorsed by the Padres, so you'll see their logo everywhere. Don't worry, Lyft and taxis are still allowed to pickup and drop off at the ballpark. In fact, you may be better off calling a Lyft or a taxi since everyone else will be staring at Uber signage all night.
Drivers know to pick you up in the official rideshare zones next to the Convention Center near the intersection of Park Boulevard and Harbor Drive. This may be a different area than where your driver dropped you off before the game, don't panic.
You may want to consider heading over to a nearby bar to wait out the post-game rush.
If you're new to Uber, you can use this link to get a discount on your first few rides.
Join the Baseball Bucket List community
Create your own bucket list, track ballpark visits, and connect with other fans.
Best Seats for Padres History
One of the coolest things about Petco Park is the historic Western Metal Supply Company building down the left field line. The corner of the building actually serves as the foul pole on that side of the field. An important part of the city's history, the building now holds a few restaurants and a team store. The cool thing is you can actually purchase tickets to sit on "The Rail" and watch the game from the historic building.
Best seats for Game Views:
Petco is one of those parks that really doesn't have any bad seats. The lower you sit, the closer you'll be to the action (obviously), but the mid and upper level seats can offer great views of the sunset over the city's skyline. Try the 200 level for a nice compromise of park views and cityscape.
You won't find any obstructed views in Petco Park. The closest things to an obstruction will be a handrail near the top of the aisles, or the support beams for the roof in the very top row of the park. You'll still be able to see all of the on-field action with these seats though.
Best Seats for Shade:
The California sun is no joke. In fact, it's so brutal that the Padres have actually released a shade map on their website. You can view the full map here, but in the effort of saving you some time, here's a quick breakdown of the shaded seats. Anything in the lower tier of the seating bowl is going to be in full sun. Portions of the upper tier of the lower bowl will be partially shaded. If you're looking for full shade, it's in short supply. Look for tickets in the last few rows of the third base 100 and 200 level sections. The last few rows of the first base 100 and 200 level sections get shade as well. Anything on the third base side in the 200 level will have at least some shade, and sections higher 316 and higher do too.
Petco Park | Ballpark Food
The Must Have: Tri-Tip Nachos
These mouth-watering nachos are served up with cheese sauce, a huge portion of chopped tri-tip, drizzled BBQ sauce, sour cream and green onions. Look for the Seaside Market kiosks in sections 112, 129 or 303. Locals will call these "Cardiff Crack" since the Tri-Tip is famous at the main location, the Cardiff Seaside Market, near the beach.
Something Special: Grilled Fish Tacos
You can't visit California and leave without trying fish tacos. Served on corn tortillas and topped with cabbage, tomatoes, onions, cheddar cheese and their homemade white sauce. You can find them at Blue Water Seafood Market & Grill located on the Field Level at section 117 and on the Toyota Terrace level at section 220.
The Challenge: The Slugger Dog
This ½-pound hotdog is the brainchild of Randy Jones, a former Padres Pitcher turned famous BBQ mogul. Let's just say, this is not your average ballpark dog. Find it at Randy Jones BBQ in sections 101, 119, 204, 303, 306, and 321.
The Sweet Treat: Ice Cream Sandwich from the Baked Bear
If you're visiting Petco Park on a hot day and are looking for a reprieve from the heat, the Baked Bear has you covered. Order up their famous ice cream sandwich. Choose your favorite cookies as the 'bun' and then pick from a variety of ice cream flavors to sandwich between those. It's really three treats in one, and it's amazing. Head to section 124 for this masterpiece.
Vegetarian, Vegan, and Gluten-Free Options at Petco Park
You can find a Veggie Supreme and a Gluten-Free Wrap at Board & Brew in sections 107 and 205.
Vegetariana Pizza can be found at Buona Forchetta, located on the Field Level Mercado behind section 104. They also have a Gluten-Free pizza dough.
A Veggie Dog and a Gluten-Free Hot Dog are available at Budweiser Ballpark Eats, which has several locations scattered throughout the park.
Various Fresh Salads can be found at Seaside Market, with locations in sections 105, 208, 322, and 327.
Did we forget something?
Baseball Bucket List relies on information from Bucketheads to keep our guides and resources up to date.
Petco Park | Surrounding Area
Hodad's
A local favorite, burger joint in southern California.
Bub's at the Ballpark
Great sports bar right across from the ballpark.
El Chingon Bad Ass Mexican
An upscale Mexican restaurant in the Glaslamp Quarter. Known for their margaritas and micheladas.
Local Attractions
If you're traveling with a family or just trying to make the most out of your trip to San Diego area, here are some recommended nearby attractions.
USS Midway Museum | Website
Check out the famous maritime museum aboard the historic USS Midway, the longest-serving aircraft carrier in the 20th century. Check out the flight and hangar deck exhibits, restored aircraft, interactive displays and flight simulators all while touring this amazing vessel. Tickets are $26 for adults, $22 for seniors, $18 for students, $12 for youth, and $10 for veterans.
San Diego Zoo | Website
Located in Balboa Park, just north of downtown San Diego, this zoo is well known as one of the best zoos in the United States, and for good reason. It houses more than 3,500 animals and sprawls across 100 acres. It's also open 365 days a year and with the beautiful California weather year round, you can't miss an opportunity to visit. Make sure to check out the polar bears! At $60 for adults and $50 for kids, it's a little pricey, but a day your family will remember forever.
Omni San Diego Hotel | Website
Not necessarily an "attraction" but if you're in need of a place to stay while in town, you have to check out the Omni San Diego Hotel. It features an awesome pedestrian skybridge that connects the hotel to Petco Park and provides easy access for all guests with a valid game ticket. The Omni skybridge opens 90 minutes prior to game time. Grab a drink in the lobby's bar before you head up the escalator and across the sky bridge. You can even catch a glimpse of the ballpark from some of the higher floors!
Did We Miss Something?
Baseball Bucket List relies on information from Bucketheads to keep our guides and resources up to date.
Have some insight about this ballpark that you'd like to share with the community? Let us know! We try to visit each park often, but changes can happen quickly. We're always looking for updated information about ballparks, the cities they're located in, and attractions nearby. If we include your tip in a guide, we'll give you credit whenever possible.