Kauffman Stadium | Kansas City Royals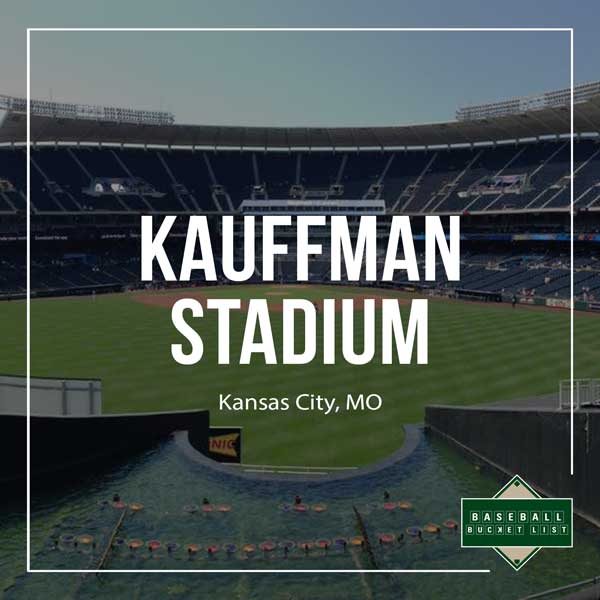 Quick Facts About Kauffman Stadium
Year Opened
1973
Capacity
37,903
Home Club
Kansas City Royals (1969)
Team Colors
Royal Blue, Gold, Powder Blue, White
Ballpark Nicknames
"The K"
Upcoming Homestands at Kauffman Stadium
March 2023
| S | M | T | W | T | F | S |
| --- | --- | --- | --- | --- | --- | --- |
| | | | | | | |
| | | | | | | |
| | | | | | | |
| | | | | | | |
| | | | | | | |
April 2023
| S | M | T | W | T | F | S |
| --- | --- | --- | --- | --- | --- | --- |
| | | | | | | |
| | | | | | | |
| | | | | | | |
| | | | | | | |
| | | | | | | |
| | | | | | | |
May 2023
| S | M | T | W | T | F | S |
| --- | --- | --- | --- | --- | --- | --- |
| | | | | | | |
| | | | | | | |
| | | | | | | |
| | | | | | | |
| | | | | | | |
June 2023
| S | M | T | W | T | F | S |
| --- | --- | --- | --- | --- | --- | --- |
| | | | | | | |
| | | | | | | |
| | | | | | | |
| | | | | | | |
| | | | | | | |
July 2023
| S | M | T | W | T | F | S |
| --- | --- | --- | --- | --- | --- | --- |
| | | | | | | |
| | | | | | | |
| | | | | | | |
| | | | | | | |
| | | | | | | |
| | | | | | | |
August 2023
| S | M | T | W | T | F | S |
| --- | --- | --- | --- | --- | --- | --- |
| | | | | | | |
| | | | | | | |
| | | | | | | |
| | | | | | | |
| | | | | | | |
September 2023
| S | M | T | W | T | F | S |
| --- | --- | --- | --- | --- | --- | --- |
| | | | | | | |
| | | | | | | |
| | | | | | | |
| | | | | | | |
| | | | | | | |
October 2023
| S | M | T | W | T | F | S |
| --- | --- | --- | --- | --- | --- | --- |
| | | | | | | |
| | | | | | | |
| | | | | | | |
| | | | | | | |
| | | | | | | |
November 2023
| S | M | T | W | T | F | S |
| --- | --- | --- | --- | --- | --- | --- |
| | | | | | | |
| | | | | | | |
| | | | | | | |
| | | | | | | |
| | | | | | | |
No events.
December 2023
| S | M | T | W | T | F | S |
| --- | --- | --- | --- | --- | --- | --- |
| | | | | | | |
| | | | | | | |
| | | | | | | |
| | | | | | | |
| | | | | | | |
| | | | | | | |
No events.
January 2024
| S | M | T | W | T | F | S |
| --- | --- | --- | --- | --- | --- | --- |
| | | | | | | |
| | | | | | | |
| | | | | | | |
| | | | | | | |
| | | | | | | |
No events.
February 2024
| S | M | T | W | T | F | S |
| --- | --- | --- | --- | --- | --- | --- |
| | | | | | | |
| | | | | | | |
| | | | | | | |
| | | | | | | |
| | | | | | | |
No events.
March 2024
| S | M | T | W | T | F | S |
| --- | --- | --- | --- | --- | --- | --- |
| | | | | | | |
| | | | | | | |
| | | | | | | |
| | | | | | | |
| | | | | | | |
| | | | | | | |
No events.
April 2024
| S | M | T | W | T | F | S |
| --- | --- | --- | --- | --- | --- | --- |
| | | | | | | |
| | | | | | | |
| | | | | | | |
| | | | | | | |
| | | | | | | |
No events.
May 2024
| S | M | T | W | T | F | S |
| --- | --- | --- | --- | --- | --- | --- |
| | | | | | | |
| | | | | | | |
| | | | | | | |
| | | | | | | |
| | | | | | | |
No events.
Kauffman Stadium | Ballpark Info
Accommodations for Disabilities
The Kansas City Royals take pride in the fact that Kauffman Stadium is accessible to all baseball fans. If we haven't answered your question below, contact the Royals at 816-504-4040, option #5, or at RoyalsADATeam@royals.com.
Parking & Drop Off: There are more than 500 accessible parking spots available at Kauffman Stadium. They can be found in all lots except Lots L and N. The spots are filled on a first come first serve basis, and you should let the lot's parking attendant know you are looking for an accessible spot.
If you would like a shuttle to get from your parking spot to the ballpark, let a parking attendant know, or call the game day assistance phone line at 816-504-4040, option #5. You can be picked up at any gate after the game as well.
The designated drop-off and pick up areas are located outside of Gates B and D. You may need to let traffic personnel know that you are attempting to reach the drop-off / pick up area.
Gates: All gates at Kauffman stadium are accessible, so feel free to enter wherever makes most sense for your seats.
Elevator: Elevators can be found on both the 1B and 3B sides of the ballpark, near gates B and D. There are also elevators in the Konica Minolta Diamond Club lobby.
Ramps: If you prefer to use the ramp instead of elevators, those are located near the elevators by gates B and D.
Restrooms: All restrooms in Kauffman Stadium have accessible stalls and washing areas. In addition, you can find family and companion restrooms in sections 115, 140, 201, 210, 218, 237, 245, 252, 305, and 320.
Seating: The Royals offer accessible seating on every level of the ballpark, so you can choose your seats based on your preferred view of the game. View the Royal's seating chart for more information. You can purchase accessible seating areas online, or by calling the Royal's ticket office at 1-800-676-9257.
Wheelchair Service: The Royals offer a complimentary wheelchair escort to and from seats. Just ask a guest services member as you enter the park. Guest services desks can also be found behind home plate on both the plaza and view levels.
Noise Reducing Headphones
If you or someone in your party has sensitive hearing, the Royals will loan you a set of noise reducing headphones. In addition, there are two quiet zones available in the park near sections 118 and 136.
ATMs
If you prefer cash for the walking vendors, you can find ATMs in the following locations:
Section 221
Section 234
Behind the scoreboard
Inside the home plate team store
Bags
You can bring bags into Kauffman Stadium, as long as they are soft-sided and do not exceed the MLB's maximum size of 16″ x 16″ x 8″.
Batting Practice
Gates open 90 minutes before first pitch, which means you'll only be able to watch the visitors take batting practice. If you're attending a game Monday through Thursday, enter through the outfield gates A & E. The remaining gates won't open until an hour before game time.
Tip: For $12, you can purchase an early bird pass which will get you into the ballpark an hour before gates open for general admission. This can allow you to see the home team take batting practice. These must be purchased ahead of time from the Royal's website.
Bring Your Own Food
You can bring food and water into Kauffman Stadium. Water must be in a 1 liter or smaller clear, factory sealed, plastic container. You may bring in any kind of food you'd like, as long as it is packaged within a soft-sided bag that doesn't exceed the maximum allowed bag size of 16″ x 16″ x 8″.
Guest Services
If you have any issues or questions while at the ballpark, please utilize Guest Services. Each MLB team has this department, and they are solely focused on making sure each fan has a safe and memorable time at the ballpark.
Guest services booths are located on the Plaza level behind the Konica Minolta Diamond Club Lobby, and behind section 420. If you need to reach guest services from inside the ballpark, you can call 816-504-4040, option 5. You can also text "ASSIST" and a description of whatever issue you are concerned about to 42682.
Gates
The gate times for Kauffman Stadium depend on the day of week and promotions:
Monday – Thursday: Gates A & E (outfield) will open 90 minutes prior to first pitch. gate C opens 2 hours before game time for Crown Club ticket holders only. All other gates open 1 hour before game time, unless there is a giveaway.
Giveaway games: All gates open 90 minutes prior to first pitch, gate C opens 2 hours before game time for Crown Club ticket holders only.
Friday – Sunday: All gates open 90 minutes prior to first pitch.
Tip: For $12, you can purchase an early bird pass which will get you into the ballpark an hour before gates open for general admission. This can allow you to see the home team take batting practice. These must be purchased ahead of time from the Royal's website.
Promos
The Royals will run promotions and giveaways throughout the season. To see if your game is included, visit the Royal's site here.
Family FunDay Sunday: Each sunday home game includes entertainment and activities in the outfield concourse. There will also be a Royals player signing autographs above the Royals dugout. Following the game, kids under 14 can run the bases. Line up near the ramp by gate D after the game.
Summer Fireworks: From May through August, fireworks will follow each Friday night game.
Radio Broadcast
If you prefer to listen to the radio broadcast while watching the game, tune to KCSP 610 AM.
Restrooms
Restrooms are located on every level throughout the park, so you'll never be far from one. You can also find family restrooms in sections 115, 140, 201, 210, 218, 237, 245, 252, 305, and 320.
Retired Numbers
The Kansas City Royals have retired the numbers of 3 players. You can find their numbers displayed prominently in yellow (except for Robbinson's 42, which is blue) on top of the Royals Hall of Fame in left field. The numbers are:
#5 – George Brett (1994)
#10 – Dick Howser (1987)
#20 – Frank White (1995)
#42 – Jackie Robinson (Retired throughout all of MLB in 2997)
Tailgating
Tailgating is allowed at Kauffman Stadium as long as you are in Lot N, Royal Way, or the Hall of Fame Village. If you have more than 20 people in your group, you'll need to reserve space and place a deposit. Before the start of the 2nd inning, you'll be asked to either enter the ballpark, or leave the parking lot. Alcoholic beverages are allowed.
Tours
The Royals offer 3 different levels of tours, that include different stops and durations. Tickets must be purchased ahead of time online.
Legends Tour: This tour takes about 90 minutes and stops at the Royals Hall of Fame, Royals dugout, interview room, press box, and outfield plaza. The cost is $17 for adults, $15 for seniors, and $12 for children 12 and under.
All Star Tour: This tour runs approximately 2 hours and includes stops at all of the Legends Tour stops plus the Triple Crown Suite, dugout suite, craft & draft, and the party deck. In addition, you get a Kauffman Stadium cap as a gift. Tickets are: $30 for adults, $27 for seniors, and $22 for children 12 and under.
Grand Slam Tour: The Grand Slam Tour takes approximately 2 hours and hits all of the Legends and All Star Tour stops. It also includes stops at the Konica Minolta Diamond Club, Cboe Crown Club, view level overlook, and golf cart transportation. In addition, you get a Kauffman Stadium cap and a stretched canvas photo of the ballpark. The cost for the Grand Slam Tour is $55 for adults, $50 for seniors, and $40 for children 12 and under.
Kauffman Stadium| Must Do
Royals Hall of Fame
The Royals Hall of Fame is located in left field in the "Outfield Experience". It is an absolute must see, and doesn't require an extra ticket on game day. The Royals will only let in about 40 people at a time, so make sure you get there early. You may even want to door bust this place, because there is plenty to see. You'll find exhibits on the history of baseball in Kansas City, the old Royals ballpark (Municipal Stadium), the Royals timeline, World Series trophies (1985 & 2015), plus so much more. Be sure to check out Cooperstown Corner, and the Royals Crowning Moments exhibit. One of the coolest exhibits is the George Brett #5. Brett's number is one of the 3 retired by the Royals. 3,154 baseballs (his career number of hits) make up a huge number 5, with the bat he used to collect his 3,000th hit. Is that some pine tar I see?
Get a Look at CrownVision (you can't miss it!)
Kauffman Stadium has perhaps the most unique scoreboard in the MLB. Shaped like a piece of royal headwear, the scoreboard has been dubbed "CrownVision". In December of 2020, the scoreboard was updated yet again to include HDR. Another video board was added to the facade of the Royals Hall of Fame in left field, and along the fence to show the out of town scores. All in, there are 5.1 million pixels, and CrownVision is the tallest HDR board in baseball.
Outfield Experience
The Outfield Experience is a great place to take kids. It includes the Little K – a small scale field where kids can run the bases and hit home runs. You'll also find a putt-putt green, and carousel. Some of the activities are free, while others require tokens that will cost a few bucks. For the adults, there's Rivals Sports Bar & Bullpen Bar and the Blue Moon Rap Room. You'll find plenty of food options in the Outfield Experience as well.
Catch a Show from the Center Field Fountains
Kansas City is known as the "City of Fountains", so you had better believe that Kauffman Stadium has some of the most impressive fountains in all of professional sports. Most recently renovated in 2009, these fountains are 322 feet wide, making them the largest privately funded fountains in the world. The waterfalls included in the display run constantly, with the fountains putting on a show before and after the game, as well as between innings. The fountains are large enough that you can see them from anywhere in the park. You can also get a neat perspective from behind them in the outfield concourse. After dark, they'll be lit up and will make for a great photo opp.
Visit the Royals Greats
Also located in the outfield are four statues of important Royals figures. Furthest towards right field is Hall of Fame Third Baseman George Brett mid toe tap in his batting stance. In right center is manager Dick Howser standing on the dugout steps. Closer to straight away center is Second Baseman Frank White releasing a throw to first base. And on the left field side of the scoreboard is a statue of Ewing and Muriel Kauffman waiving to the crowd. The Kauffmans were instrumental in bringing the Royals to Kansas City in 1968. The Kauffmans were civic leaders and philanthropists well known throughout the city. The stadium is named after them.
Did we forget something?
Baseball Bucket List relies on information from Bucketheads to keep our guides and resources up to date.
Kauffman Stadium | Transportation and Parking
Kauffman Stadium and Arrowhead Stadium (NFL – Kansas City Chiefs) are positioned right next to each other off of Interstate 70. They're actually connected to one another via underground tunnels! The ballpark is easily accessible by car, but you won't have many options for public transportation or shuttle service. Rideshare is another option. Traffic will be a factor, so get there early. It's also not a bad idea to tailgate post game to let traffic die down a bit.
Official Kauffman Stadium Lots
As mentioned above, the Chiefs and Royals never play at home at the same time, which means that all 19,000 parking spots surrounding the stadiums are up for grabs. The general parkings lots are A, B, C, D, E, F, G, L, and N. The cost is $15 per regular sized car, $20 for oversized vehicles, and $25 for RVs. If you are buying tickets on game day they are cash only. If you are planning on tailgating, you must by in Lot N, which is located on the 3B or West side of the stadium.
The official lots open a few hours before the ballgame starts, but the opening time is dependant on expected attendance. They'll close 1 hour after the conclusion of the game.
Off-Site / Free Parking Options Near Kauffman Stadium
Due to the location of Kauffman Stadium, you won't have many options for off-site or free parking. You may be able to park at one of the nearby hotels, but if you aren't staying there, you risk being towed. Your best bet if you want to avoid parking fees is to take the bus, a rideshare service, or stay in a hotel close enough to shuttle/walk.
Public Transportation
The only option for public transportation to Kauffman Stadium is the KCATA bus, and even this is not a great option. The 47 Route is not express, so the trip would be long unless you parked somewhere along the route closer to the ballpark. Even then, we don't recommend the bus. The main draw would be frugality and carbon reduction. Find more information about routes and times, here.
Uber & Lyft
Rideshare services have a dedicated drop off lane, so you'll be close to the gates when you get to the park. The designated pick up area is in Lot A, which you can follow signage to find.
If you're new to Uber, you can use this link to get a discount on your first few rides.
Join the Baseball Bucket List community
Create your own bucket list, track ballpark visits, and connect with other fans.
Kauffman Stadium | Best Seats
Best Seats for Royals History
Behind home plate in section 127, Row C, Seat 9, amongst all of the blue seats, you'll find one red seat. The Royals added this red seat to honor Buck O'Neil, a beloved Kansas City figure, best known for being the first African American coach in the MLB, and a first baseman and manager of the Negro League's Kansas City Monarchs. The red seat is in the exact location where he spent much of his time as a coach, scout, and Royals fan. You can't purchase tickets for this seat, but you can stop by to admire it. Buck truly loved baseball and spent his life sharing the stories and history of the Negro Leagues and its heros. In 2007, The Royals began a program where they honor a Kansas City community member who exhibits the values and spirit of Buck O'Neil by placing them in his legacy seat for the game.
Best Seats for Game Views
Even the upper deck feels close to the action at The K, so you'll likely have good seats wherever you end up. We like the 200 level along the 1B line. It gives you good perspective of pitch delivery, speed off of the bat, and almost every play involves the first baseman. Sections 232 and 234 are our picks for evening games on cool nights. If you are attending a day game or it is in the midst of summer, the 3B side in sections 223 and 221 will give you comparable views, and shade. If you're operating on a budget, section 420 directly behind home plate provides great views of the field and CrownVision.
Where not to Sit
There are very few bad seats at The K. In the outfield, below the fountains in section 101, row A, seat 1 the railing appears to be tall and positioned directly in front of your line of site. Take a look here. The railing is taller at the base of each set of stairs (presumably to prevent people from tripping and falling over), which you can see in in this photo. If you are a shorter person, you will want to avoid the first or last seat on the first row of any of these sections. The far corners of the outfield can feel a million miles away from the action if you are in the 400 level, so it's best to avoid those.
Best Seats for Shade
3B side will be the first for shade, so you'll want to sit there for a day game, or in the heart of summer. Most of the back rows of the 200 section will also get shade from the overhang of the section above. The last several rows of the 400 level from the light poles in will be protected by the top level's overhang. Try for the back half of sections 409 – 433.
Best Seats for Foul Balls
According to foulballz.com, the best sections for foul balls will be in sections 116-121 on the 3B side, and 133-139 on the 1B side. With the extended netting, you'll need a pop up in order to catch a ball in play. But you still have a great chance of getting a toss up from this area.
Kauffman Stadium | Ballpark Food
Beer!
Local Brews: Add KC to the list of ballparks that have a great selection of craft beer. Along the 3B line near section 301, you'll find Craft & Draft, which offers over 75 beers, and food a few steps above your average ballpark fare. We recommend anything from Boulevard. The Tank 7 Farmhouse Ale is one of their most popular brews. If it's hot, you may want to choose the light and refreshing Boulevard Easy Sport Ale.
Tip: You can purchase tickets for Craft & Draft seats which include $20 you can spend on beer and food!
Budget Brews: Want a beer at the ballpark but don't want to fork over $12? The K offers $5 Miller Lites in sections 120, 135, 213, 242, 308, 417, and 422. While you're there, snag one of their $4 hot dogs. You can also find $4 select Boulevard cans at Craft & Draft and Boulevard Radler Station on Wednesdays. If you're at a Friday ballgame, you can grab a $3 Miller Lite from the Miller Lite Fountain Bar and the Blue Moon Taproom (right field).
The Must Have: BBQ Sandwich (The Rookie Sandwich)
You're in Kansas City so you can't go wrong with BBQ. Choose the chopped brisket or pulled pork sandwich, it's covered with BBQ sauce and topped with pickles. Find it in sections 221, 234, 251, 308, 417, and 422.
Something Special: Burnt End Mac n Cheese
Mac n Cheese topped with fried onion strings, green onion and BBQ sauce. Find it and several other great food options at Craft & Draft near section 301.
The Challenge: Brisket-Acho
Tortilla chips topped with brisket, BBQ baked beans, cheesy corn, cole slaw, and BBQ sauce. It will probably take 2 of you to polish these off. Find them in sections 221, 234, 251, 417, 422, and 427.
Something Sweet: French Toast Ice Cream Sandwich
Who doesn't like vanilla ice cream sandwiched between French toast? Better yet, why not add maple pecan bacon crumbles to it? You can find this at Rivals in the outfield.
Vegetarian and Vegan Options at Kauffman Stadium
You might be surprised with the vegetarian and vegan options you find in BBQ country. You can find cheese nachos, popcorn, and bavarian pretzels pretty much everywhere in the park. There are also a ton of salads and wraps available at 203 Marketplace. Veggie Burgers and Veggie Dogs can be found in sections 221, 234, 417, 422, and 203. And, you can snag a Beyond Burger from 203 Marketplace or Craft & Draft. The Beyond Brat is also available at Craft & Draft, Rivals, and the Diamond Club Pub.
Did we forget something?
Baseball Bucket List relies on information from Bucketheads to keep our guides and resources up to date.
Kauffman Stadium | Surrounding Area
Gates Bar-B-Q
Chain BBQ restaurant conveniently located near the ballpark.
HiBoy Drive-in
Old fashioned drive-in burger joint.
Arthur Bryant's Barbeque
One of the most popular BBQ joints in KC.
Gram & Dun
Nicer sit down restaurant just west of Kauffman Stadium.
Did we miss something in our Kauffman Stadium Guide?
Baseball Bucket List relies on information from Bucketheads to keep our guides and resources up to date.
Have some insight about this ballpark that you'd like to share with the community? Let us know! We try to visit each park often, but changes can happen quickly. We're always looking for updated information about ballparks, the cities they're located in, and attractions nearby. If we include your tip in a guide, we'll give you credit whenever possible.