Great American Ball Park | Cincinnati Reds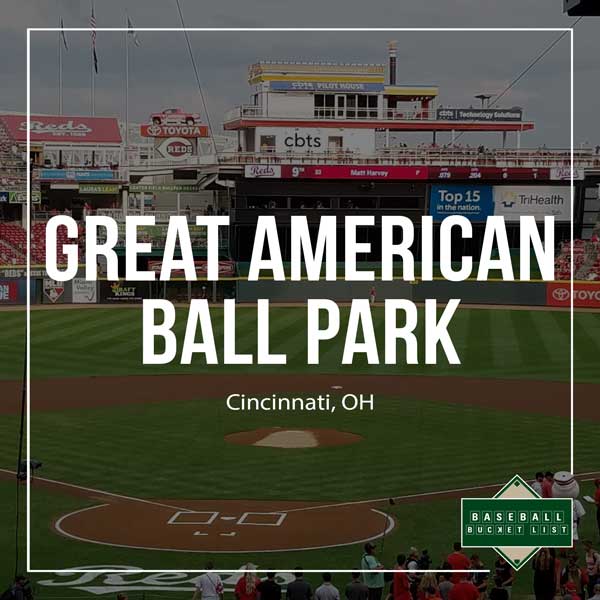 Quick Facts About Great American Ball Park
Year Opened
2003
Capacity
42,319
Home Club
Cincinnati Reds (1881)
Team Colors
Red, Black, White
Upcoming Homestands at Great American Ball Park
April 2022
| S | M | T | W | T | F | S |
| --- | --- | --- | --- | --- | --- | --- |
| | | | | | | |
| | | | | | | |
| | | | | | | |
| | | | | | | |
| | | | | | | |
May 2022
S
M
T
W
T
F
S
June 2022
| S | M | T | W | T | F | S |
| --- | --- | --- | --- | --- | --- | --- |
| | | | | | | |
| | | | | | | |
| | | | | | | |
| | | | | | | |
| | | | | | | |
July 2022
| S | M | T | W | T | F | S |
| --- | --- | --- | --- | --- | --- | --- |
| | | | | | | |
| | | | | | | |
| | | | | | | |
| | | | | | | |
| | | | | | | |
| | | | | | | |
August 2022
| S | M | T | W | T | F | S |
| --- | --- | --- | --- | --- | --- | --- |
| | | | | | | |
| | | | | | | |
| | | | | | | |
| | | | | | | |
| | | | | | | |
September 2022
| S | M | T | W | T | F | S |
| --- | --- | --- | --- | --- | --- | --- |
| | | | | | | |
| | | | | | | |
| | | | | | | |
| | | | | | | |
| | | | | | | |
October 2022
| S | M | T | W | T | F | S |
| --- | --- | --- | --- | --- | --- | --- |
| | | | | | | |
| | | | | | | |
| | | | | | | |
| | | | | | | |
| | | | | | | |
| | | | | | | |
No events.
November 2022
| S | M | T | W | T | F | S |
| --- | --- | --- | --- | --- | --- | --- |
| | | | | | | |
| | | | | | | |
| | | | | | | |
| | | | | | | |
| | | | | | | |
No events.
December 2022
| S | M | T | W | T | F | S |
| --- | --- | --- | --- | --- | --- | --- |
| | | | | | | |
| | | | | | | |
| | | | | | | |
| | | | | | | |
| | | | | | | |
No events.
January 2023
S
M
T
W
T
F
S
No events.
February 2023
| S | M | T | W | T | F | S |
| --- | --- | --- | --- | --- | --- | --- |
| | | | | | | |
| | | | | | | |
| | | | | | | |
| | | | | | | |
| | | | | | | |
No events.
March 2023
| S | M | T | W | T | F | S |
| --- | --- | --- | --- | --- | --- | --- |
| | | | | | | |
| | | | | | | |
| | | | | | | |
| | | | | | | |
| | | | | | | |
No events.
Great American Ball Park | Ballpark Info
Accommodations for Disabilities
Parking: Accessible parking spaces can be found in the Central Riverfront Garage for $20 and the East Garage for $12. To guarantee a space, you may wish to reserve one ahead of time on the Cincinnati Reds website here. If you are being dropped off at the ballpark, the designated zone is west of the ballpark, on Joe Nuxhall Way, between Freedom Way and Mehring Way. Your car must have a visible accessible plate or mirror placard.
Gates: All gates are accessible, so feel free to enter wherever makes the most sense for your seat. Most days, the gates will open 90 minutes before first pitch. But for games that start at 6:40pm in April, May, or September, Monday through Thursday, the gates will only open 1 hour ahead of the game.
Elevator: You can find elevators in the follow locations of the Great American Ball Park:
Section 101
Section 110
Section 121
Section 127
Section 135
Restrooms: All restrooms at the Great American Ball Park have accessible stalls. You can also find Family and companion restrooms in sections 101, 109. 120, 127, 136, 413, and 437.
Seating: Accessible seating is available throughout most of the entire park, with the exception of the 500 level, the 400 level in left field, which require steps to reach. We recommend reaching out to the Cincinnati Reds ticket office to get your tickets and any companion seating you may need. Call them at 513-765-7400.
Wheelchair Service: Find any GABP staff member to request wheelchair service, or let the security staff know as you make your way into the park. You can also visit a Guest Services booth in section 119 or 420 to request assistance. Wheelchairs are available only for escorts to and from your seat.
ATMs
If you prefer cash for walking vendors, you can find ATMs in the following areas:
Near the Lexus Diamond Club on Field Level
Near sections 113, 120, 127, & 134 on the Terrace Level
Inside Buffalo Wings and Rings on the Suite Level
Near sections 412 and 428 of the View Level
Bags
Backpacks are not allowed unless they are the single compartment drawstring kind. You can bring in soft-sided bags and coolers as long as they meet the MLB requirements of a maximum size of 16″ x 16″ x 8″.
Batting Practice
You can watch batting practice at the Great American Ball Park. For most games, gates open 90 minutes prior to first pitch. Reds BP starts 2 hours before each game, so you're likely to miss them, but can watch the visitors. During the months of April, May and September, games Monday – Thursday that start at 6:40 will have gates open only an hour before first pitch. There should only be a few of these games.
Bring Your Own Food
You can bring outside food into Great American Ball Park as long as it is individually portioned and wrapped. Both soft drinks and water are allowed as long as they are in sealed plastic bottles.
Charging Stations
Low on phone juice? You can find charging stations at the following locations:
Section 109
Section 137
PNC Diamond Club
Section 312
Guest Services
If you have any issues or questions while at the ballpark, please utilize Guest Services. Each MLB team has this department, and they are solely focused on making sure each fan has a safe and memorable time at the ballpark.
You can visit the Guest Services desks in sections 119 and 420.
If you need help from security while in the ballpark, you can text "REDS", your location, and a brief description of your issue to 69050. The security team should reply and dispatch help to your area.
Gates
For most games, all gates will open 90 minutes before first pitch. For games starting at 6:40pm Monday through Thursday in the months of April, May, and September, the gates will only open 1 hour before the start of the game. If you're lucky enough to attend Opening Day, gates usually open a full 2 hours before game time.
Promos
The Reds run promotions and giveaways throughout the season. See if your game is included here.
Family Sundays: The Reds run promotions for kids and families each Sunday home game. Kids are sometimes permitted to run the bases after the game. For more information about your specific game, check here.
Radio Broadcast
If you prefer to listen to the radio broadcast of the game from inside the park, tune to WLW 700 AM or WKFS 94.5 FM.
Restrooms
Restrooms are located throughout the entire park, so you'll never be far from one. You can find them in the following locations:
Women's restrooms: Sections 101, 106, 108, 115, 117, 128, 134, 141, 403, 410, 415, 417, 423, 427, & 433.
Men's restrooms: Sections 104, 109, 114, 116, 126, 136, 142, 404, 412, 417, 419, 425, 429, & 435.
Family and companion restrooms: Sections 101, 109, 120, 127, 136, 413, & 437.
Retired Numbers
The Reds are the oldest franchise in history, and have retired the numbers of 10 of their players. You can find the numbers on the facade at the base of the press box. They are:
# 1 – Fred Hutchinson (1965)
#5 – Johnny Bench (1984)
# 8 – Joe Morgan (1984)
# 10 – Sparky Anderson (2005)
#11 – Barry Larkin (2012)
#13 – David Concepcion (2007)
#14 – Pete Rose (2016)
#18 – Ted Kluszewski (1998)
#20 – Frank Robinson (1998)
#24 – Tony Perez (2000)
#42 – Jackie Robinson (Retired through all of MLB in 1997)
Tailgating
There is no official policy towards tailgating. We've heard reports that it is allowed and also not allowed.
Tours
As mentioned above, the Reds are the oldest club in history, so there is a lot to cover. You have several different options and price points for touring Great American Ball Park. All tours include access to the Cincinnati Reds Hall of Fame & Museum, which as you'll red below in the must do section, is well worth the cost!
Public Tours: Public tours are for the everyman and include stops in Crosley Terrace, the Moon Deck, the Field (warning track only), visitor bullpen and both dugouts. Tours run year round, but only on Saturdays and Sundays during the off season. The cost is $22 for adults, $17 for seniors, and $10 for kids 5-12 and military. For more information and to purchase tickets, visit the Reds website.
Major League Clubhouse Tours: This 2 hour VIP tour hits the stops listed in the public tour, as well as the press box, batting tunnels, media room, and both the home and visitor clubhouses. These tours only run on Saturdays from October through March. The cost is $34 for adults, $30 for seniors and students, $28 for military, and $20 for kids aged 5-12. For more information and to purchase tickets, visit the Reds website.
Premier Ballpark Experience: This is really cool, and also very expensive. If you have a group of 2-10 people, you can get a private tour of Great American Ball Park, which includes stops in the scoreboard operations room, right field, and the Reds bullpen (they'll let you throw some pitches!). You'll also get an hour long guided tour of the Reds Hall of Fame and Museum, and early access to watch the Reds take batting practice from the Right Field Sun/Moon Deck. The cost is steep at $150 a person, but includes a Field Level Box seat for the game. If you already purchased a ticket to the game, the Reds will work with you on the price. You'll need to make reservations at least 3 days in advance by calling the box office at 513-765-7923.
Great American Ball Park| Must Do
Check out Riverfront's Home Plate & Rose Garden
If you ever visited Riverfront Stadium, it may be nostalgic to find home plate. In the bottom level of the Central Riverfront garage, walk approximately 13 steps to your left. You'll see a bronze marker for where home plate sat. If you care to, you can also find the markers for the field goals, since Riverfront was a multi-purpose stadium where the Bengals also played football.
In between GABP and the Red's Hall of Fame is a rose garden meant to symbolize Pete Rose's 4,192nd hit. The rose garden is in the approximate location of where the ball landed on Riverfront Stadium's field.
Visit the Reds Hall of Fame & Museum
We've mentioned it before, the Reds are the oldest team in existence. That means there is a lot of history to cover, so you'll want to leave yourself plenty of time to peruse their museum. Unlike museum exhibits at other parks, the Reds Hall of Fame & Museum requires a separate ticket, which costs $12 for adults and $8 for seniors. Kids under 12 and military are free. Also unlike other parks, this museum is huge — 16,000 square feet to be exact. There are two floors to explore, full of items like jerseys, bronze statues of the Great Eight (from the Big Red Machine), and artifacts from the team's start in the 1800s. The museum also includes models and artifacts from the Reds' former parks. If you're a baseball card collector, you'll be in heaven as you peruse the George and Kim Vincent Baseball Archive, which includes pull out display cases, and a 1911 set of Turkey Red. The Reds' Hall of Fame and several World Series Trophies are also on display.
This place is an absolute must see. Don't forget that all tour purchases come with access to the Hall of Fame & Museum. You can get a tour of the park and access to the museum for $22 total, and you won't regret it. Open daily from 10am to 5pm. Purchase tickets here.
Check out the Reds Legends of Crosley Field, The Big Red Machine, and the Hit King's Statues
Try to approach the park from on Second St, and walk towards the main entrance of the park. As you walk up, you'll see three bronze statues lining Joe Nuxhall way. From left to right, you'll find Joe Morgan running between bases, Pete Rose making a headfirst slide into a base, and Tony Perez in the follow-through of his 1975 World Series Game 7 home run. When standing directly in front of the Perez statue, turn around and look towards the top of the apartment building across the street. Mounted on the roof, you'll see the baseball Perez swatted.
As you walk up to the main entrance of Great American Ball Park, you'll find a group of sculptures depicting four famous reds from the Crosley Field era. The scene is of Joe Nuxhall pitching to a batting Frank Robinson. Ernie Lombardi is behind the plate while Ted Kluszewski stands ready in the on-deck circle. The Reds held a fan vote to determine the 4 Reds who best represented the team during the Crosley Field era.
Instead of heading into the ballpark at the main gate, take a right and walk towards the next entrance. Just a few steps from the main entrance to the Hall of Fame (in the breezeway), you'll find a statue of Johnny Bench throwing out a runner trying to steal a base.
Enjoy the Artwork
Outside of the main gate is a huge 50′ x 20′ limestone mural depicting Cincinnati's history with baseball. Just inside the gate, there are two large Italian tile mosaics of the Great Eight and the 1869 Red Stockings. The Great Eight was the core of the Big Red Machine, which won back to back World Series Championships in 1975 and 76. The 1869 Red Stockings were the first professional baseball team in existence.
Keep an Eye on the Riverboat Stacks
From the upper deck, you can see the Ohio River over the outfield. This is a major difference from the Reds former ballpark Riverfront Stadium, which offered exactly 0 views of the river. The Reds really took advantage of the view and ran with the river theme. In right center, you'll see two "smoke stacks" to the right of a riverboat themed party area. You can rent out the entire section if you have 180 people. The power stacks are the home run feature at GABP. They release a blast of fire into the air when a Red hits a home run, or throws a strike out. If you're sitting near them in the outfield, you can really feel the heat that comes off of them!
Did we forget something?
Baseball Bucket List relies on information from Bucketheads to keep our guides and resources up to date.
Great American Ball Park | Transportation and Parking
Great American Ball Park is located along the north bank of the Ohio River in downtown Cincinnati. This makes for great shopping and eating around the ballpark, as well as a great view from inside. However, as with any downtown ballpark, this can present traffic headaches. Be sure to leave yourself plenty of time to get to the ballgame. Something unique about GABP is that you're just minutes away from Kentucky, which really opens up your parking options. Check out the surrounding bars and restaurants. These can be great places to kill time before or after the ballgame.
Official Great American Ball Park Lots
There are several official lots to choose from, but three main garages. The Reds sell pre-paid parking passes by color: yellow, blue and green. Yellow passes get access to the Central Riverfront Garage, which is closest to the ballpark. You should also park here if you want to see the home plate marker from Riverfront Stadium. Blue passes get you into the East Garage, which is a bit of a further walk, but will probably be less expensive. Green passes access the Central Riverfront Garage West, which is also very close to the park. The pricing in these garages can range from $5 – $20+ depending on the day of the week and opponent. Check your parking pass options when you purchase your tickets. If the price is reasonable, go ahead and snag a pass ahead of time just to avoid the headache of finding a place to park. If the price makes you uneasy, know that you can find cheaper and even free parking a short walk from the park.
Off-Site / Free Parking Options Near Great American Ball Park
Great American Ball Park is in very close proximity to Paul Brown Stadium (Cincinnati Bengals) and Heritage Bank Center (Cincinnati Cyclones of the ECHL), so there will be plenty of off-site parking options available. You'll find lots and garages near the ballpark. Your best option for off-site parking is probably actually to park in Newport or Covington Kentucky for very cheap, then walk across the bridge into Cincinnati. Head to Covington and make a lap around the neighborhood. It should be easy to find street parking there. Just be sure to check signage before you leave your car. In Newport, you'll find several $5-$10 surface lot or garage parking options as well.
The Southgate Shuttle is run by the Transit Authority of Northern Kentucky, but will venture into Cincinnati. The shuttle has multiple stops in both Covington and Newport, and stops near the ballpark as well. For $1 fare, you'll be at the ballpark in no time.
Public Transportation
In addition to the Southgate Shuttle mentioned above, you can also take the streetcar. If you plan on staying downtown, the Cincinnati Bell Connector could be your best bet. You can get a day pass for $2, and it stops at Second and Joe Nuxhall Way, just outside of the main entrance to the ballpark.
Don't forget to ask your hotel if they have a shuttle service that runs to GABP!
Uber & Lyft
There's no official rideshare drop off location at the ballpark. If you want to use Uber or Lyft, your best bet may be to walk a block or two away from the park after the game before calling your driver.
If you're new to Uber, you can use this link to get a discount on your first few rides.
Join the Baseball Bucket List community
Create your own bucket list, track ballpark visits, and connect with other fans.
Great American Ball Park | Best Seats
Best Seats for Game Views
Great American Ball Park has great site lines from almost everywhere in the park. If you want to see the river and skyline, you'll need to move up to the highest level (500). If you can manage to get in a section relatively close to behind home plate, you'll still be close to the action. For example, in 523, you'll get great views of the field, the water (maybe even a ferry!), and the entire park. The 400 level offers great views of the field, with a few glimpses of water. If you choose the 200 level, you'll be close to the action but will miss out on the scenery.
Best Seats for Value
If you have the confidence to try and move down to a lower section after a few innings, your best ticket will be the Fioptics District Patio. The Patio is way up high in left field, and is more of a social area. But it's $15, and comes with a $9 food and beverage voucher. If you are one who likes to stroll around the park and doesn't pay much attention to the game, this is a great way to do it.
Where not to Sit
There aren't any horrifically obstructed views in this park, so just be mindful of the obvious things like foul poles. Also keep in mind that the main scoreboard is in Left Field. Sitting way up high and deep in the corner of left field (section 510) can be cheap, but a little awkwardly positioned on the field. You'll be turning your neck towards home all game.
Best Seats for Shade
The 1B side of the park is going to get shade first. Keep in mind that the sun won't actually set during a Cincinnati summer until around 9:00pm. During day games, the sun will be especially brutal. The shade will start to creep in along the 1B foul pole, so seats in that vicinity would be a good bet. Even though you'll be further from the action, the seats in the back rows of the 500 level will get shade from the overhang. You'll definitely want to avoid seats in the outfield or on the 3B side for day games.
Best Seats for Foul Balls
Trying to take home a souvenir from Great American Ball Park? According to foulballz.com, your best chances will be along hte 1B side in sections 127-131, and 116-119 on the 3B line.
Great American Ball Park | Ballpark Food
Beer!
If you are a fan of beer (who isn't?) you must stop by the Reds Brewery District. If you are a fan of IPAs, give the Mad Tree Rounding Third Red IPA a try. If you don't like IPAs, don't worry, this 85-foot bar has 60 taps, including 23 craft beers. Find it near section 118.
The Must Have: Skyline Chili
You haven't really visited Cincinnati unless you've had Skyline Chili. Some will recommend that you get the true experience outside of the ballpark, and that the markup on a coney inside the park is about 4x. Just make sure you get one from somewhere, inside out outside of the park! Find Skyline in sections 103, 116, 130, 518, and 533.
Something Special: Mr. Red's Smokehouse
In the right field corner, you'll find Mr. Red's Smokehouse. For each series, they will theme a special meal after the visiting team. Great food and food puns? We're all in.
The Challenge: FryBox
FryBox offers boxes of french fries topped with just about anything you can imagine. Think of them as nachos with fries instead of chips. For example, some of their offerings include buffalo fries, pulled pork fries, goetta gravy fries, and even smore's fries. These things are huge and big enough to feed 2 or more people. Find them in 137, 112, and 434.
Vegetarian and Vegan Options at Great American Ball Park
Great American Ball Park has several meatless options like cheese pizza, nachos, popcorn and kettle corn. The vegan options leave a lot to be desired though. You can find veggie dogs in sections 118, 516, and 525. You can also find hummus from the Grab 'n Go Markets in sections 127 and 427.
Did we forget something?
Baseball Bucket List relies on information from Bucketheads to keep our guides and resources up to date.
Great American Ball Park | Surrounding Area
Moerlein Lager House
Gigantic restaurant, bar, and microbrewery right next to the ballpark.
O'Malley's In the Alley
The second oldest bar in Cincinnati, and a local favorite.
Taste of Belgium - The Banks
As featured on Diners, Drive-Ins & Dives. Waffle house with beer, cocktails, and dinner entrees.
Did We Forget Something in Our
Great American Ball Park Guide?
Baseball Bucket List relies on information from Bucketheads to keep our guides and resources up to date.
Have some insight about this ballpark that you'd like to share with the community? Let us know! We try to visit each park often, but changes can happen quickly. We're always looking for updated information about ballparks, the cities they're located in, and attractions nearby. If we include your tip in a guide, we'll give you credit whenever possible.