Fenway Park | Boston Red Sox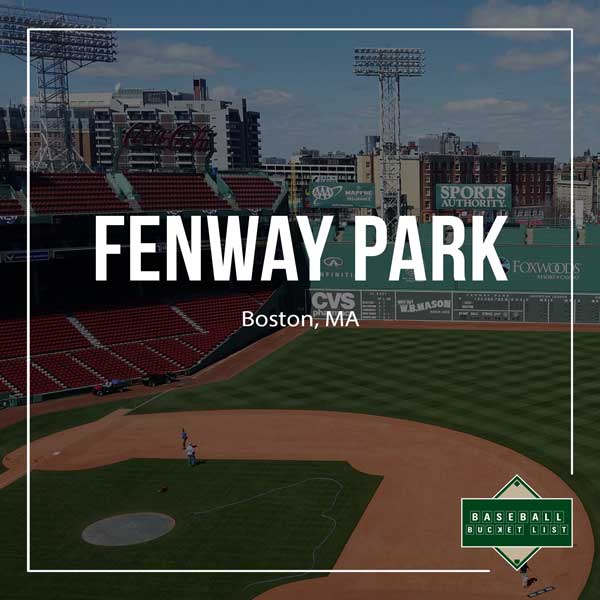 Quick Facts About Fenway Park
Year Completed
1912 (Oldest in MLB)
Capacity
Day: 37,305
Night: 37,755 (26th largest in MLB)
Home Club
Boston Red Sox (1901)
Team Colors
Navy Blue, Red
Ballpark Nicknames
America's Most Beloved Ballpark, Friendly Fenway, The Cathedral Of Baseball
Upcoming Homestands at Fenway Park
March 2023
| S | M | T | W | T | F | S |
| --- | --- | --- | --- | --- | --- | --- |
| | | | | | | |
| | | | | | | |
| | | | | | | |
| | | | | | | |
| | | | | | | |
April 2023
| S | M | T | W | T | F | S |
| --- | --- | --- | --- | --- | --- | --- |
| | | | | | | |
| | | | | | | |
| | | | | | | |
| | | | | | | |
| | | | | | | |
| | | | | | | |
May 2023
| S | M | T | W | T | F | S |
| --- | --- | --- | --- | --- | --- | --- |
| | | | | | | |
| | | | | | | |
| | | | | | | |
| | | | | | | |
| | | | | | | |
June 2023
| S | M | T | W | T | F | S |
| --- | --- | --- | --- | --- | --- | --- |
| | | | | | | |
| | | | | | | |
| | | | | | | |
| | | | | | | |
| | | | | | | |
July 2023
| S | M | T | W | T | F | S |
| --- | --- | --- | --- | --- | --- | --- |
| | | | | | | |
| | | | | | | |
| | | | | | | |
| | | | | | | |
| | | | | | | |
| | | | | | | |
August 2023
| S | M | T | W | T | F | S |
| --- | --- | --- | --- | --- | --- | --- |
| | | | | | | |
| | | | | | | |
| | | | | | | |
| | | | | | | |
| | | | | | | |
September 2023
| S | M | T | W | T | F | S |
| --- | --- | --- | --- | --- | --- | --- |
| | | | | | | |
| | | | | | | |
| | | | | | | |
| | | | | | | |
| | | | | | | |
October 2023
| S | M | T | W | T | F | S |
| --- | --- | --- | --- | --- | --- | --- |
| | | | | | | |
| | | | | | | |
| | | | | | | |
| | | | | | | |
| | | | | | | |
No events.
November 2023
| S | M | T | W | T | F | S |
| --- | --- | --- | --- | --- | --- | --- |
| | | | | | | |
| | | | | | | |
| | | | | | | |
| | | | | | | |
| | | | | | | |
No events.
December 2023
| S | M | T | W | T | F | S |
| --- | --- | --- | --- | --- | --- | --- |
| | | | | | | |
| | | | | | | |
| | | | | | | |
| | | | | | | |
| | | | | | | |
| | | | | | | |
No events.
January 2024
| S | M | T | W | T | F | S |
| --- | --- | --- | --- | --- | --- | --- |
| | | | | | | |
| | | | | | | |
| | | | | | | |
| | | | | | | |
| | | | | | | |
No events.
February 2024
| S | M | T | W | T | F | S |
| --- | --- | --- | --- | --- | --- | --- |
| | | | | | | |
| | | | | | | |
| | | | | | | |
| | | | | | | |
| | | | | | | |
No events.
March 2024
| S | M | T | W | T | F | S |
| --- | --- | --- | --- | --- | --- | --- |
| | | | | | | |
| | | | | | | |
| | | | | | | |
| | | | | | | |
| | | | | | | |
| | | | | | | |
No events.
April 2024
| S | M | T | W | T | F | S |
| --- | --- | --- | --- | --- | --- | --- |
| | | | | | | |
| | | | | | | |
| | | | | | | |
| | | | | | | |
| | | | | | | |
No events.
May 2024
| S | M | T | W | T | F | S |
| --- | --- | --- | --- | --- | --- | --- |
| | | | | | | |
| | | | | | | |
| | | | | | | |
| | | | | | | |
| | | | | | | |
No events.
Fenway Park | Ballpark Info
Accommodations for Disabilities
There are a few parking spots outside of Fenway that are designated as accessible parking spaces. Most of them are located on Jersey Street between Van Ness St. and Boylston St. These spots are metered during the day, but become handicap priority spaces during Red Sox games. All gates are hadicap accessible. Elevators can be found at gates D, B, and E.
Bags
Make sure any bag you bring in is 16" x 16" x 8", or smaller.
Batting Practice
Batting practice at Fenway Park can vary depending on the visiting team. Your best bet is to arrive at the ballpark as soon as the gates open, 90 minutes before first pitch.
Bring Your Own Food
Per Fenway Park policy, fans are not allowed to bring outside food into the stadium, but you can bring in one, clear, unopened 16 oz. bottle of water.
Fan Services
If you have any issues or questions while at the ballpark, please utilize Fan Services. Each MLB team has this department, and they are solely focused on making sure each fan has a safe and memorable time at the ballpark.
Call Fenway Park fan services at 617-226-6831 or visit any of the booths at gates B and E.
Game Day Tickets
A limited number of tickets for that day's game are sold at Gate E on Lansdowne St beginning 90 minutes prior to all games. Tickets are sold on a first-come, first-served basis, while supplies last. Fans may assemble in line beginning five hours prior to game time. Fans must remain in line to participate in the game day purchase opportunity process. Fans are not allowed to hold spaces in line for other fans. Fans will be required to enter the ballpark immediately upon purchase at Gate E. Consequently, a one ticket limit is set per person for game day sales.
Gates
All Fenway Park gates open 90 minutes prior to the scheduled start time of every game.
Re-entry
Please be aware that there is absolutely no re-entry allowed at Fenway Park. Upon exiting the park for any reason, fans are unable to return.
Restrooms
Restrooms can be found at the following locations:
On Main and Lower Concourses: Left Field Grandstand, Gate C, Gate D Concourse, Gate E, Infield Concourse, Main Concourse, Right Field Boxes, Ford Clubhouse.
Family restrooms can be located at Gate E. There is also a changing table on the Pavilion Level.
Tours
Ballpark tours are available year-round, daily, from 10:00 am to 5:00 pm (or 3 hours before game time), starting at the top of each hour. Tours last one hour and are also available in Spanish and Japanese, with advance notice. Tours depart from the Team Store on Jersey Street (across from Gate A). Tickets can be purchased online, at the Gate D ticket booth or the main ticket office. Children under 3 yrs. are free. www.redsox.com/tours
Get to the ballpark early so you can take a look at the following attractions.
Visit Pesky's Pole
Pesky's Pole is the foul pole along the first base line. Only 302 feet from home plate, it marks the shortest outfield distance in the entire MLB. Since the field wraps a bit in that location, it's not often you see a home run hit near the pole. It was named for Johnny Pesky who hit very few home runs, but had a tendency to wrap those he did hit around the pole.
Autograph Alley
Prior to each home game, a former Boston Red Sox player, coach, or personality will sign autographs free of charge. You can find Autograph Alley in the Jersey Street Team Store.
The Lone Red Seat
In section 42, Row 37, you'll notice that seat 21 is the only seat in the entire section that is red. This seat marks the longest home run hit in the history of Fenway. The homer was measured at 502 feet and was hit by beloved Red Sox, Ted Willams in 1946.
Jersey Street
previously Yawkey Way up until 2018, is an extension of the Fenway Park concourse during Red Sox home games and other special events. This public street is blocked off to traffic three hours before game time, and reopens to ticketed Red Sox game patrons once the ballpark officially opens. You'll find concessions, live music, family entertainment, the official Red Sox Team Store, Autograph Alley, and more. Jersey Street runs from Brookline Avenue at Gate A to Van Ness Street at Gate D.
The Green Monster
The Green Monster is one of those things you have to see in person before you can really appreciate how gigantic it is. The left field wall measure 27 feet, 2 inches wide. You can find terrance-style seating on top of the Green Monster, along with some of the most unique views in all of baseball.
Kid Friendly Ballpark Experiences
Wally's Clubhouse located in the Champions Club on the Kids Concourse
Bobblehead Display (Outside the Right Field Team Store)
Did we forget something?
Baseball Bucket List relies on information from Bucketheads to keep our guides and resources up to date.
Fenway Park | Transportation and Parking
As with most inner-city ballparks, parking is few and far between at Fenway. You can expect to pay ridiculous fees to park nearby. You're much better off taking public transport or a ride share service into the Kenmore Square area.
Fenway Park Lots
The Red Sox strongly encourage fans to take public transportation to games. Since the ballpark is the oldest in the league, and located in the inner-city, you won't find traditional lots like you do at most other parks.
Your best bet if you are driving in is to find a garage that is nearby the park. Some of your best options are:
120 Brookline Ave
105 Van Ness Lot
Rite Aid
Verb Hotel
Sheraton Boston
The Red Sox have recently started pitching a service called ParkWhiz to help fans find parking on game day. Check it out.
Public Transportation
The Red Sox encourage public transportation to decrease traffic in the area. Hands down, taking the Bus or Rail into the Kenmore area is going to be the easiest for fans, especially those who aren't familiar with driving in the area.
The MBTA Bus
Routes 1, 8, 19, 47, 55, 57, 60, 65, CT1, CT2, and CT3 have bus stops within walking distance of Fenway Park.
The T
You can take the Red, Orange, Blue, or Silver lines into Fenway, then transfer to the B, C, or D train to Kenmore. If you're not familiar with navigating public transportation, use the MBTA's planning tool to plot your route.
Uber & Lyft
If you'd rather not drive, or take public transportation, Uber and Lyft are great options for getting to and from Fenway Park. Uber is the official rideshare company endorsed by the Red Sox, so you'll see their logo everywhere. Don't worry, Lyft is still allowed to pickup and drop off at the ballpark. In fact, you may be better off calling a Lyft since everyone else will be staring at Uber signage all night.
Drivers know to pick up up in the official rideshare zones on Boylston St. and Beacon St. Don't be afraid to call your car as you're walking out of the park. you'll be waiting on it for awhile. You may want to consider heading over to a nearby bar to wait out the post-game rush.
If you're new to Uber, you can use this link to get a discount on your first few rides.
Join the Baseball Bucket List community
Create your own bucket list, track ballpark visits, and connect with other fans.
Best Seats for Red Sox History
In section 42, Row 37, you'll notice that seat 21 is the only seat in the entire section that is red. This seat marks the longest home run hit in the history of Fenway. The homer was measured at 502 feet and was hit by beloved Red Sox, Ted Willams in 1946.
Best Seats for Game Views
If you can scrape together a few pennies, highly sought-after seats atop the Green Monster, also known as "Monster Seats", can go for a couple hundred dollars a piece. To purchase them you have to enter an online lottery on the Red Sox website, or go through a ticket broker.
Where NOT to sit
Fenway is the oldest park in all of baseball. This means that it has more obstructed views than most of the more modern parks, largely due to the poles that support the upper deck. You'll find the majority of these poles in the Grandstand area. So how much can the view really be obstructed? Well, the Red Sox used to sell these seats at a discounted rate to make up for the obstruction. That's gone out the window now, so you're on your own to make sure you find a great view. The best rule of thumb is to avoid seats at the ends of rows in the grandstand sections. If the row is extra long, there may be a support pole in the middle too. If you're not sure about your seat, take a look at perciseseating.com, a website dedicated to seating at Fenway Park.
Best Seats for Shade
If you're looking for shade, you'll want to find seats on the third base side, especially in the Grandstand. You'll be covered and have the sun behind you, making it a very pleasant experience.
Best Seats for Foul Balls
Looking to catch a foul ball at Fenway Park? According to foulballz.com, the best sections to do so are 53, 64, 142-150 on the third base side and 20-37 and 112-124 on the first base side.
Fenway Park | Ballpark Food
Admittedly, Fenway Park isn't notorious for their amazing selection of unique ballpark fare, but there are some classics that will do if you're just wanting something so snack on while you watch the game.
The Must Have: Roasted Peanuts and a Boston Brew
You can't go wrong with a good 'ole bag of roasted peanuts and a cold Harpoon beer, locally brewed in Boston. If you're looking for something a little more substantial, sausage with peppers and onions is a safe bet and can be found right outside the park on Jersey Street.
Something Special: New England Clam Chowder
So you're in Boston at a chilly night game in April, what's more iconic than a hot cup of "chowda" from a local favorite, Legal Sea Foods. Here's where you can grab yourself some: Home Plate Concourse, Big Concourse, Right Field Roof Deck and Jersey Street.
The Challenge: Fried Dough Sundae
A giant piece of fried dough, piled high with ice cream and your choice of toppings. Big enough to share with the person(s) sitting next to you, this mouth-watering, gut-buster can be found at the Big Concourse, First Base Concourse, and the Visitor's Clubhouse Area.
Vegetarian and Vegan Options at Fenway Park
Veggie burgers and veggie dogs can be found in the Visitor's Clubhouse Area. There is also a build-your-own salad bar at Fenway's Rooftop Farm, located in the Big Concourse.
Gluten Free/Friendly Options at Fenway Park
You can find hot dogs with gluten-free buns at the Home Plate Concourse, and gluten-free pizza all around the park including Home Plate Deck, the Gate E Concourse, the Big Concourse, Homeplate Concourse, and the Pavilion Level.
Kosher food Options at Fenway Park
Kosher food options at Fenway Park are located in the Big Concourse.
Did we forget something?
Baseball Bucket List relies on information from Bucketheads to keep our guides and resources up to date.
Fenway Park | Surrounding Area
Bleacher Bar
Bleacher Bar is a cool little spot beneath Fenway Park's bleachers that has a view of centerfield.
Yardhouse
Family friendly chain restaurant with something for everyone.
Did we forget something?
Baseball Bucket List relies on information from Bucketheads to keep our guides and resources up to date.
Have some insight about one of the ballparks that you'd like to share with the community? Let us know! We try to visit each park often, but changes can happen quickly. We're always looking for updated information about ballparks, the cities they're located in, and attractions nearby. If we include your tip in a guide, we'll give you credit whenever possible.