Coors Field | Colorado Rockies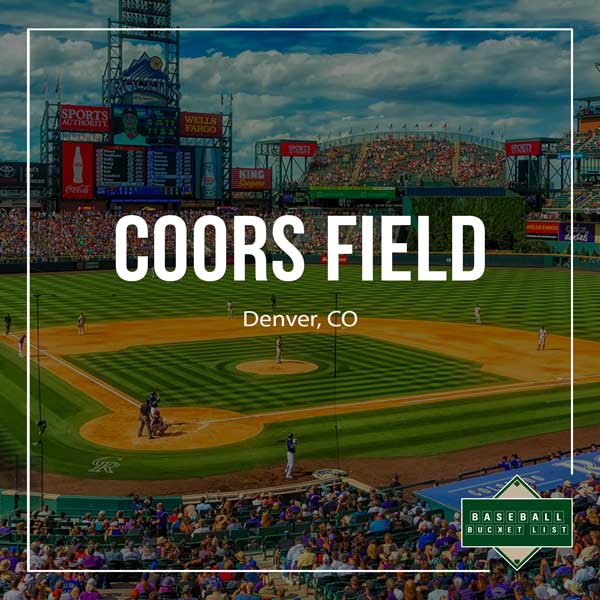 Quick Facts About Coors Field
Year Opened
1995
Capacity
50,144
Home Club
Colorado Rockies (1991)
Team Colors
Purple, Black, Silver
Ballpark Nicknames
"Coors Canaveral", "Williamsport"
Upcoming Homestands at Coors Field
April 2022
| S | M | T | W | T | F | S |
| --- | --- | --- | --- | --- | --- | --- |
| | | | | | | |
| | | | | | | |
| | | | | | | |
| | | | | | | |
| | | | | | | |
May 2022
S
M
T
W
T
F
S
June 2022
| S | M | T | W | T | F | S |
| --- | --- | --- | --- | --- | --- | --- |
| | | | | | | |
| | | | | | | |
| | | | | | | |
| | | | | | | |
| | | | | | | |
July 2022
| S | M | T | W | T | F | S |
| --- | --- | --- | --- | --- | --- | --- |
| | | | | | | |
| | | | | | | |
| | | | | | | |
| | | | | | | |
| | | | | | | |
| | | | | | | |
August 2022
| S | M | T | W | T | F | S |
| --- | --- | --- | --- | --- | --- | --- |
| | | | | | | |
| | | | | | | |
| | | | | | | |
| | | | | | | |
| | | | | | | |
September 2022
| S | M | T | W | T | F | S |
| --- | --- | --- | --- | --- | --- | --- |
| | | | | | | |
| | | | | | | |
| | | | | | | |
| | | | | | | |
| | | | | | | |
October 2022
| S | M | T | W | T | F | S |
| --- | --- | --- | --- | --- | --- | --- |
| | | | | | | |
| | | | | | | |
| | | | | | | |
| | | | | | | |
| | | | | | | |
| | | | | | | |
No events.
November 2022
| S | M | T | W | T | F | S |
| --- | --- | --- | --- | --- | --- | --- |
| | | | | | | |
| | | | | | | |
| | | | | | | |
| | | | | | | |
| | | | | | | |
No events.
December 2022
| S | M | T | W | T | F | S |
| --- | --- | --- | --- | --- | --- | --- |
| | | | | | | |
| | | | | | | |
| | | | | | | |
| | | | | | | |
| | | | | | | |
No events.
January 2023
S
M
T
W
T
F
S
No events.
February 2023
| S | M | T | W | T | F | S |
| --- | --- | --- | --- | --- | --- | --- |
| | | | | | | |
| | | | | | | |
| | | | | | | |
| | | | | | | |
| | | | | | | |
No events.
March 2023
| S | M | T | W | T | F | S |
| --- | --- | --- | --- | --- | --- | --- |
| | | | | | | |
| | | | | | | |
| | | | | | | |
| | | | | | | |
| | | | | | | |
No events.
Coors Field | Ballpark Info
Accommodations for Disabilities
The Rockies want everyone to have an awesome experience at Coors Field, and have worked hard to make the ballpark accessible to all. If we haven't answered your question below, reach out to the Rockies at 303-762-5437.
Parking: There are around 300 accessible parking spaces in Lot A, which is near Gate A. Gate A is close to the lot and is an accessible entrance with quick access to elevators and ramps. You can purchase a special parking pass on the day of the game, which is around $18.00.
Gates: All gates at Coors Field are accessible, so feel free to enter wherever makes the most sense for your seats.
Elevator: You can find elevators in the following sections of Coors Field:
Near Gate A in section 105
Near Gate B in section 111
Near Gate D in section 130
Near Gate E in section 147
Underneath the Rockpile in centerfield
Ramps: If you prefer to use the ramps instead of the elevators, you can find them near Gate A and Gate E. The ramp near Gate A leads to all main levels, while the ramp near Gate E only leads to the club, suite, and upper levels.
Restrooms: All restrooms at Coors Field include accessible stalls and washing areas. You can also find family and companion restrooms in the sections 124, 135, 149, 222, 311, and 339.
Seating: The Rockies offer accessible seating and companion seating throughout the entire park. You can choose from any level, and spend as much or as little as you want. You can purchase tickets online directly from The Colorado Rockies here.
Wheelchair Service: If you need assistance to your seat, guest services will be happy to help. As you come through the gate, just let one of the security guards or ticket takers know that you would like wheelchair assistance. Someone in your party can also visit the guest services desk in section 127. Wheelchairs are only used to take guests to and from seats.
ATMs
If you prefer cash for walking vendors, you can find ATMs at Coors Field in the following locations:
Section 114
Section 123
Section 147
Section 234
section 396
Section 330
Bags
You may bring bags into Coors Field as long as they are soft-sided and within the MLB's maximum bag size of 16″ x 16″ x 8″.
Batting Practice
Gates A (Right Field) and E (Left Field) open 2 hours before first pitch. If you get there right as they open, you may catch the tail end of the home team's BP. You won't have access to the entire concourse and must stay in the outfield for the first 30 minutes. When the remaining gates open 90 minutes before the game starts, you'll be free to explore the whole park.
Bring Your Own Food
You can bring outside food into Coors Field as long as it is an individual serving size (no full size pizza boxes). Wrap the items so it's easy to determine what they are. You can also bring in plastic beverage containers. Feel free to bring milk and juice packs for the kids, and glass jars of baby food.
Charging Stations
Low on phone juice? You can find charging stations at the following locations:
Section 109
Section 137
PNC Diamond Club
Section 312
Guest Services
If you have any issues or questions while at the ballpark, please utilize Guest Services. Each MLB team has this department, and they are solely focused on making sure each fan has a safe and memorable time at the ballpark.
You can find the Guest Services desk in section 127 or call them at 303-762-5437.
Gates
Gates A and E open 2 hours before first pitch. You'll have to stay within the Left Field Pavilion area for the first 30 minutes, when the remaining gates open — 90 minutes before first pitch.
Promos
Radio Broadcast
If you like listening to the ballgame on the radio from inside the park, tune to KOA 850 AM.
Restrooms
You can find restrooms throughout Coors Field, so you'll never be too far from one.
Women's restroom locations: 101, 107, 116, 126, 131, 141, 146, 149, 156, 204, 216, 221, 226, 235, 242, 244, 302, 308, 315, 321, 328, 333, 338, 343, and 403.
Men's restroom locations: 102, 110, 118, 133, 142, 150, 153, 203, 215, 225, 234, 241, 245, 302, 308, 318, 326, 331, 335, 342, and 401.
Family and companion restroom locations: 124, 135, 149, 222, 311, and 339.
Retired Numbers
The Colorado Rockies have only retired 1 number so far. You can find Helton and Robinson's numbers marked with baseball shaped placards on the facade of section 106 in right field.
#17 — Todd Helton (2014)
#42 — Jackie Robison (Retired throughout the MLB in 1997)
You'll also see the initials KSM with the retired numbers. These are to honor Keli McGregor, the long time president of the Colorado Rockies who passed away in 2010.
Tailgating
There is no tailgating allowed in the official Coors Field parking lots.
Tours
Coors Field is a beautiful park and a tour is highly recommended. Tours are offered Monday through Saturday and cost $12 for adults and $9 for both seniors and children. You can purchase tour tickets ahead of time or from the ticket window before the tour starts. For more information, times, and tickets, visit the Rockies website here.
Snap a photo with "The Player" and the Clock
Oddly, the Rockies don't have any statues of their own players. Instead, they have a generic baseball player standing outside of the home plate gate. While "The Player" isn't a depiction of anyone in particular, the Rockies added it in 2005 to commemorate Branch Rickey. Rickey was a past GM and President of the LA Dodgers and is most known for signing Jackie Robinson. The statue makes for a great photo opp, especially if you can also frame up the analog clock sitting atop the gate.
The Rooftop
The Rooftop is one of the coolest social concepts in Major League Baseball. It offers a full bar with specialty drinks, lawn games, and great views of downtown and the mountains. Prior to the start of the game, the Rooftop runs a happy hour with $3 Coors Lights. This area is open to all fans and doesn't require a special ticket for entry. However, the Rockies do sell Rooftop tickets for general admission in sections 310-314. Those tickets are $15 and you'll get $6 in concession or merchandise credit. That's a great deal! Just keep in mind that the Rooftop is literally a mile above sea level, and can feel far from the field. If you're interested in the baseball game that's being played below, this will be more of a novelty spot for you, since the atmosphere can be pretty partyish.
Watch for The Fountains
In center field, you'll see 7 fountains that shoot water nearly 40 feet in the air. They go off at the beginning of the game, every time a Rockies player hits a home run, and during the 7th inning stretch. The area surrounding the fountains is also beautifully landscaped with trees and plants native to Colorado. The visitors bullpen is open to the fountain and landscaped area, which is completely unique to the MLB. Watch the video below. If you didn't know Fernando Rodney was an MLB pitcher, you'd swear he was out for a hike somewhere in Colorado.
Sit in the Purple Seats
There's a reason Denver is nicknamed the "Mile High City". In the 300 level, you'll see a row of purple seats spanning the entire seating area. The purple line marks a mile above sea level. The purple seats are definitely "up there". There are only about 5 rows of seats that are actually higher than them. It's a pretty cool photo opp though, so it may be worth the hike.
Did we forget something?
Baseball Bucket List relies on information from Bucketheads to keep our guides and resources up to date.
Coors Field | Transportation and Parking
The official lots at Coors Field are relatively cheap compared to other ballparks. Still, there are better options available nearby. Take some time to research your parking plan before you head to the game. To take some of the stress out of gameday, we recommend reserving a spot early, or planning on public transportation.
Join the Baseball Bucket List community
Create your own bucket list, track ballpark visits, and connect with other fans.
Best Seats for Game Views
Coors Field has great site lines from everywhere. Even the upper deck inside the seating bowl feels close to the action. If you're attending a night game, we recommend sitting on the 1B side in sections 221 – 223. If you happen to be a Wells Fargo account holder, you may be able to utilize a 2-for-1 offer here. These seats will offer great game views, a straight on view of the scoreboard, and a great look at the sunset. You'll be in the sun for the first inning or two, so be sure to wear your sunscreen and bring some shades. If staying out of the sun is more important than seeing a good sunset, try the same level on the 3B side, which will be shaded first.
Check out the Rockies' seat finder on their website to see the view from each section.
Where not to Sit
There aren't any awful obstructions at Coors Field. Just be cognizant of foul poles and your ability to see the scoreboard. The scoreboard is in left center field, since the Rockpile risers are straight away to dead center. The Rockpile is a cool idea (and dirt cheap — like $5), but feels like you're miles away from the ballgame. If you are there for the game, these are not your seats. The same can be said for the general admission area near the Rooftop bar. As a heads up, there is no alcohol allowed in section 342.
Best Seats for Shade
To stay out of the sun you'll want to sit on the 3B side and aim for the last few rows of each of the sections. One thing to keep in mind is that since the sun has less atmosphere to cut through, you'll get burned much faster than normal, so be sure to wear your sunscreen!
Best Seats for Foul Balls
Coors Field is a hitter's park. Because of the elevation, the ball travels farther than it would at other ballparks, so pay extra attention for foul balls. Even if you are sitting in one of the upper sections, you may be surprised at how often the ball travels up there. According to foulballz.com your best chances for snagging a foul ball at Coors Field are in sections 137-140 on the 3B side, and 121-124 on the 1B side.
Coors Field | Ballpark Food
The Must Have: Rocky Mountain Oysters
If you have to ask what they are, you don't want to know. But Rocky Mountain Oysters are a classic Denver dish. Find them in section 144.
Something Special: A Dog from Biker Jim's
Biker Jim's is a super popular gourmet dog place with a proper location just outside of Coors Field. They also have two stands inside of Coors Park that are wildly successful. The menu isn't as robust as the Biker Jim's restaurant, but you can still get a Reindeer Sausage, a Louisiana Red Hot, or a Bacon Cheddar dog. Sections 107 and 331.
The Challenge: The Colorado Queso Stack
Try this huge serving of waffle fries topped with green chilies, pork carnitas, pico, sour cream and jalapenos. Find it in section 305.
Vegetarian and Vegan Options at Coors Field
Biker Jim's (sections 107 and 331) offer a vegan dog. You'll also find veggie burgers in sections 120 and 137, along with some salad and wrap offerings. On the club level (200 level), you'll find Mountain Ranch Bar & Grille, which offers a hummus platter and some salads.
Did we forget something?
Baseball Bucket List relies on information from Bucketheads to keep our guides and resources up to date.
Coors Field | Surrounding Area
ViewHouse Ballpark
Restaurant and bar with great views of Denver and Coors Field.
Cherry Cricket
Denver institution known for their burgers.
Tap Fourteen - Rooftop Beer Garden
Laid-back rooftop beer garden.
Giggling Grizzly
Cozy and rustic bar that will be less crowded than the others we've mentioned.
Did We Miss Something in our Coors Field Guide?
Baseball Bucket List relies on information from Bucketheads to keep our guides and resources up to date.
Have some insight about this ballpark that you'd like to share with the community? Let us know! We try to visit each park often, but changes can happen quickly. We're always looking for updated information about ballparks, the cities they're located in, and attractions nearby. If we include your tip in a guide, we'll give you credit whenever possible.