Comerica Park | Detroit Tigers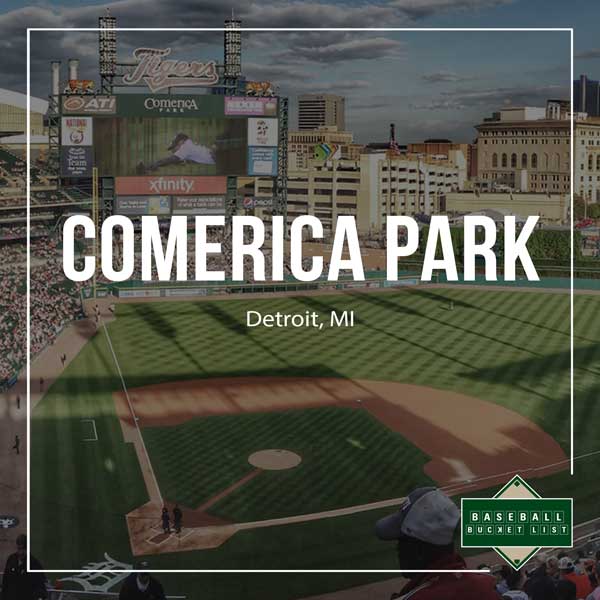 Quick Facts About Comerica Park
Year Opened
2000
Capacity
41,083
Home Club
Detroit Tigers (1894)
Team Colors
Midnight Navy Blue, Orange, White
Upcoming Homestands at Comerica Park
April 2022
| S | M | T | W | T | F | S |
| --- | --- | --- | --- | --- | --- | --- |
| | | | | | | |
| | | | | | | |
| | | | | | | |
| | | | | | | |
| | | | | | | |
May 2022
S
M
T
W
T
F
S
June 2022
| S | M | T | W | T | F | S |
| --- | --- | --- | --- | --- | --- | --- |
| | | | | | | |
| | | | | | | |
| | | | | | | |
| | | | | | | |
| | | | | | | |
July 2022
S
M
T
W
T
F
S

All Day

TC @ DET

TC @ DET
August 2022
| S | M | T | W | T | F | S |
| --- | --- | --- | --- | --- | --- | --- |
| | | | | | | |
| | | | | | | |
| | | | | | | |
| | | | | | | |
| | | | | | | |
September 2022
| S | M | T | W | T | F | S |
| --- | --- | --- | --- | --- | --- | --- |
| | | | | | | |
| | | | | | | |
| | | | | | | |
| | | | | | | |
| | | | | | | |
October 2022
| S | M | T | W | T | F | S |
| --- | --- | --- | --- | --- | --- | --- |
| | | | | | | |
| | | | | | | |
| | | | | | | |
| | | | | | | |
| | | | | | | |
| | | | | | | |
November 2022
| S | M | T | W | T | F | S |
| --- | --- | --- | --- | --- | --- | --- |
| | | | | | | |
| | | | | | | |
| | | | | | | |
| | | | | | | |
| | | | | | | |
No events.
December 2022
| S | M | T | W | T | F | S |
| --- | --- | --- | --- | --- | --- | --- |
| | | | | | | |
| | | | | | | |
| | | | | | | |
| | | | | | | |
| | | | | | | |
No events.
January 2023
S
M
T
W
T
F
S
No events.
February 2023
| S | M | T | W | T | F | S |
| --- | --- | --- | --- | --- | --- | --- |
| | | | | | | |
| | | | | | | |
| | | | | | | |
| | | | | | | |
| | | | | | | |
No events.
March 2023
| S | M | T | W | T | F | S |
| --- | --- | --- | --- | --- | --- | --- |
| | | | | | | |
| | | | | | | |
| | | | | | | |
| | | | | | | |
| | | | | | | |
No events.
Commerica Park | Ballpark Info
Accommodations for Disabilities
Comerica is ADA compliant and does a great job of making sure Tigers baseball is accessible for all. If we haven't answered your questions below, reach out to the Detroit Tigers at guestservices@tigers.com or 313-962-4000.
Parking: You can find accessible parking spots in the Tiger Garage, The D Garage, and Lots 1,2,4, & 5. These spaces are available on a first come first serve basis.
Gates: All gates include accessible entry, so feel free to enter wherever makes the most sense for your ticket.
Elevators: You can find elevators at Comerica Park in the following locations:
Section 109 (only accesses the Tiger Club and 200 level)
Section 130 (only accesses the suite and 300 levels)
Ramps: If you would prefer to use ramps instead of elevators, those can be found in the following locations:
Section 125 (to upper levels)
Section 140 (to upper levels)
Section 119 (to lower seating bowl)
Section 141 (to lower seating bowl)
Restrooms:> All restrooms in Comerica Park include accessible stalls and washing areas. You can also find family and companion restrooms in the following sections: 120, 139, 210, and 342.
Seating: Accessible seating is available on every level at Comerica Park, so you'll have plenty of options based on your viewing preferences. If you would like to reserve companion seating, call the ticket office at 866-66-TIGER. 866-668-4437
Wheelchair Service: Guest Services (section 130) will provide a wheelchair for transportation to and from your seat, but not for general use throughout the game. You can ask for a wheelchair as you enter the park, or at Guest Services.
ATMs
If you prefer cash for walking vendors, you can find ATMs at Commerica Park in the following locations:
Section 104
Section 119
Section 130
Section 331
Bags
You can bring bags into Comerica Park, as long as they are soft sided and are no larger than 16″ x 16″ x 8″. Backpacks are prohibited other than the single compartment drawstring kind.
Batting Practice
You can catch batting practice if you get to the ballpark as soon as the gates open. You most likely won't be able to see the Tigers take BP, but can watch the visitors.
Bring Your Own Food
You can bring your own food into Comerica Park. Just be sure it is in individual sized portions, and wrapped nicely. You can also bring in sealed bottles of unflavored water. Kids can also bring sealed juice boxes or pouches.
Guest Services
If you have any issues or questions while at the ballpark, please utilize Guest Services. Each MLB team has this department, and they are solely focused on making sure each fan has a safe and memorable time at the ballpark.
You can find Guest Services in section 130, or find an usher throughout the ballpark.
If you need discreet help from security, you can text SECURITY to 39844.
Gates
All gates open at the same time, 1 hour and 35 minutes prior to first pitch.
Promos
The Detroit Tigers run promotions and giveaways pretty regularly at Comerica Park. Check here to see if your game includes a promotion.
Kids can run the bases after every Sunday game at Comerica Park. Just head to the scoreboard in left field, where the line will form at the end of the game.
Radio Broadcast
If you prefer to listen to the radio broadcast inside the park, tune to WXYT 97.1 FM.
Restrooms
Women's restrooms can be found in sections: 102, 113, 120, 138, 147, 212, 218, 322, 326, 329, 332, 337, 340, and 344
Men's restrooms can be found in sections: 103, 114, 122, 136, 146, 211, 216, 321, 324, 328, 333, 338, and 345
Family and companion restrooms can be found in sections: 119, 145, 210, and 342
Retired Numbers
The Tigers have retired 8 numbers to date. Each retired number is displayed on the facade of the brick wall in left center field. In the concourse above the retired numbers, there are statues of the first 6 Tigers whose numbers have been retired. Ty Cobb's statue is also included. The Tigers didn't add numbers to their uniforms until the early 30's, so no number accompanies Cobb's Statue. On the right field side of the wall are the names of several important names in the Detroit baseball community. The Tigers have retired the following numbers:
#2 — Charlie Gehringer (1983)
#3 — Alan Trammell (2018)
#5 — Hank Greenberg (1983)
#6 — Al Kaline (1980)
#11 — George "Sparky" Anderson (2011)
#16 — Hal Newhouser (1997)
#23 — Willie Horton (2000)
#47 — Jack Morris (2018)
#42 — Jackie Robinson (retired by the entire MLB in 1997)
Tailgating
Tailgating is not allowed in any of the official Comerica Park lots.
Tours
The Tigers offer tours of Comerica Park on Tuesdays and Fridays from June through September. Stops include the home dugout, visitor's clubhouse, the Tigers Walk of Fame, a few suites, and the visitor's batting tunnel. Tickets for game day tours are $5 for adults and children. On non-game days, tickets are $6 for adults, $4 for kids. Kids under the age of 4 are always free. You can purchase tickets at the ticket counter or online here.
Check Out the Statues
Most notably, you'll notice several large tiger sculptures and 80-foot tall baseball bats out front of the gates to the park. Once you're inside Comerica Park, you'll notice statues aligning the brick walls in the outfield. Along the interior of the brick, facing the field, are the numbers retired by the Tigers. A statue of the Tiger each retired number belongs to is located atop the brick wall in the standing room of the outfield concourse. You may notice Ty Cobb is missing a number. This is because the Tigers didn't add numbers to their uniforms until the early 30's. You'll find:
Willie Horton
Ty Cobb
Hank Greenberg
Charlie Gehringer
Hal Newhouser
Al Kaline
In the concourse near section 212, you'll also find a statue of the long time beloved radio broadcaster Ernie Harwell. Harwell spent 42 seasons as the voice of the Tigers and is famous for his "It's Looong Gone" home run call. Here that and some of his other gems below:
Visit the Carnival Themed Rides
Looking for something to do other than watch the ballgame? The Tigers have you covered. On the 1B side of the park near section 119, there is a Carousel with hand painted Tigers instead of horses. You'll also find some carnival themed mini games near the carousel. On the 3B side near section 132, you can ride a ferris wheel with baseball shaped cars. The cost for each ride is $2, but is free for kids on Sundays.
Explore the Walk of Fame
Since joining the American League in 1901, the Detroit Tigers are the oldest franchise in league history to keep one name and one city continuously. The walk of fame consists of several small displays that detail the deep history of the Tigers since the 1800s when they were a member of the minor league. You'll find the display cases throughout the main concourse. If you are a baseball or a history fan, you'll definitely want to take the time to view them.
Keep an Eye on the Chevy Fountain
There's a reason the Tigers are nicknamed the Motor City Kitties. Detroit was built by the American automotive industry. Since Comerica opened in 2000, the fountains in Center Field have paid homage to this fact. In 2009, the recession hit the auto industry (and Detroit) hard. Strapped for cash, General Motors was unable to renew their sponsorship of the fountain. Instead of taking the GM logo down, the Tigers added the Chrysler and Ford logos to the fountain as a show of support for the entire American automotive industry, and the people of Detroit. In 2010, GM was able to renew their sponsorship, and the fountain is now known as the Chevy Fountain.
The fountain is used to celebrate home runs, and puts on a "liquid fireworks" display with synchronized lights and music, so you'll want to keep an eye on it during the game.
Did we forget something?
Baseball Bucket List relies on information from Bucketheads to keep our guides and resources up to date.
Comerica Park | Transportation and Parking
Comerica Park is located in downtown Detroit, which if we're being honest, doesn't have the greatest reputation for safety. It's rare for anything to happen near the ballpark, but it's always a good idea to be aware of your surroundings. We recommend driving and parking in one of the official lots or nearby off-site lots.
Official Comerica Park Lots
The "officially recommended" lots near Comerica Park are actually owned and operated by a third party — Olympia Development. These lots are near the ballpark and are secure and well lit. You can purchase parking as you arrive and pay by credit card. The closest lots to the ballpark cost $25. They are (click for directions):
With the exception of the Fox Garage, the lots west of Woodward Ave are slightly cheaper at $15. You'll find several available Olympia lots, nearby some of the area's bars and restaurants. As long as you stay east of Grand River, you'll still be no more than a half mile from the ballpark. You can reserve any of these spots ahead of time by using the ParkWhiz App, officially recommended on the Tiger's website
Off-Site / Free Parking Options Near Comerica Park
You'll find several off-site parking lots that will range in price. As you drive in, look for signage and orange flags. You can also reserve a spot ahead of time on one of the following apps:
You can find street parking within a few blocks of the ballpark, so it's worth making a lap. Just keep in mind that there are several residential buildings nearby, so you'll want to make sure to check the signage. On Sundays, the meters are out of service so street parking is free.
Public Transportation
Public transportation is an option for Comerica Park, but we recommend avoiding it unless you are an experienced transit rider. The Q-Line is a streetcar that serves 12 locations throughout Detroit. The Q-Line has a stop on the corner of Woodward Ave and E Montcalm St, which is about a block from the park.
You can also ride the DDOT bus. You'll want to take the #4 to the Woodward Ave and Columbia St stop.
Shuttles
One of your best options for transportation will be shuttles. If you're staying near the ballpark, your hotel may offer a free shuttle. Additionally, there are several well known bars in the area where you can park a car for free, then pay a small fare to shuttle to Comerica Park. Nemo's, Bookie's, Harry's, McShane's, and The Old Shillelagh are all good options.
Uber & Lyft
The designated rideshare pickup zone is north of 75. Head north on John R St to find it. There should be signage marking the way.
If you're new to Uber, you can use this link to get a discount on your first few rides.
You can also hail a cab, which there will be plenty of after the ballgame.
Join the Baseball Bucket List community
Create your own bucket list, track ballpark visits, and connect with other fans.
Comerica Park | Best Seats
Best Seats for Tigers History
"Mr. Tiger," Al Kaline never played at Comerica Park, but he still has a corner there. In 1954 and 55, the Tigers removed box seating from Old Tiger Stadium to make room for Al Kaline as he chased down foul balls. The right fielder was known for giving an all out effort that would sometimes send him crashing into the right field seats. A beautiful writeup of the process can be read on kalinescorner.com. When the club moved to Comerica Park, it seemed only natural to include Kaline's Corner. According to fans of Old Tiger Stadium, the view of the corner at Comerica is almost identical to the old ballpark. Some fans disapprove of the recreation, but the seats offer a great view and are a nice nod to one of the greatest Tigers of all time.
Best Seats for Game Views
Comerica Park is another park with a great view of the downtown skyline in the outfield, so we prefer the interior seating bowl. The third deck at this park offers padded seats and a great view of the entire park and skyline. These seats are also great for budget conscious fans. If you don't mind spending a bit more money (Think $80ish per ticket), you can score seats in the Tiger Den. The Den is located in the top few rows of the lower seating bowl. These areas are designed to look like the old school "boxes" that you'd find at older venues. You can move your chair around in your semi enclosed area. If you prefer to watch the game from one of the baselines behind a dugout, we'd recommend the 1B side here, since the scoreboard is situated in left field.
Where not to Sit
There aren't any real obstructions at Comerica Park, or a bad seat to be had really. If we had to recommend staying away from a ticket, it would be for the outfield bleachers. These tickets are dirt cheap, but the bleachers are a general seating area that is first come first serve. They're also far from the action and not as comfortable as the seats you'll find in the rest of the park.
Best Seats for Shade
Home plate at Comerica Park faces south-east, which makes the 1B side the first to get shade. For truly midday games, you'll want to try and find an overhang in the last few rows of the lower sections along 1B and the right field corner. As the sun sets, the shade will creep towards 3B.
Best Seats for Foul Balls
Looking to snag a souvenir from Comerica Park? According to foulballz.com, your best changes are along the 3B line in sections 132-137, and 122-118 on the 1B side.
Comerica Park | Ballpark Food
The Must Have: Bratwurst
Around the park you'll find sausage stands which offer several different dogs. We've gotten nothing but rave reviews about their Bratwurst. Top it with peppers and onions for the full effect. Best paired with a cold beer. Try section 206 for both a dog and a brew.
Something Special: The Mac Daddy Dog
Detroit is famous for its dogs, and Comerica Park serves over 650,000 of them each year! The Mac Daddy is special. A regular hot dog topped with mac 'n cheese, scallions and bacon. Find it at the Big Cat Court in section 119.
The Challenge: Coney Island Pizza
We're calling this a challenge because we're just…not sure about it. Square sliced Scicilian style pizza is a Detroit staple. Coney dogs are a Detroit staple. Square sliced Scicilian style pizza topped with coney island dogs, mustard, and onions? We're not sure. If you're brave enough to try it, let us know. You can find it at Little Caesars in the Big Cat Court (section 119) and sections 115, 137, 217, 323, and 334.
Vegetarian and Vegan Options at Comerica Park
You can find veggie dogs throughout the park at the Big League Grill (sections 108, 130, and 325). You'll also find the Beyond Burger at the Big Cat Court (section 119). Big Cat Court also offers a falafel sandwich which is vegetarian.
Did we forget something?
Baseball Bucket List relies on information from Bucketheads to keep our guides and resources up to date.
Comerica Park | Surrounding Area
We're still wrapping up the guide to Comerica Park, including the surrounding location. If you have tips to offer, please submit them below!
Did We Miss Something In Our Comerica Park Guide?
Baseball Bucket List relies on information from Bucketheads to keep our guides and resources up to date.
Have some insight about this ballpark that you'd like to share with the community? Let us know! We try to visit each park often, but changes can happen quickly. We're always looking for updated information about ballparks, the cities they're located in, and attractions nearby. If we include your tip in a guide, we'll give you credit whenever possible.