Citizens Bank Park | Philadelphia Phillies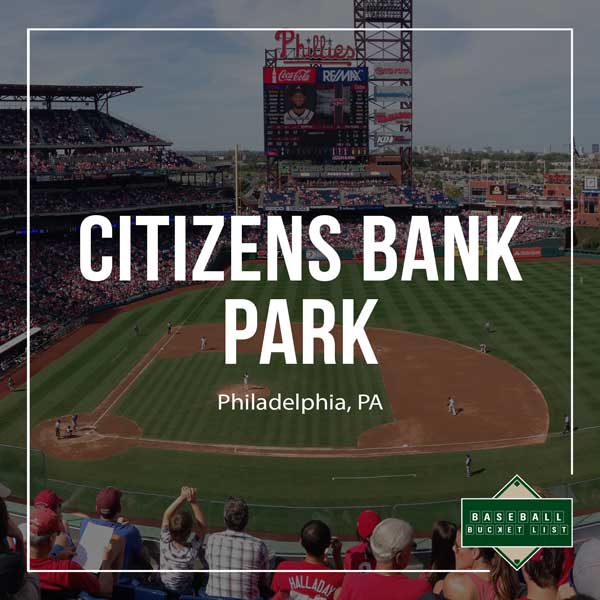 Quick Facts About Citizens Bank Park
Year Opened
2004
Capacity
42,792
Home Club
Philadelphia Phillies (1883)
Team Colors
Red, Blue, White
Ballpark Nicknames
"The Bank"
Upcoming Homestands at Citizens Bank Park
April 2022
| S | M | T | W | T | F | S |
| --- | --- | --- | --- | --- | --- | --- |
| | | | | | | |
| | | | | | | |
| | | | | | | |
| | | | | | | |
| | | | | | | |
May 2022
S
M
T
W
T
F
S
June 2022
| S | M | T | W | T | F | S |
| --- | --- | --- | --- | --- | --- | --- |
| | | | | | | |
| | | | | | | |
| | | | | | | |
| | | | | | | |
| | | | | | | |
July 2022
| S | M | T | W | T | F | S |
| --- | --- | --- | --- | --- | --- | --- |
| | | | | | | |
| | | | | | | |
| | | | | | | |
| | | | | | | |
| | | | | | | |
| | | | | | | |
August 2022
| S | M | T | W | T | F | S |
| --- | --- | --- | --- | --- | --- | --- |
| | | | | | | |
| | | | | | | |
| | | | | | | |
| | | | | | | |
| | | | | | | |
September 2022
| S | M | T | W | T | F | S |
| --- | --- | --- | --- | --- | --- | --- |
| | | | | | | |
| | | | | | | |
| | | | | | | |
| | | | | | | |
| | | | | | | |
October 2022
| S | M | T | W | T | F | S |
| --- | --- | --- | --- | --- | --- | --- |
| | | | | | | |
| | | | | | | |
| | | | | | | |
| | | | | | | |
| | | | | | | |
| | | | | | | |
No events.
November 2022
| S | M | T | W | T | F | S |
| --- | --- | --- | --- | --- | --- | --- |
| | | | | | | |
| | | | | | | |
| | | | | | | |
| | | | | | | |
| | | | | | | |
No events.
December 2022
| S | M | T | W | T | F | S |
| --- | --- | --- | --- | --- | --- | --- |
| | | | | | | |
| | | | | | | |
| | | | | | | |
| | | | | | | |
| | | | | | | |
No events.
January 2023
S
M
T
W
T
F
S
No events.
February 2023
| S | M | T | W | T | F | S |
| --- | --- | --- | --- | --- | --- | --- |
| | | | | | | |
| | | | | | | |
| | | | | | | |
| | | | | | | |
| | | | | | | |
No events.
March 2023
| S | M | T | W | T | F | S |
| --- | --- | --- | --- | --- | --- | --- |
| | | | | | | |
| | | | | | | |
| | | | | | | |
| | | | | | | |
| | | | | | | |
No events.
Citizens Bank Park | Ballpark Info
Accommodations for Disabilities
The Phillies worked with an ADA consulted specifically to make their park accessible and enjoyable for everyone. If we haven't answered your question below, give the Phillies a call at 215-463-1000.
Parking: Each of the official lots at Citizens Bank Park have accessible parking spaces, so feel free to park wherever makes the most sense for you. They are $18 and can be purchased upon arrival to the lot.
Gates: All gates are accessible, so enter wherever you'd like. The left field and 3B gates will open 2 hours prior to first pitch, the rest will open 90 minutes before the game.
Elevators: You can find elevators in the following locations:
Section 103
Section 112
Section 119
Section 123
Section 137
Ramps: If you'd prefer to use the ramps to get to your seat, those are located behind first base and near the left field gate.
Restrooms: Each of the restrooms in Citizens Bank Park include accessible stalls. In addition, there are several family restrooms located throughout the park.
Seating: There are accessible seats throughout the park in each level except for the 400 level (which is only reachable by stairs), so you can choose your preferred view of the field.
Wheelchair service: The Phillies offer courtesy wheelchairs which can be found at the Guest Services desks in sections 122 and 318. The service can only be used to help you get to your seat, and the wheelchair must be returned immediately so it can be used to help other fans.
Bags
The Phillies follow MLB's guidelines of not allowing bags larger than 16" x 16" x 8". It must be soft-sided and only contain a single compartment. Tote bags and drawstring bags are preferred, as they are easier and quicker to search.
Batting Practice
You can watch and batch batting practice at Citizens Bank Park. If you get there exactly as the gates open, you may even be able to catch the tail end of the Phillie's BP. Enter through the left field or 3B gates, as they will open 2 hours before first pitch. The other gates won't open for another 30 minutes.
Bring Your Own Food
You can absolutely bring your own food to a Phillies game. They actually have one of the most relaxed food policies in the MLB. As long as you're not bringing in hard items that can be used as projectiles, anything else is fair game. If you want to bring your own food, we recommend a soft cooler. Just be sure it fits the 16" x 16" x 8" bag policy we mentioned above.
Guest Services
If you have any issues or questions while at the ballpark, please utilize Guest Services. Each MLB team has this department, and they are solely focused on making sure each fan has a safe and memorable time at the ballpark.
You can find Guest Services desks in sections 122 and 318. They should be able to help answer any questions you have about the park, stamp your MLB Passport, or help address any concerns. You can also call the fan hotline from inside the park at 215-218-5469.
Gates
The Left Field and 3B gates open 2 hours prior to first pitch. This gives you access to batting practice and Ashburn Alley (check it out in the "must do" section of this guide).
Mascot — The Phillie Phanatic
The Phillie Phanatic is perhaps the most famous mascot, not only in Major League Baseball, but in all professional sports. The large, furry, green bird is well known for his antics, specifically giving the other team's players a hard time during warmups. Keep an eye on him during the game as he's sure to provide some key moments of entertainment.
Promos
The Phillies will offer promotions and giveaways throughout the season. The best way to determine if your game is included is at this link.
Radio Broadcast
If you prefer to listen to the ballgame while in the park, tune to WIP 94.1 FM.
Restrooms
Citizens Bank Park has 63 restrooms located throughout the park, so you'll never be too far from one. You can find family restrooms in the following locations: 106, 112, 137, 205, 208, 219, 224, 234, 319, 322, and 329.
Retired Numbers
Richie Ashburn (1), Jim Bunning (14), Mike Schmidt (20), Steve Carlton (32), Robin Roberts (36) and Jackie Robinson (42).
Tailgating
Tailgating is only allowed in lots A-H, J, K, L, M & N. These lots are south of Patterson Ave and East of Darien Street and will open 5 hours before first pitch. Tailgating is not permitted in any other lots.
Tours
The Phillies offer tours year round that include stops at the dugout, media room, broadcast booth, diamond club and hall of fame club. Tours run Monday through Saturday during the season, and Monday, Wednesday, and Friday during the off season. Game day tours are offered at 11am or 1pm, and non game day tours run at 11am. Something different about Citizens Bank Park is that you cannot purchase a ticket the day of the tour, you have to get one ahead of time. Tickets are $13 for adults, $8 for kids, and $8 for seniors. Purchase tickets here, or call the ticket office at 215-463-1000.
Citizens Bank Park| Must Do
Xfinity Live!
South Philly has something called the "sports complex". In a central location near the intersection of I-95 & I-76, you'll find the Wells Fargo Center, Lincoln Financial, and Citizens Bank Park. Naturally, fans headed to each of these venues need something to do before and after. That's where Xfinity Live! comes in. Similar to the other Live! concepts, you'll find 8 different bars and restaurants available to choose from. And don't forget the huge wall of TVs. It's a quick walk across the street to the ballpark when you're ready to head into the ballgame.
Run the Bases of Veterans Stadium
Get to parking lot U early enough and you'll be able to see granite markers for each of the infield bases, home plate, and the pitcher's mound at Veterans Stadium. You'll also find markers for the goal posts that were present for Eagle's NFL games.
Visit the Philly Greats
The predecessor to CItizens Bank Park was Veterans Stadium, which housed both the Phillies and the Eagles (NFL). After the final games, the artwork that was outside of The Vet was moved. Statues created by sculpture Joe Brown were placed on the perimeter of the parking lot, showing where Veterans Stadium once stood. You'll find two football vignettes and two baseball vignettes.
There are also plenty of Philadelphia greats to visit while at the park. Prior to walking in, you'll find 4 statues. Robin Roberts at the 1B gate, Mike Schmidt at the 3B gate, Connie Mack is between 3B and Left Field, and Steve Carlton is at the Left Field gate. Once inside, you can find a statue of legendary broadcaster Harry Kalas in the concourse near section 141, and Richie Ashburn in Ashburn Alley.
Snap a photo with the Liberty Bell outside of 3B, then watch for the new one inside
The Liberty Bell has long been a fixture of Phillies baseball. Whenever a Phillie hits a home run, the bell lights up. The Liberty Bell to be displayed at Veterans Stadium is now located outside of the 3B gate on the perimeter of Pass and Stow (which is an awesome entertainment area you should check out once inside the park). Stop there for a photo opp on your way in. Once inside, if the Phillies hit a home run, look for the new bell in the outfield to light up and mimic a swinging motion.
Ashburn Alley
Ashburn Alley is the park's entertainment district. Named after beloved Fightin' Phil' Richie Ashburn, it houses the Phillies Wall of Fame, replica World Series trophies, and several other attractions. You can watch the bullpen action for Ashburn Alley, walk the All-Stars walk, visit the '47 team store, and choose from several concession offerings. If you're visiting the park with kids, The Yard is a great place to stop. It includes a whiffle ball field and several other interactive areas.
Swipe to view images from Citizens Bank Park.
Did we forget something?
Baseball Bucket List relies on information from Bucketheads to keep our guides and resources up to date.
Citizens Bank Park | Transportation and Parking
Traffic in Philly can be just as bad as any other major city. Coupled with the fact that there may be more than one event going on in the Sports Complex, and traffic can be a real pain. To avoid this, we recommend getting to the ballpark early, and already having a plan for where you plan to park. There are plenty of things to see and do before the gates open, and you can always kill time at Xfinity Live!
Official Citizens Bank Park Lots
The official lots at Citizens Bank Park cost $20, and there are a ton of available spots. The official parking lots are going to be the easiest, as off-site and free parking is hard to come by. You can prepay for parking or pay cash once you get there. Pre-paid and cash lots are: A, B, C, D, E, F, G, H, K, M, N, T, U, V, W, and X. Lots A-H, J, K, L, M & N will open 5 hours prior to first pitch and allow tailgating, so you can certainly beat the traffic.
Off-Site / Free Parking Options Near Citizens Bank Park
Due to the location of the sports complex, free parking is limited. Some Phillies fans will tell you to park on Lawrence St., but we've heard from others that these cars sometimes receive tickets. We remember that the Philadelphia Parking Authority has their own reality TV show, so our recommendation is to either spend the $20 for an official spot, or take the subway for $2.00 each way.
Public Transportation
If you're coming from the city, the SEPTA subway is going to be the quickest way to get out of the sports complex after a game. Take the Broad Street line to the last stop — NRG Station. You'll be less than a 10 minute walk from the park. SEPTA also runs an express train. Check the status here.
SEPTA buses on routes 4 and 17 also have stops near the ballpark.
If you're staying in the suburbs, you can take the Regional Rail into the city and hop onto the subway. This may save you the headache of traffic, but you'll be spending more than you would on parking a single car.
Uber & Lyft
Our recommendation for rideshares is to take a quick subway ride a stop or two away so you can get a car more easily and avoid surge charges. The sports complex area will be slammed after a game, so this can really save you some time. If you take the subway to Walnut, there is even a Wawa gas station you can hang out at as you wait for your car.
If you're new to Uber, you can use this link to get a discount on your first few rides.
Join the Baseball Bucket List community
Create your own bucket list, track ballpark visits, and connect with other fans.
Citizens Bank Park | Best Seats
Best Seats for Game Views
The 300 level in the seating bowl, directly behind home plate offers great views of the entire field, without feeling too far from the action. As a bonus, you'll see the Philly skyline in the outfield, and get a great view of everything that is happening inside the park. The scoreboard is positioned in left field, leaving a clear sightline to the city. Take in the beautiful ivy batter's eye and remember to keep an eye on the Liberty Bell in right center anytime the Phillies hit a home run.
Where not to Sit
Citizens Bank Park is beautiful, and there really isn't a bad seat in the house. The architects clearly thought about everything before building it. You'll have your standard obstructed views from the foul poles, but there is not much else to worry about. One note is that the scoreboard is in left field instead of center, so you won't be able to see if from those sections.
Best Seats for Shade
Your best bet for shade is going to be along the 3B line. Look for seats in the last few rows of any section, as the overhang from above will provide shade. You'll definitely want to avoid the outfield seats during day games if shade is a must, as they have no coverage.
Best Seats for Foul Balls
Want to snag a souvenir from Citizens Bank Park? According to foulballz.com, your best chances are in sections 129-132 on the 3B side and 115-118 on the 1B side.
Citizens Bank Park | Ballpark Food
The Must Have: The Philly Cheesesteak
If the name of a food item includes the city you're visiting, you're obligated to try it. You'll have several different options to try, but consensus among Phillies fans tends to be that Campos and Tony Luke's will be your best options at the park. Find Campos and Tony Luke's both in Ashburn Alley.
Something Special: Chickie's & Pete's Crabfries
Another northeastern staple is crabfries, and when you're in Philly, they had better come from Chickie's & Pete's. These crinkle cut fries come dusted with crabby seasoning (think Old Bay), and a side of white cheese sauce for dipping. Find them in Ashburn Alley, near the Liberty Bell.
Something Sweet: Water Ice
Water Ice, sometimes known outside of the northeast as Italian Ice, is another Philly tradition. Think of a snow cone, but a slushier consistency, with more flavor. You'll see water ice stands all over the city, usually with long lines in front. You'll also find them at Citizens Bank Park in Ashburn Alley, and sections 208, 216, and 316.
Vegetarian and Vegan Options at Citizens Bank Park
If you're vegan or vegetarian, you'll have several options at Citizen Bank Park. You'll find veggie steaks at Campo's (Ashburn Alley), and can ask for vegan cheese and rolls. You'll also find veggie dogs at multiple locations throughout the park. Harry the K's Broadcast Bar & Grille has vegan lettuce wraps. Questlove in sections 108 and 135 includes cheesesteaks made with Impossible Meat (skip the cheese if you're vegan).
Did we forget something?
Baseball Bucket List relies on information from Bucketheads to keep our guides and resources up to date.
Citizens Bank Park | Surrounding Area
Philadium
Long running, old-school sports bar
Pastificio Deli
Homemade pasta shop also serving as an Italian delicatessen
Popi's Italian Restaurant
A great place for a proper sit-down meal
Xfinity Live!
Giant venue with multiple bars and restaurants.
Citizen's Bank Ballpark
Home of the Philadelphia Phillies
Did we miss something in our guide to Citizens Bank Park?
Baseball Bucket List relies on information from Bucketheads to keep our guides and resources up to date.
Have some insight about this ballpark that you'd like to share with the community? Let us know! We try to visit each park often, but changes can happen quickly. We're always looking for updated information about ballparks, the cities they're located in, and attractions nearby. If we include your tip in a guide, we'll give you credit whenever possible.