Chase Field | Arizona Diamondbacks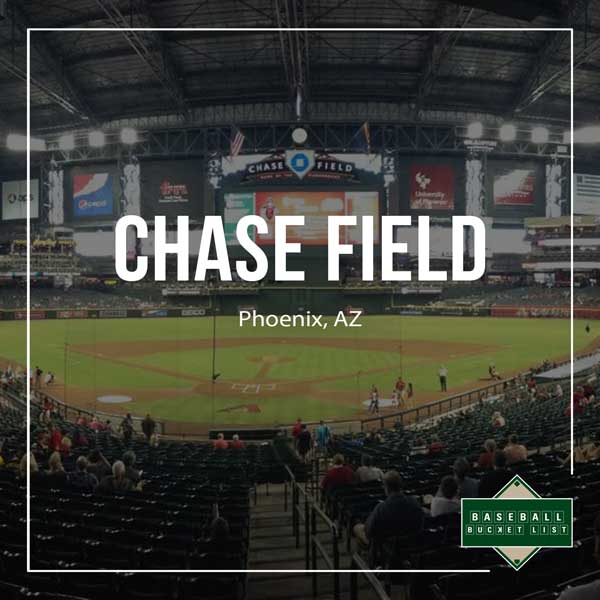 Quick Facts About Chase Field
Year Completed
1998
Capacity
48,686
Home Club
Arizona Diamondbacks (1998)
Team Colors
Sedona Red, Sonoran Sand, Black, Teal, White
Ballpark Nicknames
BOB (after the park's original name, Bank One Ballpark)
Upcoming Homestands at Chase Field
April 2022
| S | M | T | W | T | F | S |
| --- | --- | --- | --- | --- | --- | --- |
| | | | | | | |
| | | | | | | |
| | | | | | | |
| | | | | | | |
| | | | | | | |
May 2022
S
M
T
W
T
F
S
June 2022
| S | M | T | W | T | F | S |
| --- | --- | --- | --- | --- | --- | --- |
| | | | | | | |
| | | | | | | |
| | | | | | | |
| | | | | | | |
| | | | | | | |
July 2022
| S | M | T | W | T | F | S |
| --- | --- | --- | --- | --- | --- | --- |
| | | | | | | |
| | | | | | | |
| | | | | | | |
| | | | | | | |
| | | | | | | |
| | | | | | | |
August 2022
| S | M | T | W | T | F | S |
| --- | --- | --- | --- | --- | --- | --- |
| | | | | | | |
| | | | | | | |
| | | | | | | |
| | | | | | | |
| | | | | | | |
September 2022
| S | M | T | W | T | F | S |
| --- | --- | --- | --- | --- | --- | --- |
| | | | | | | |
| | | | | | | |
| | | | | | | |
| | | | | | | |
| | | | | | | |
October 2022
| S | M | T | W | T | F | S |
| --- | --- | --- | --- | --- | --- | --- |
| | | | | | | |
| | | | | | | |
| | | | | | | |
| | | | | | | |
| | | | | | | |
| | | | | | | |
No events.
November 2022
| S | M | T | W | T | F | S |
| --- | --- | --- | --- | --- | --- | --- |
| | | | | | | |
| | | | | | | |
| | | | | | | |
| | | | | | | |
| | | | | | | |
No events.
December 2022
| S | M | T | W | T | F | S |
| --- | --- | --- | --- | --- | --- | --- |
| | | | | | | |
| | | | | | | |
| | | | | | | |
| | | | | | | |
| | | | | | | |
No events.
January 2023
S
M
T
W
T
F
S
No events.
February 2023
| S | M | T | W | T | F | S |
| --- | --- | --- | --- | --- | --- | --- |
| | | | | | | |
| | | | | | | |
| | | | | | | |
| | | | | | | |
| | | | | | | |
No events.
March 2023
| S | M | T | W | T | F | S |
| --- | --- | --- | --- | --- | --- | --- |
| | | | | | | |
| | | | | | | |
| | | | | | | |
| | | | | | | |
| | | | | | | |
No events.
Chase Field | Ballpark Info
Accommodations for Disabilities
Chase Field has an independent committee of volunteers and employees called the Access Committee. They focus on making sure that the ballpark is an accessible and enjoyable experience for everyone.
Parking: There are 31 designated accessible parking spots in the main garage on 4th Street. Parking is on a first come, first serve basis. There is a designated drop-off area on the south side of Jefferson Street, west of 7th Street. The closest gate will be Gate K. The Diamondbacks offer a "pick up pass" to the driver of the drop-off vehicle, which will include special directions for how to navigate the area after the ballgame. Holding the pass up to the windshield will help traffic control direct you to the pick up location.
Gates: Accessible turnstiles at Chase Field are located at Gates A, C, E North, J, K, and Level 3 of the Chase Field Garage (if you have a suite or 200 level ticket).
Elevators: Elevators at Chase Field can be found in the following sections on the main concourse:
Section 104 (near gate K)
Section 116 (near gate J)
Section 127 (near gate E)
Section 140 (near gate A)
Ramps: If you prefer to use the ramps, those can be found in the following section on the main level:
Restrooms: You'll find accessible stalls in every restroom in Chase Field. You can find family and companion restrooms on each level:
Section 109
Section 135
Near Suite 55 on the Suite Level
Section 306
Section 331
RFW Section
GHW Section
Seating: Chase Field offers accessible seating on each level, so you'll be able to choose your seat based on your preferred view of the game. If you need any special accommodations or companion seating, tell the ticket agent (all ticket offices offer accessible height counters), or call 602-462-6607.
Wheelchair Service: If you require a wheelchair or assistance from staff, Guest Relations will provide a complimentary escort to your seats. Just ask one of the security officers or staff members as you enter the park. You can also ask Guest Services to store your wheelchair, scooter, or walker for you during the game.
ATMs
If you prefer cash for walking vendors you can find ATMs in the following locations:
Outside Gate E
Section 103
Section 115
Section 130
Diamond Level Lobby
Section 325
Bags
Chase Field institutes the "Clear Bag Policy" which means that each fan can only carry in one clear (plastic, vinyl, or PVC) bag that is no larger than 12″ x 6″ x 12″. That's about the size of a gallon sized Ziploc bag. Small clutches or purses that are 4.5″ x 6.5″ or smaller and have no handles or straps are also allowed in. You can carry in seat cushions, sweaters, and blankets. If you are traveling with a child, you can bring a diaper bag that is 11″ x 11″ x 15″ or smaller.
Batting Practice
The D-backs encourage fans to get to the ballpark early for batting practice. Sunday through Thursday gates open 90 minutes before first pitch, so you'll only be able to watch the visitor BP. On Fridays and Staurdays gates open 2 hours prior to the start of the game. You'll be able to catch the tail end of D-backs BP.
Bring Your Own Food
You are allowed to bring food into Chase Field. Just make sure that it's in a clear plastic bag so the security lines move quickly. You can also bring non-flavor/non-carbonated water in seald plastic bottles, and sealed single-serving juice boxes.
Charging Stations
Low on phone juice? You can find charging stations at the following locations:
Section 109
Section 137
PNC Diamond Club
Section 312
Guest Services
If you have any issues or questions while at the ballpark, please utilize Guest Services. Each MLB team has this department, and they are solely focused on making sure each fan has a safe and memorable time at the ballpark. You can find Guest Relations Centers in sections 128 and 322, or call the hotline at 602-462-6607.
Gates
All gates at Chase Field open at the same time. Sunday through Thursday, 90 minutes prior to first pitch. Gates open 2 hours before Friday and Saturday games.
Promos
The D-backs run promotional nights and giveaways throughout the season. Check to see if your game includes a giveaway here. If your game does include a promo, we recommend lining up at Gate J. Since it's not a main gate, there should be less foot traffic. Plus, you'll be in the shade.
After Sunday games at Chase Field, kids 3-15 can run the bases. At the beginning of the 9th inning, kids can start lining up across from sections 111, 203, and 304.
Radio Broadcast
If you prefer to listen to the radio broadcast while at the game, tune to KVMP 98.7 FM, or KTAR 620 AM. You'll find a Spanish broadcast on KHOV 105.1 FM.
Restrooms
You can find men's and women's restrooms located throughout the park. Family restrooms are located in the following sections:
Section 109
Section 135
Near Suite 55 on the Suite Level
Section 306
Section 331
RFW Section
GHW Section
Retired Numbers
Even though they are a young team, the D-backs have retired two numbers, which can be seen on the facade of the right field suites.
#20 — Luis Gonzalez (2010)
#51 — Randy Johnson (2015)
#42 — Jackie Robinson (retired by the entire MLB in 1997)
Tailgating
Tailgating is prohibited at Chase field.
Tours
The D-backs offer tours of Chase Field. Stops include the D-backs Pool, media room, dugout, autographed baseball collection and more. Learn more and book your tour here.
Enter Through Gate E, then Visit the "Wow Lobby"
The main entrance to Chase Field is Gate E, which features a three story Rotunda. Inside, the Arizona Rotunda showcases a terrazzo floor and plenty of Arizona art and history. You'll also be able to poke your head into the entrance to the team's font office, known as the Wow Lobby. The story of the Wow Lobby is that owner Jerry Colangelo wanted to design a lobby that audibly made visitors say "Wow!". Inside, you'll see the 2001 World Series trophy — especially impressive when you think about the fact that the franchise started in 1998 and was only 4 years old at the time. You'll also find other awards like a Cy Young and Silver Slugger. Near the back of the lobby, you'll find a bronze statue of a pitcher and catcher both wearing number 98.
Check out the Outfield Swimming Pool
Chase Field is the only major league ballpark that has a swimming pool. Located in right field, the pool is only accessible when you rent out the entire "suite" area. Starting at the low price of $4,750 renting the pool can range all the way up to $7,000+ depending on the game you select. If you do rent it out, you and 34 of your closest friends can enjoy the D-backs pool, hottub, private patio, 5 parking spots, and food and beverage (but no alcohol). Unfortunately, at that price tag, most of us are just going to walk by the pool, but it is still amazing to see.
We'd love to get a group of Bucketheads together one of these days to rent it out!
Visit the 20th Anniversary Experience Exhibit
Behind Right-Center Field, you'll find the 20th Anniversary Experience which highlights some of the greatest moments in Diamondbacks history. Though the franchise is still relatively young compared to other MLB teams, its history is rich.
With Kids? Visit the Sandlot
On the 300 level in left field, you'll find a great activity area for kids. It includes a mini Chase Field wiffle ball park, playground, and batting cages. If you're up for it, the batting cages have no maximum height, so you can show the little ones how it's done.
Did we forget something?
Baseball Bucket List relies on information from Bucketheads to keep our guides and resources up to date.
Chase Field | Transportation and Parking
You'll have plenty of parking options when headed to Chase Field, from the attached 1,500 spot garage to several cheap off-site options. You can also choose to take public transportation. Most D-backs games won't be a sell out, but we still recommend getting to the park early. You can always kill time at one of the nearby bars or restaurants.
Official Chase Field Lots
There are a few official lots near the ballpark. The most obvious and easiest choice will be the attached Chase Field garage, which has 1,500 spots. Pricing here is about $10-$20 depending on who the D-backs are playing that day. Surprisingly, this looks like it is one of the cheapest official options — probably due to the certain traffic you'll need to deal with on the way out. There are a few other lots that are a short walk to the park. You can purchase an official parking spot directly from the D-backs website here.
Off-Site / Free Parking Options Near Chase Field
If you don't mind a bit of a longer walk, we'd recommend off-site parking which can be found for as little as $5. You'll find plenty of options up and down Jefferson Street. You can also head south of the ballpark and find free or metered street parking. Head south of S 7th St or 3rd St (one way!) and start looking for spots near Buchanan or Lincoln. The meters will be cheap and usually are only in effect until 5pm, but be sure to check signage!
Public Transportation
The METRO Light Rail is a solid option if you don't have a rental car or would just rather not drive. Tickets are cheap – $2 each way, or $4 for a day pass. There are several park-n-ride lots (see them here). Get off at the 3rd St/Jefferson stop for a very short walk to the park. Keep in mind that you'll be on public transport and attending a sporting event. The patrons of the train will reflect that.
Uber & Lyft
Ubers and Lyfts are easy to come by around Chase Field. Uber is the official rideshare partner of the D-backs, with the official drop-off and pick-up spot at Washington and 5th St. Unlike other parks where the drop-off and pick-up sports are seriously enforced, your driver will probably try to pick you up from wherever you call your car. We recommend walking a block or two away from the park to make your pick-up easier.
If you're new to Uber, you can use this link to get a discount on your first few rides.
Join the Baseball Bucket List community
Create your own bucket list, track ballpark visits, and connect with other fans.
Best Seats for Game Views
Chase Field is a big park, and over 80% of its seats are inside the foul lines. This makes for plenty of good seating options, depending on your budget. We prefer sitting behind home plate in this park, and on the MPV level (300s), it is very affordable. The resale market for tickets at Chase Field is fairly active, so don't be afraid to check sites like SeatGeek or Stubhub.
Where not to Sit
Chase Field has excellent sitelines and no structural obstructions to speak of. Just be mindful of the obvious. For example, seats in the corner down either baseline will have a partially obstructed view of the foul pole, and most outfield seats will not have a view of the scoreboard.
Best Seats for Shade
Chase Field was the first ballpark in the United States to feature a retractable roof. And anyone who has been to Phoenix in the summer knows that this is an absolute must! If it's hot, you can expect the roof to be closed and the AC to be on. Early or late in the season though, the roof may be open for some mild weather day games. If that's the case, you'll want to choose seats behind home plate or along the 3B line. The further back in a section, the more likely you'll be to have shade.
Best Seats for Foul Balls
Looking to snag a foul from Chase Field? According to foulballz.com your best bets will be in sections 127-130 on the 3B side, and 115-117 on the 1B side.
Chase Field | Ballpark Food
Best Spot for a Beer: The Draft Room
The Four Peaks Draft Room can be found in right field. You'll find a decent bar food menu and several options for brews. We recommend a flight of Four Peaks brews — whatever is currently in rotation.
Best Value Beers: Doubleheaders
We really wish all parks would offer a "value beer". At Chase Field you can find $4 14oz value brews — Miller Lite, Bud Light, Michelob Ultra. Find these and several other $2 value items like corn dogs, hot dogs, popcorn and soda at any Doubleheaders stand. With 12 locations throughout the park, you won't have to walk far on any level to find Doubleheaders.
The Must Have: Tamales
When you think of Phoenix, you probably also think of Mexican food. Rey Gloria's offers several varieties of this classic fare, and they all sound delicious. Find Rey Gloria's in section 137.
Something Sweet: The Churro Dog
Imagine a hot dog composed entirely of desert items. Sounds like something designed by a 6 year old right? Leave it to Chase Field to offer a churro inside of a long glazed donut, topped with three scoops of frozen yogurt, then drizzled with caramel and chocolate. It's best to bring a friend to help. Sections 114, 123, and 315.
The Challenge: Anything from Big Dawgs
Big Dawgs is a stand that sells HUGE specialty hot dogs. They range in size from a foot long to 16 inches and are covered with add-ons. Try the Jalapeno dog, or the Reuben dog. With a hefty price tag, these items are certainly big enough to share, unless you're up for a challenge on your own. Big Dawgs can be found in section 126.
Vegetarian and Vegan Options at Chase Field
You'll have a few vegetarian and vegan options at Chase Field. You can find an Impossible Burger at Paradise Valley Burger Co in section 121. There is also a mediterranean vegan wrap available in sections 130 and 214. America's Taco Shop in sections 115 and 134 offer chips and salsa, as well as chips and guacamole. And, La Terraza offers a bean burrito in section 300.
Did we forget something?
Baseball Bucket List relies on information from Bucketheads to keep our guides and resources up to date.
Chase Field | Surrounding Area
The Arrogant Butcher
This place will have something for everyone.
Willie's Taco Joint
No-frills Mexican food joint with a fresh salsa bar.
Pizzeria Bianco
Some people claim this is the best pizza in Arizona.
The Whining Pig
A fun beer and wine bar with over 125 craft beers available.
Did we Miss Something in Our Chase Field Guide?
Baseball Bucket List relies on information from Bucketheads to keep our guides and resources up to date.
Have some insight about this ballpark that you'd like to share with the community? Let us know! We try to visit each park often, but changes can happen quickly. We're always looking for updated information about ballparks, the cities they're located in, and attractions nearby. If we include your tip in a guide, we'll give you credit whenever possible.