Angel Stadium | Los Angeles Angels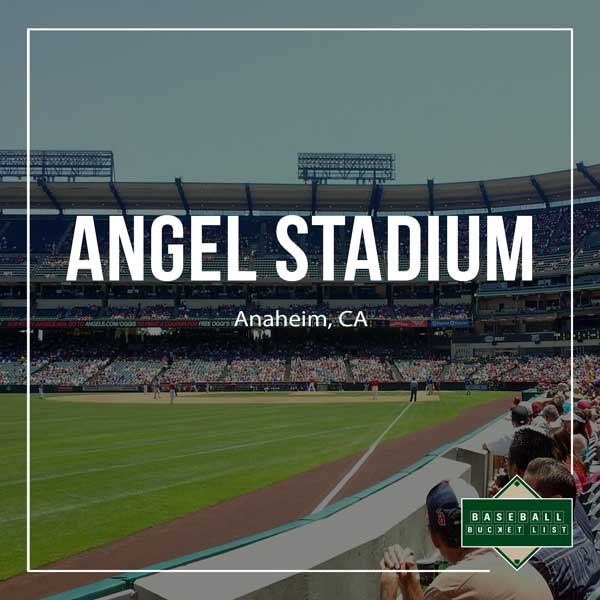 Quick Facts About Angel Stadium
Year Completed
1966
Capacity
45,517 
Home Club
Los Angeles Angels (1961)
Team Colors
Midnight Blue, Red, Silver
Ballpark Nicknames
The Big A
Upcoming Homestands at Angel Stadium
April 2022
| S | M | T | W | T | F | S |
| --- | --- | --- | --- | --- | --- | --- |
| | | | | | | |
| | | | | | | |
| | | | | | | |
| | | | | | | |
| | | | | | | |
May 2022
S
M
T
W
T
F
S
June 2022
| S | M | T | W | T | F | S |
| --- | --- | --- | --- | --- | --- | --- |
| | | | | | | |
| | | | | | | |
| | | | | | | |
| | | | | | | |
| | | | | | | |
July 2022
| S | M | T | W | T | F | S |
| --- | --- | --- | --- | --- | --- | --- |
| | | | | | | |
| | | | | | | |
| | | | | | | |
| | | | | | | |
| | | | | | | |
| | | | | | | |
August 2022
| S | M | T | W | T | F | S |
| --- | --- | --- | --- | --- | --- | --- |
| | | | | | | |
| | | | | | | |
| | | | | | | |
| | | | | | | |
| | | | | | | |
September 2022
| S | M | T | W | T | F | S |
| --- | --- | --- | --- | --- | --- | --- |
| | | | | | | |
| | | | | | | |
| | | | | | | |
| | | | | | | |
| | | | | | | |
October 2022
| S | M | T | W | T | F | S |
| --- | --- | --- | --- | --- | --- | --- |
| | | | | | | |
| | | | | | | |
| | | | | | | |
| | | | | | | |
| | | | | | | |
| | | | | | | |
November 2022
| S | M | T | W | T | F | S |
| --- | --- | --- | --- | --- | --- | --- |
| | | | | | | |
| | | | | | | |
| | | | | | | |
| | | | | | | |
| | | | | | | |
No events.
December 2022
| S | M | T | W | T | F | S |
| --- | --- | --- | --- | --- | --- | --- |
| | | | | | | |
| | | | | | | |
| | | | | | | |
| | | | | | | |
| | | | | | | |
No events.
January 2023
S
M
T
W
T
F
S
No events.
February 2023
| S | M | T | W | T | F | S |
| --- | --- | --- | --- | --- | --- | --- |
| | | | | | | |
| | | | | | | |
| | | | | | | |
| | | | | | | |
| | | | | | | |
No events.
March 2023
| S | M | T | W | T | F | S |
| --- | --- | --- | --- | --- | --- | --- |
| | | | | | | |
| | | | | | | |
| | | | | | | |
| | | | | | | |
| | | | | | | |
No events.
Angel Stadium | Ballpark Info
Accommodations for Disabilities
Handicap accessible parking sports can be found outside the following gates: 1, 2, 3, 4, 5, 6 and Home Plate. Just mention that you're looking for accessible parking and the gate attendant will point you in the right direction.
Handicap accissible seats can be found in the following sections: 241 – 249, 257 – 260, 201 – 213, 221 – 233.
All restrooms in the ballpark are accessible to guests with disabilities. 
If you have any questions, reach out to the Angels fan hotline at 714-940-2000.
Autographs
Fans can seek autographs from players along the railing of the following sections:
101 – 103
133 – 135
You'll be asked to move either at the end of batting practice, or 40 minutes prior to first pitch
Bags
Make sure any bag you bring in (including diaper bags) are 16 x 16 x 8, or smaller. 
Batting Practice
Batting pratice starts two hours before the start of each game. Only the homeplate gate opens 2 hours prior to first pitch, so if you're looking to catch BP, enter through the homeplate gate.
Bring Your Own Food
You cannot bring glass bottles nor cans into Angel Stadium. You can bring bottled water (1 Liter max size), flavored water, and empty reusable bottles that can be filled inside.
You can bring outside food items in as long as you are not sitting in the suites. 
Fan Services
If you have any issues or questions while at the ballpark, please utilize Fan Services. Each MLB team has this department, and they are solely focused on making sure each fan has a safe and memorable time at the ballpark.
Call the Angel Hotline at: 714-940-2000
Gates
Parking gates open 2.5 hours prior to the start of the game. The home plate gate opens 2 hours before first pitch. All other gates open 90 minutes before game time.
Promotions
Family Sundays include kid friendly activities in the Gate 5 courtyard, and are available until the top of the 6th inning. Activities include photo opps, games, and face panting. Kids (ages 3-13) can also run the bases after the game.
Restrooms
You can find restrooms in the following sections. Men's and women's restrooms are usually one section apart from each other:
Field Level: 104, 105, 110, 111, 125, 128, 131, 132
Terrace Level: 201, 202, 205, 207, 212, 213, 221, 222, 232, 233, 236, 239, 240, 257
Club Level: 301, 302, 306, 207, 322, 330, 344, 346
View Level: 401, 402, 407, 410, 411, 414, 415, 416, 418, 420, 422, 423, 426, 427, 430, 431, 435, 436
Family Restrooms can be found in the following sections:
106, 133, 310, 342
Tailgating
Tailgating is allowed in official Angel Stadium general parking lots. Just be sure to leave the alcohol at home. Parking gates open 2 and a half hours before game time. 
Tours
Angel Stadium offers a 75 minute tour, which includes a trip to the home dugout, a walk through the visitor's clubhouse, the broadcast booth, and the press room. 
Public tours are only conducted June – September. 
Adults $12
Children (under 14) $10
Senior (55+) $10
Military $10
Children (under 3) Free
To schedule your tour, call 714-940-2230 or email ballparktours@angels.com
Check out the center field waterfall
In center field you'll find a waterfall feature that flows over a giant faux rock formation. The "California Spectacular" also features geysers, steam and pyrotechnics that go off at the start of games, after every Angels home run and after every Angels win.
View the 2002 World series Trophy
Catch a glimpse of the team's 2002 World Series trophy on display inside the entrance to the team store on the 100 level. Enter through the main gate behind home plate for easy access to the store.
View the "Big A"
The Big A is a HUGE red metal sign that welcoming fans in the parking lot. It is 230 feet tall, and weights 210 tons. The Angels light the halo of the sign after every win.
Did we forget something?
Baseball Bucket List relies on information from Bucketheads to keep our guides and resources up to date.
Angel Stadium | Transportation and Parking
Keep in mind that Cali Traffic is REAL! If you're coming from out of town, leave yourself an hour longer than you initially think you'll need. There's nothing worse than missing part of a game or missing out on something that you wanted to do before the game due to sitting in traffic. Better to get there way early and pass the time at a nearby bar or restaurant.
Avoid LA area traffic and parking headaches by hoping on the Angels Express. Tickets are $7 round trip for adults, $6 for seniors/disabled, $4 for youth (6-18) and free for (5 and under). You can purchase tickets ahead of time via the Metrolink app, or at the ticketing machines at stations. Hop on from Orange County, Los Angeles, or Riverside area stations.
Visit the Angels Express website to plan the specifics of your trip.
Official Angel Stadium Lot
Unlike other parks, Angel Stadium has one, easy to access lot that surrounds the entire ballpark. Gates to the parking lot open 2.5 hours prior to first pitch, and can be accessed from Douglass, Orangewood, and State College.
Rates are incredibly reasonable for a major league sporting event at just $10 a car for regular parking and $20 for preferred. You can pay via cash, debit/credit, and both Apple and Android Pay.
Off-Site / Free Parking Options
The official parking is pretty cheap at just $10/car. But, if you want to save that 10-spot for an extra beer, you have a few options.
Both Nobel Ale Works and the Karl Strauss Brewery allow patrons to park in their lots, then walk over to the ballpark. Our recommendation is to spend the $10 you save with these guys!
There is also usually street parking available on the corner of Eckhoff and Orangewood. We suggest using the official lot, or one of the breweries.
Uber & Lyft
If you'd rather not drive, Uber and Lyft are great options for getting to and from Angel Stadium. Uber is the official rideshare company endorsed by the Angels, so you'll see their logo everywhere. Don't worry, Lyft is still allowed to pickup and drop off at the ballpark. In fact, you may be better off calling a Lyft since everyone else will be staring at Uber signage all night.
Drivers know to pick up in the official rideshare area of the official lot, directly in front of Gate 1. Don't be afraid to call your car as you're walking out of the park. You'll be waiting on it for awhile, so you may want to consider heading over to a nearby bar to wait out the post-game rush.
If you're new to Uber, you can use this link to get a discount on your first few rides.
Join the Baseball Bucket List community
Create your own bucket list, track ballpark visits, and connect with other fans.
Angel Stadium | Best Seats
Best Seats for Game Views
The club level of the park is a fan favorite for several reasons. Seats in the 300 section are just below the suite level, and have great views, shorter lines for food and restrooms, and aren't ridiculously priced.
The 400 level just behind home plate are great values for views. Just be conscious of the sun if attending a day game.
Where not to Sit
Avoid section 135 which is known for obstructed views.
Best Seats for Shade
Home plate faces northeast, so your best chances for shade are on the 3rd base side of the ballpark. The back half of the 200 sections are also mostly in the shade. Aim for rows 12-15.
Angel Stadium | Ballpark Food
It's pretty much agreed upon that the ballpark fare at Angel Stadium is hard to get excited about, but if you're a basic ballpark food fan, you'll be perfectly content. There are a few unique items, and a pretty cool in-park restaurant that is worth checking out.
The Must Have: The Helmet Nachos
The helmet nachos are a long heralded go-to of Angels fans. Get 'em piled high with all the fixings, then keep the hat as a souvenir. If there are 2 or 3 of you, even better, because they're huge.
Something Special: The Red velvet whoopie pie
If you're looking for something sweet, the Red Velvet Whoopie Pie is a solid choice. Cream cheese filling nestled between two Angels red pies. This thing is the size of an average burger!
The Beer Hack
At some park's concession stands, the large beer is a con, charging double the price for just a little more beer. Angel Stadium is one of those places. Two smalls are better than one large!
Something Fancy: Saint Archer Brewing Co.
This in-park restaurant is located above first base, with "patio views" of the field. Saint Archer beer is served on tap, with above-par food available. We've heard the pretzel is a solid choice. Historically, if you use the Open Table app, you can make reservations a week prior to a game.
You can even purchase cheap seats to get into the park, make reservations, and camp out at the restaurant table.
Vegetarian and Vegan Options at Angel Stadium
Beyond meat burgers are available at Angel Stadium, as are veggie dogs, bean burritos and black bean burgers.
Did we forget something?
Baseball Bucket List relies on information from Bucketheads to keep our guides and resources up to date.
Angel Stadium | Surrounding Area
The Catch
Seafood restaurant that hosts game day tailgate parties on their patio.
Nobel Ale Works
Brewery with food trucks.
Karl Strauss Brewing Company
Family friendly pre-game spot with vegetarian options.
Golden Road Brewing Anaheim
Family friendly spot with something for everyone, including vegetarians and vegans.
Bars and Restaurants
We believe that in order to fully experience a ballpark, you should spend some time in the nearby area. We're also big believers that pre and post game rushes are awful. We suggest you spend some time at these local establishments instead of sitting in traffic or rushing to the train.
The Catch | 2100 E Katella Ave Anaheim, CA 92806 | Website | Menu | Click to Call
This is one of the most popular places in the area to have a bite or a brew before the game. Located just across the street, they even have game day tailgate parties on their patio. Check out their gameday menu we'd recommend the Snack Bomb Nachos if you're skipping the helmet nachos once inside the park.
Nobel Ale Works | 1621 Sinclair St B, Anaheim, CA 92806 | Website | Menu | Click to Call
Mentioned in our parking section, this brewery will let you park in their lot and walk over to the park if you have a beer first. And why wouldn't you? They're known to rotate taps often, so it's hard to recommend a beer, but the bartenders know what's up. They don't serve food but they do sometimes have food trucks.
Golden Road Brewing | 2210 E Orangewood Ave, Anaheim, CA 92806 | Website | Menu | Click to Call
This spot is right across the street from the park and boasts an impressive beer and food menu and large outdoor space. Perfect for before or after the game. Family friendly with something for everyone, including vegetarians and vegans.
Local Attractions
If you're traveling with a family or just trying to make the most out of your trip to Anaheim, here are some recommended nearby attractions.
Disneyland Park | Website
Disney probably needs no explanation. It's on of the hottest attractions in the area. And one of the most expensive.
Flightdeck Flight Simulation | Website
Flightdeck is a full-experience flight simulator that lets you take virtual fighter jets, and 737's for a spin. Make reservations ahead of time for your group, and check out Groupon for great deals.
Knott's Berry Farm | Website
Knott's Berry Farm is a theme park and water park featuring 40 rides. Family friendly and a little less expensive than Disney. Single day tickets are $55 if purchased online ahead of time.
Orange Plaza Square Park | Website
Orange Plaza Square Park features several restaurants and shops, as well as parks, playgrounds, and an old timey soda shop.
Did we miss something?
Baseball Bucket List relies on information from Bucketheads to keep our guides and resources up to date.
Have some insight about this ballpark that you'd like to share with the community? Let us know! We try to visit each park often, but changes can happen quickly. We're always looking for updated information about ballparks, the cities they're located in, and attractions nearby. If we include your tip in a guide, we'll give you credit whenever possible.