American Family Field | Milwaukee Brewers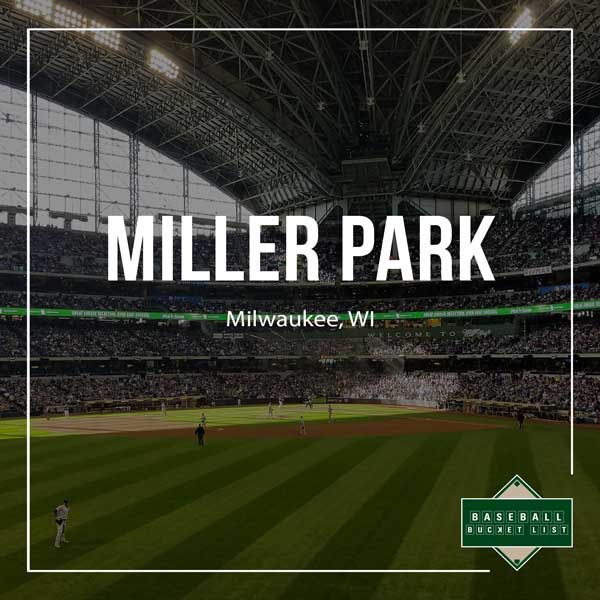 Quick Facts About Miller Park
Year Opened
2001
Capacity
41,900
Home Club
Milwaukee Brewers (1969)
Team Colors
Navy Blue, Yellow, Royal Blue
Upcoming Homestands at Miller Park
April 2022
| S | M | T | W | T | F | S |
| --- | --- | --- | --- | --- | --- | --- |
| | | | | | | |
| | | | | | | |
| | | | | | | |
| | | | | | | |
| | | | | | | |
May 2022
S
M
T
W
T
F
S
June 2022
| S | M | T | W | T | F | S |
| --- | --- | --- | --- | --- | --- | --- |
| | | | | | | |
| | | | | | | |
| | | | | | | |
| | | | | | | |
| | | | | | | |
No additional events this month.
July 2022
| S | M | T | W | T | F | S |
| --- | --- | --- | --- | --- | --- | --- |
| | | | | | | |
| | | | | | | |
| | | | | | | |
| | | | | | | |
| | | | | | | |
| | | | | | | |
August 2022
| S | M | T | W | T | F | S |
| --- | --- | --- | --- | --- | --- | --- |
| | | | | | | |
| | | | | | | |
| | | | | | | |
| | | | | | | |
| | | | | | | |
September 2022
| S | M | T | W | T | F | S |
| --- | --- | --- | --- | --- | --- | --- |
| | | | | | | |
| | | | | | | |
| | | | | | | |
| | | | | | | |
| | | | | | | |
October 2022
| S | M | T | W | T | F | S |
| --- | --- | --- | --- | --- | --- | --- |
| | | | | | | |
| | | | | | | |
| | | | | | | |
| | | | | | | |
| | | | | | | |
| | | | | | | |
November 2022
| S | M | T | W | T | F | S |
| --- | --- | --- | --- | --- | --- | --- |
| | | | | | | |
| | | | | | | |
| | | | | | | |
| | | | | | | |
| | | | | | | |
No events.
December 2022
| S | M | T | W | T | F | S |
| --- | --- | --- | --- | --- | --- | --- |
| | | | | | | |
| | | | | | | |
| | | | | | | |
| | | | | | | |
| | | | | | | |
No events.
January 2023
S
M
T
W
T
F
S
No events.
February 2023
| S | M | T | W | T | F | S |
| --- | --- | --- | --- | --- | --- | --- |
| | | | | | | |
| | | | | | | |
| | | | | | | |
| | | | | | | |
| | | | | | | |
No events.
March 2023
| S | M | T | W | T | F | S |
| --- | --- | --- | --- | --- | --- | --- |
| | | | | | | |
| | | | | | | |
| | | | | | | |
| | | | | | | |
| | | | | | | |
No events.
American Family Field | Ballpark Info
Accommodations for Disabilities
The Brewers aim to have everyone enjoy their time at American Family Field. If we haven't answered your question below, reach out to the Brewers at guest.services@brewers.com or 414-902-4900.
Parking: There is accessible parking in the following lots: Thomas, Aaron, Brewers 2, and American Family. Even though the Thomas and Aaron lots are technically "preferred parking", you only need to purchase a general parking pass to park in the accessible parking spots. Simply tell the lot attendant that you are looking for accessible parking and show them your general parking pass. As long as you have an ADA permit displayed, you will be all set. Accessible spots are first come first serve. You can pre purchase general parking here.
If someone in your party plans on dropping you off and then parking in a general lot, the appropriate drop off location is on the west side of the ballpark, near the home plate gate. Follow the signage for "Bus Drop-off". You may need to tell the traffic directors that you're attempting to drop someone off.
Gates: All gates are accessible so enter wherever makes the most sense for your seating or game day plan. Each gate will have an express ADA entrance lane. Gates open 90 minutes before first pitch for almost all games. They'll be open 2 hours before the game on Opening Day and bobblehead promotional days.
Elevators: You can find elevators in the left-field corner of the ballpark and at the Clock Tower gate.
Restrooms: All restrooms at American Family Field include accessible stalls and washing stations. You can also find accessible restrooms in the First Aid Rooms on the Field and Terrace levels behind home plate. These restrooms are private and can be a good solution if you are at the ballgame with a companion.
Seating: American Family Field has accessible seating in just about every possible section of the ballpark. You can purchase tickets here, or call the ticket office at 414-902-4000. There is also an accessible ticket window (#6) at the home plate entrance.
Wheelchair Lifts: Lifts can be found in the following locations:
Associated Bank Check Deck
Johnson Controls Stadium Club
Leinie Lodge
Northwestern Mutual Legends Club
Sections 221
Sections 236
Loge Level
Wheelchair Service: If you'd like transportation service from the gate to your seat, let one of the ballpark staff know on your way in. The service is only intended for getting from the gate to the seats, and vice versa. Unfortunately, the service does not include trips to the concessions, restrooms, or team store.
ATMs
If you prefer cash for walking vendors, you can find ATMs in the following locations:
Home plate gate entrance
U.S. Cellular Power Playground (field level, right-field corner)
Section 123
Section 231
Near the Johnson Controls Stadium Club (club level)
Section 422
Bags
You can bring single compartment bags into American Family Field as long as they are 9″ x 5″ x 2″.  Clear, single compartment bags that do not exceed 12″ x 6″ x 12″ in size are also allowed. Clear one-gallon ziplock type bags are okay.
The Brewers, like many teams, make exceptions for diaper bags and any type of bag used for medical reasons. 
You cannot bring backpages, drawstring bags, totes, coolers, breifcases, purses, or luggage, regardless of size.
Batting Practice
You can catch the visitors taking batting practice from the outfield seats. Gates will open 90 minutes prior to first pitch for most games. If it is Opening Day or a bobblehead promotional day, the gates will open 2 hours before the game starts, and you can catch the last bit of Brewer's batting practice.
Bring Your Own Food
Outside food is allowed inside American Family Field, as long as it is personal-size and is sealed appropriately. You can also bring in soda, water, or juice in sealed plastic bottles. Coolers are fine, as long as they are single compartment, soft sided, and fit within the bag size requirements on 16″ x 16″ x 8″.
Charging Stations
Running low on phone juice? You can find charging stations in the following locations at American Family Field:
Section 128
US Cellular Power Playground (field level, right-field corner)
Section 216
Section 318
Section 341
Section 406
Guest Services
If you have any issues or questions while at the ballpark, please utilize Guest Services. Each MLB team has this department, and they are solely focused on making sure each fan has a safe and memorable time at the ballpark.
You can find Guest Relations desks near sections 116, 221, and 419. They can stamp your MLB Pass-Port, print first game certificates, enroll you in the designated driver program, and answer any questions or concerns you may have while at American Family Field.
You can also discreetly report issues and misconduct, or ask for help by texting the Brewer's security team. Text BREWERS along with your location and the item of concern to 69050.
Gates
Gates at American Family Field will open 90 minutes before first pitch. On Opening Day and bobblehead days, the gates will open 2 hours ahead of the game. Parking gates open 3 hours ahead of game time.
Promos
The Brewers run promotions several times throughout the year. To see if your game is included, visit the Brewer's site here.
Kids Run the Bases: After each Sunday game, kids 14 and under can run the bases at American Family Field. Watch the scoreboard for instructions to line up along the 1B line after the game ends.
Radio Broadcast
If you like to listen to the radio broadcast from inside the park, tune to WTMJ 620 AM. The Brewers also offer a ballpark feed with a non delayed transmission of the WTMJ broadcast on 88.5 FM.
Restrooms
You can find restrooms on each level throughout American Family Field, so you'll never be far from one. You can also find family and companion restrooms on the Loge, PNC Club, and Terrace Levels. Each First Aid Room on the Field and Terrace levels behind home plate offers family restrooms.
Retired Numbers
The Milwaukee Brewers have retired 5 team numbers, along with Jackie Robinson's number. You can find each of the numbers on the upper facade of the park in the outfield, flanking either side of the scoreboard. In addition to the retired numbers, there is a "50" placard celebrating Bob Uecker's 50th season as the play by play announcer for the Brew Crew. The retired numbers are:
#1 – Bud Selig (founder and former commissioner – retired in 2015)
#4 – Paul Molitor (retired in 1999)
#19 – Robin Yount (retired in 1994)
#34 – Rollie Fingers (retired in 1992)
#42 – Jackie Robinson (retired throughout MLB in 1997)
#44 – Hank Aaron (retired in 1976)
Tailgating
Tailgating is allowed in all parking lots at American Family Field. The lots open 3 hours before first pitch, and you'll need to head into the ballpark within 30 minutes of the game starting. You can bring self-contained charcoal or propane grills with shutoff valves. If you require a larger tailgating area (for a group), you'll want to purchase tailgate parking in the Uecker and Yount lots. There are also official tailgate pavillions that can be reserved for groups of up to 150 people. Call the Brewers' Group Sales team at 414-902-4777 to discuss the availability and cost of those.
The parking lots close an hour after game time, so you'll need to be cleaned up and heading out by then.
Tours
The Brewers offer tours of American Family Field during the regular season. They are approximately 75 – 90 minutes long and available on game days and non game days (with the exception of day games starting before 6:10pm). Stops include a visit to the field, the vistor's clubhouse and dugout, Brewers bullpen, press box, and Bob Uecker's broadcast booth. Of course, on select days, some stops may not be available, and you won't have access to the clubhouse on game day. Prices are $15 for adults, $10 for seniors, military, and kids ages 3 to 12. Learn more and book your tour here.
American Family Field| Must Do
Hank Aaron's Final Home Run Marker
Hank Aaron is arguably one of the best baseball players to ever play the game. While most people will think of Aaron as an Atlanta Brave (that's his HOF cap, too), he actually started and ended his career with Milwaukee. In the middle of the preferred parking lot #1, you'll find a plaque commemorating the spot his very last home run landed. Number 755 was hit at County Stadium on July 20. 1976. Directions to the exact location of the marker can be found here.
Visit Helfaer Field
After you check out Hank Aarron's last home run marker, and before you make your way into American Family Field, be sure to stop by Helfaer Field. Helfaer is located on the site of the old Milwaukee County Stadium — the predecessor to American Family Field — and is named after one of the Brewers' original owners. The field has big league level features, but is scaled for those of us who are less athletically inclined (the outfield fence is 200 ft away from home instead of 420 ft). It can be rented out for special events, too (call the Brewers at 414-902-4332 for more info). As you stop by, be sure to find the home plate marker along the 3B line of the field. This is the exact spot where County Stadium's home plate stood. Then be sure to look at the foul poles, which were used in County Stadium.
Brewers Statues
Get to the park a little early and take some time to visit some of the most important figures in Brewers history. Start directly outside of the main entrance near the clock tower and walk halfway between the clock tower and team store entrances. Turn your back to the ballpark and look towards the landscaped area in front of the US and military flags. There, you'll find a statue of a group of three construction workers. This memorial, titled "Teamwork" was built to honor those who worked tirelessly to build Miller Park. Specifically Jeffrey A. Wischer, William R. DeGrave and Jerome W. Starr, who lost their lives in a jobsite accident while building the ballpark.
Turn back towards the ballpark to find Bud Selig who is standing just to the right of the clock tower. Selig was instrumental in bringing the Brewers to Milwaukee after the Braves left in the 60s. He'd go on to become the MLB commissioner. Further to the right of the clock tower you'll find Hammerin' Hank Aaron in his batting stance. Aaron is one of the greatest baseball players of all time, and holds a very special place in the hearts of Milwaukee baseball fans. Continue walking south towards the team store and find Robin Yount. Yount is in the followthrough of the swing that earned him 3,000+ career hits. Continue walking in the same direction and you'll find a young Bob Uecker, a former Milwaukee Brave and the voice of the Brewers for 50+ years.
Visit Milwaukee's Baseball Walk of Fame
Near the statues mentioned above, you will also find home plate shaped slabs of granite honoring baseball figures in Milwaukee. It includes not only players, but also coaches, executives, and broadcasters.
The Selig Experience
We know we're throwing a lot at you, but this park has got a lot to see! Make sure you stop by the Selig Experience in the Left Field corner of the Loge Level. The exhibit includes 1,400 square feet of artifacts, a replica of his County Stadium office, and a multimedia presentation. Selig is responsible for bringing Major League Baseball back to Milwaukee after the Braves left in 1966. He would of course go on to become the ninth Commissioner of Baseball.
Watch Bernie's Slide
On top of the bleachers behind left field, you'll see the Brewers mascot Bernie's "dugout". Bernie leads the entire ballpark in cheering from this location at every game. When the Brewers hit a home run, you'll notice a neon sign showing broadcaster Bob Uecker's trademark call "Get up, get up, get outta here, Gone!!!" lights up above Bernie's dugout. Then, Bernie will head down the huge yellow slide to celebrate. In the past, there was a giant stein of beer at the base of the slide that he used to dunk into as a celebration, but that has been removed. For $150, you can actually take a tour of the ballpark and go down Bernie's Slide up to 5 times. Get more info here.
Watch the Famous Sausage Race
Many ballparks have a race of some kind to fill space between the innings. But only the Brewers have the famous racing sausages. What started as a virtual scoreboard race took to life in 2000, when actual mascots began to race on the field. Before the start of the 7th inning, the sausages will enter the playing field from a gate in left field, and race around the warning track. You can choose to root for the Bratwurst, Polish Sausage, Italian Sausage, Hot Dog, or Chorizo to win. If the Nats or Pirates are visiting, you may be lucky enough to see their mascots join in on the race. Each year, the Pirates, Nats, and Brewers travel their mascots to each other's parks to race for glory.
Did we forget something?
Baseball Bucket List relies on information from Bucketheads to keep our guides and resources up to date.
American Family Field | Transportation and Parking
American Family Field is very easy to access via I94. However, it's located outside of downtown, which really prevents you from finding off-site or free parking. It can also mean awful traffic just before or just after the game. While you may not be able to walk to bars and restaurants like you can do at other parks, we still recommend that you get to the ballgame early. Parking lots open 3 hours before first pitch, and you'll discover that the tailgating scene at American Family Field is large and enjoyable. Fire up the grill and make some baseball friends. Or visit the in park Restaurant To Be Named Later, which opens early.
Join the Baseball Bucket List community
Create your own bucket list, track ballpark visits, and connect with other fans.
Marlins Park | Best Seats
Best Seats for Brewers History
American Family Field has seen some historic moments. From a wild NLDS game 5 extra innings walk-off in 2011 and Robin Yount's 3000th career hit. But no momentous occasions have been marked with special seats. Instead, the Brewers have the "Uecker seats". The Uecker seats are literally the worst seats in the house, which is why they are priced at just $1. In sections 421, 422 and 423 of the upper deck, 103 seats have an obstructed view due to the pivot mechanisms of the roof. In section 422 at the top of the last row, there is a statue of Bob Ueker and a plaque commemorating his well known Miller Lite commercial, which you can watch below.
Best Seats for Game Views
If you've read our other guides, you know that we favor the 1B line. This is also true at American Family Field. We favor sections 214 and 213 in this ballpark – a few rows back. You'll get a great view of the game, along with great sight lines to Berneie's Terrace (watch for him to slide when the Brewers hit a home run!), and the scoreboard. The outfield glass windows are also a great backdrop for the game. If you're at a day game, be sure to pay attention to the shadows cast by the window overhead too. Most sections at the park have great views. Just be sure to read the section below detailing the trouble you may run into with railings. If choosing the upper levels, aim for the true center of the section.
Where not to Sit
It's not often that the "best seats for history" also qualify for the "worst seats for game views", but that's the case here. The Uecker Seats are a great way to get into the ballpark for cheap. You can watch the game from the concourse or perhaps find another seat if the park isn't full. But, you won't enjoy watching the game from sections 421, 422, and 423.
American Family Field was one of the first in the retro-classic era. The architects have come a long way since then, and the Brewers' ballpark does have some obstructed views. AFF's biggest problem is the stair-case railings. In newer parks, these are plexiglass or glass, but in Milwaukee they are made of thick metal. You'll find obstructions from railings in the first row of the upper deck sections. The same can be said for certain seats on the 300 and 200 level. Try to avoid the first row seats there. Study the seating map before you choose your tickets to make sure you won't be directly behind a staircase. This is specifically a problem with the 8th row of certain sections in the 400 level. The first few rows on the level are "down" a short flight of stairs from the rest of the level.
Also obstructing your view from right field's 100 level sections are the support beams for the upper deck.
In addition to the obstructed seats, there are 3 no alcohol "family sections" in 217, 309, and 417. This may make them the perfect seats for you…or not.
We're not trying to beat up on American Family Field! There are plenty of great seats to be had in this park, but you need to do your research first. Check resources like A View From My Seat and Rate Your Seats for the best seats.
Best Seats for Shade
Another reason to enjoy 1B side seats at American Family Field is that they will be in the shade way before other parts of the park. Pretty much any seat on that side of the ballpark will be in the shade during a day game. You can also find shade along the upper sections of the 3B side, as the roof overhang will provide some protection.
Best Seats for Foul Balls
According to foulballz.com, your best chances for snagging a foul ball at American Family Field are in sections 112 – 114 on the 1B side and 121 – 123 on the 3B side. As MLB requires expanded netting, these zones will be less hot, but you'll still have a chance of catching a pop up, or a toss up.
American Family Field | Ballpark Food
The Must Have: Sausages
If the ballpark has racing sausages, you know they take them seriously. Get a classic Brat or Polish, and make sure to top it with the Brewers "Secret Stadium Sauce". You could throw a rock and hit 12 bratwurst stands in this ballpark, so you won't have to look far.
Something Special: The Braun Double Bacon Burger
AJ Bombers is a beloved Milwaukee burger joint on Water Street, with outposts at American Family Field. They offer a Braun's Double Bacon Burger as a nod to one of the most beloved members of the Brew Crew in recent memory. It comes with two patties, double cheese, smoked bacon, and of course two special sauces. Find them in sections 107, 117, 125, 210, 228, 324, 409, and 424.
The Challenge: Wisconsin Ultimate Cheese Fry
You know they like their cheese in Wisconsin. Cheese curds are practically the state food. So why not throw some of those on top of beer-battered fries, cheese sauce, and bacon? You can find these in section 214, 224, and 412.
Vegetarian and Vegan Options at American Family Field
You'll find standard vegetarian fare like nachos (just about everywhere in the park) and pizza (sections 123, and 208), along with popcorn, peanuts, pretzels and chips in most locations throughout the ballpark. Vegans can enjoy pretzels, veggie dogs (sections 110, and 127), and baked potatoes (trade the cheese, butter, and sour cream for pico in section 213). You can also build your own taco, burrito, or rice bowls in sections 226, 413, and 435. AJ Bombers offers a Beyond Burger in sections 107, 117, 125, 210, 228, 324, 409, and 424.
Did we forget something?
Baseball Bucket List relies on information from Bucketheads to keep our guides and resources up to date.
American Family Field | Surrounding Area
We're still wrapping up the guide to American Family Field, including the surrounding location. If you have tips to offer, please submit them below!
Did we miss something in our American Family Field guide?
Baseball Bucket List relies on information from Bucketheads to keep our guides and resources up to date.
Have some insight about this ballpark that you'd like to share with the community? Let us know! We try to visit each park often, but changes can happen quickly. We're always looking for updated information about ballparks, the cities they're located in, and attractions nearby. If we include your tip in a guide, we'll give you credit whenever possible.